THE CONFESSIONS OF FRANNIE LANGTON is a new British series. It's an LGBTQ period piece drama featuring a love story between two women – and a murder mystery. Find it on ITVX in the UK or BritBox via Prime Video in the US. Read our The Confessions of Frannie Langton series review here!
THE CONFESSIONS OF FRANNIE LANGTON is a new series on BritBox via Amazon Prime Video – originally released on the new streaming service ITVX. In other words, this is a British series. It's also a period piece and features an intense and complicated love story between two women – and a murder mystery as the plot driver.
There are four 45-minute episodes in this limited series and the runtime is well utilized. Also, the cast is wonderful, so you'll cry, laugh, feel little heart flutters, and get violently angry right alongside them!
Continue reading our The Confessions of Frannie Langton series review below. Find the series on BritBox in the US from March 8, 2023.
A love story and a murder mystery in an LGBTQ period piece
Let's just get it out of the way; No, the LGBTQ characters are not safe from death in this one. In fact, one is dead when the story begins and the other is soon on trial for murder. However, the story opens with the murder, so you'll know of her demise all along.
I don't know that this makes it better in terms of the whole "Kill your gays"-trope, but it is key for the story. Also, this is very much an unapologetic love story between two women.
Besides, this is a period piece set in 1826's London where a happy ending (or just freedom) for any woman was difficult. And impossible for a black woman and a white woman (maid and mistress of the house respectively), who have a romantic and lustful affair.
A story told by one of the women
In the style of Portrait of a Lady on Fire (2019), we begin at the end and have the main protagonist tell the story. However, unlike the French masterpiece – where both women survived – we don't stay with linear and chronological storytelling. We keep being brought back to the present with Frannie in a prison cell or on trial.
This is called The Confessions of Frannie Langton because she is accused of murdering both her master and the woman she loves. Who happens to be the wife of her master. And yes, it sucks to say that he was "her master", but that's what he is called.
Frannie can't remember what happened on that fateful night and only realizes her love is dead when police barge into the bedroom. There she is laying in bed with her mistress – as always.
We're introduced to the life of Frannie Langton, which focuses on how she wound up in the Benham house as a maid. And how she fell in love with the lady of the house (and vice versa) from the very beginning. The story of her upbringing is also key to the murder mystery and all is revealed during the trial in episode 4.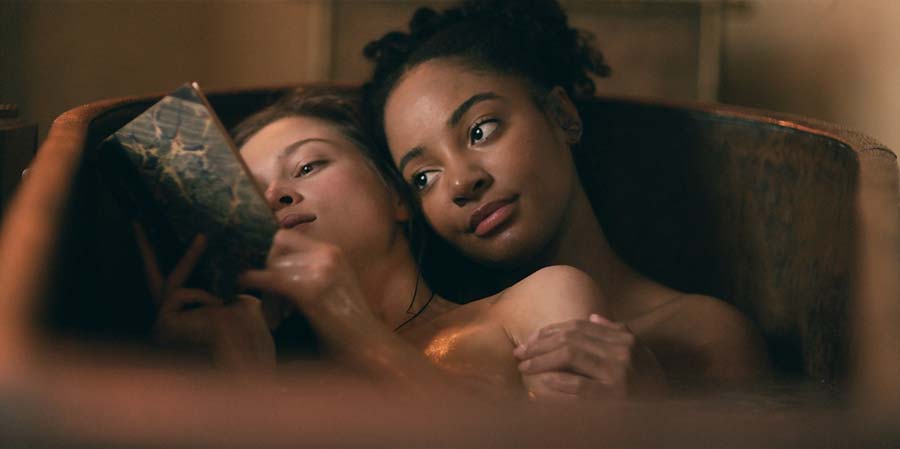 Karla-Simone Spence is Frannie Langton
The all-important role of the title character, Frannie Langton, is played by Karla-Simone Spence. From the very first scenes we see her in – vulnerable and broken – to the flashbacks where she's still feisty and fierce, Karla-Simone Spence is amazing.
Sometimes it's the smaller choices an actor makes. For me, it's in the way Karla-Simone Spence carries herself as Frannie. This could be when Frannie Langton is about to enter a room where she knows everybody is staring. She takes a breath, straightens her back, and lifts her chin in defiance.
Not in an overt way, but enough that you notice if you're paying attention. Just as much to strengthen herself as to send a message; I belong here and deserve to take up space just as much as anyone else!
Karla-Simone Spence also has amazing chemistry with Sophie Cookson who plays Madame Marguerite Benham. This is both her mistress (as in the woman of the house Frannie is sent to work in) and the woman she falls in love with.
And Marguerite (or "Madame Benham" or simply "Meg") falls right back in love with Frannie.
Sophie Cookson is brilliant and broken as Madame
It's a doomed affair for many reasons, but also one they're both willing to enter into knowingly and willingly. Obviously, one risks more than the other and this becomes a huge issue in the end.
We do also get quite a lot of information about Sophie Cookson's "Madame" character. She was married and had two miscarriages before she had barely left childhood herself. While Frannie and Marguerite are at very different social levels (and have very different experiences and backgrounds), the latter seems more broken.
Sophie Cookson has played many intriguing characters already. You may know her as Roxy from Kingman: The Secret Service (2014), or as Pippa in The Huntsman: Winter's War alongside Charlize Theron, Emily Blunt, and Jessica Chastain. And maybe as Sidney from Gypsy (2017) where she was kissing Naomi Watts.
Also, I must mention Amarah-Jae St. Aubyn (The Silent Twins) who is amazing as "Sal". A true friend of Frannie at several points in her life. You'll see for yourself, so no point in me revealing it here. In other key roles, you'll see Stephen Campbell Moore (The One), Steven Mackintosh (The Pact), and Lydia Page (Blue Jean).
Plus, you'll see Jodhi May who was in the LGBTQ period piece series Tipping the Velvet and Gentleman Jack to name just two. She portrays a very unlikable character. But also one who is desperately sad and broken by the world she's living in.
Watch The Confessions of Frannie Langton on BritBox US or ITVX
Sara Collins is the creator of The Confessions of Frannie Langton series, which is perfect as she is also the author of the novel it's based on. The book was released in 2019, so it's a rather new book.
I know many people will wonder about the origin of Sara Collins – as I did – so I'm happy to report that Sara Collins was born in Kingston, Jamaica. Her family fled to the Cayman Islands when political violence broke out after the 1976 Jamaican Election. At age 11, she was sent to a boarding school in England.
Sara Collins is a Caymanian-British novelist and former lawyer, so she went with the whole "Write what you know". Also, yes, she is Black – and married to a man.
All four episodes in this limited series are directed by Andrea Harkin. She previously directed episodes of the AMC series Soulmates and the BBC series The Trial of Christine Keeler. The latter starred Sophie Cookson in the title role.
Womentainment recommendation: Yes, The Confessions of Frannie Langton is a tragic WLW love story, but it's also wonderful, and the story is important on multiple levels.
I know period piece drama about LGBTQ love – usually between two women – is perhaps getting a bit much for many. On the one hand, it serves as a reminder that LGBTQ people have always been here. On the other, it does tend to end in pain and anguish. And yes, far too often, in death.
For The Confessions of Frannie Langton, there is much more to the story than "just" the love affair between two women. This makes for a significant story on many levels. It's not just about the LGBTQ representation here, but also race and slavery. And women's rights (or lack thereof).
Do remember we're around the year 1825, which the story stays very true to.
As for the love story, it is fierce and unapologetic. Both women want and long for the love they share – and a life where they can feel free, even if they can never actually be free. The fact that this is being released on March 8 in the US is no coincidence. This is International Women's Day which focuses on women's rights.
This new series was first released on ITVX as one of the first ITV productions on the new streaming service. You can watch it for free on ITVX in the UK where it premiered on December 8, 2022.
The Confessions of Frannie Langton is on BritBox US on March 8, 2023.
Creator: Sara Collins
Director: Andrea Harkin
Stars: Karla-Simone Spence, Sophie Cookson, Stephen Campbell Moore, Jodhi May, Pooky Quesnel, Amarah-Jae St. Aubyn, Steven Mackintosh, Lydia Page, Patrick Martins, Mina Andala, Henry Pettigrew
Official plot:
When prominent society couple Mr. and Mrs Benham are found stabbed to death, all eyes turn to their maid, Frannie.