PORTRAIT OF A LADY ON FIRE is one of the most beautiful movies, I have
ever

seen. It's a French LGBTQ movie by the brilliant writer-director Céline Sciamma. This movie is about women (in many different ways) and so full of love. Read our full Portrait of a Lady on Fire review here!
Portrait of a Lady on Fire is the amazing French movie (org. title Portrait de la jeune fille en feu) by  writer-director Céline Sciamma. There has been quite a lot of buzz around this movie ever since it premiered at Cannes Film Festival back in May 2019. It did also win Best Screenplay and the "Queer Palm" at Cannes, so it was off to a strong start.
This is truly one of the most beautiful movies, I have ever seen. I first caught a screening at AFI Fest in Los Angeles back in November 2019. It was the most amazing experience which left me both speechless and desperate to tell everyone about it.
Continue reading our Portrait of a Lady on Fire review below. And yes, it will be a lot of gushing about how amazing it is!
Noémie Merlant and Adèle Haenel shine
While this movie is undoubtedly and objectively a cinematic masterpiece in terms of the visual style, its two stars still manage to outshine everything else. Noémie Merlant is the painter, Marianne, who arrives to paint a portrait of Héloïse (played by Adèle Haenel). Both women do truly shine in very different ways. 
The entire plot of Portrait of a Lady on Fire plays out like the creation of a painting. We begin with a blank canvas and the first outlines are made with almost painstakingly slow progress. However, it all makes sense as we also follow the relationship between Marianne and Héloïse. First, they are simply strangers as their curiosity builds into friendship and then romance.
From the beginning, we know that the choices the two have in life are very different. Marianne is a rather free-spirited painter who will take over her father's business whereas Héloïse is to be married to a stranger as the only child of the family. Actually, her sister was to be married, but she chose a different fate and so Héloïse was pulled out of the convent to be married off.
Marianne is to make a painting of Héloïse which will be sent to her suitor. If he likes what he sees, then Héloïse is to go to Milan and marry him. It's all very dark and sad, but the relationship between the two certainly isn't. It's curious and challenging.
Two key supporting characters
Also, we have a young girl working as a servant in the house. Her name is Sophie and the three end up having a real friendship despite them all coming from very different social classes. Sophie also has her own important story in this movie. She is played beautifully by Luàna Bajrami who has amazing chemistry with the two lead actors.
Finally, I have to mention Valeria Golino who is probably best known for her role in the Hot Shots! spoof movies from the 1990s. Valeria Golino is stunning as the mother of Héloïse. I won't say much about her except that she also has her reasons for wanting to marry her daughter off to someone in Milan.
Let's just say that some reasons are better than others!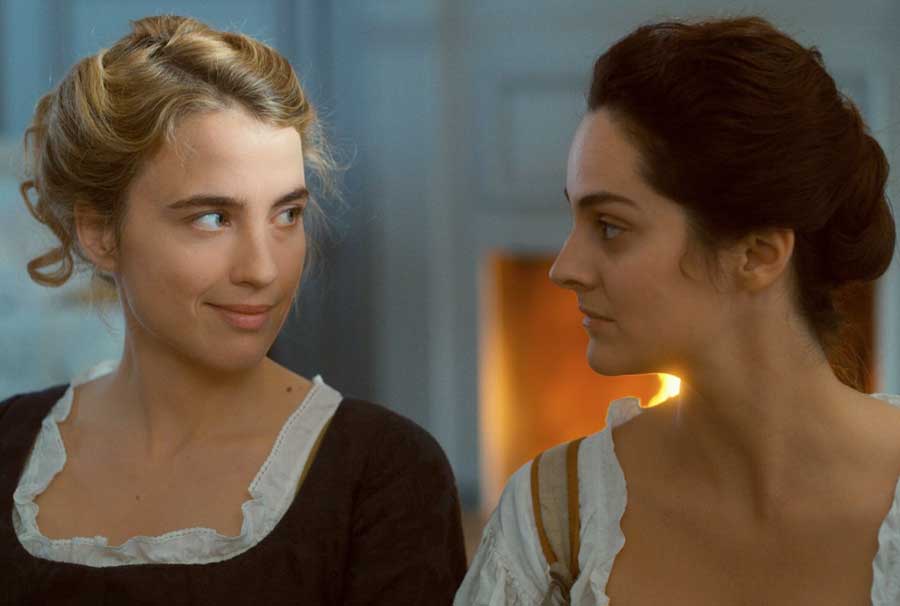 Beauty through the female gaze
It is difficult to really talk about Portrait of a Lady on Fire since it is very much a cinematic experience. If that sounds like fluff or too "artsy" for you, then please just ignore that I just said that. This is a French LGBTQ movie about women loving women [WLW] but it is also a look at the choices a woman had at the end of the 18th century. 
More than anything, watching Portrait of a Lady on Fire is about beauty. The beauty of life and choices and love. It's also about compromise, bending the rules and the unfairness of this world.
When watching Portrait of a Lady on Fire, you should simply sit back and let it take over all your senses. When I first watched it at AFI Fest 2019, the volume in the theater was set perfect. Which in this case means rather loud. It's important since there isn't an actual score. Instead, the sounds of life and nature (the wind, waves, and people going about life) take over.
Actually, there are two pieces of actual music in this movie and when they play, the volume needs to take your breath away. Especially the final one. When I watched Portrait of a Lady on Fire for the second time, the volume was a bit low in the theater and I honestly felt the rest of the audience were being robbed of an amazing experience. Fortunately, they didn't know this.
Do not miss this masterpiece by Céline Sciamma
As mentioned earlier, this movie was both written and directed by Céline Sciamma. She is a brilliant writer and director who has already made several movies. Céline Sciamma is gay herself and was previously in a relationship with one of the stars in this movie (Adèle Haenel who plays the title character). 
And yes, knowing this does give an extra layer to the movie-watching experience. Especially because Portrait of a Lady on Fire is all about the female gaze. Every single shot could be made into a painting and I would want to hang it on every single wall.
This is the fourth feature film from Céline Sciamma as a director. All of them have had LGBTQ characters and storylines – and yes, I have loved every single one of them. Some more than others and definitely Portrait of a Lady on Fire the most. But really, it's in a league all of its own. 
Céline Sciamma's first feature film was Water Lilies (2007) which also starred Adèle Haenel, so they've known each other for a long time. Then came Tomboy (2011) followed by Girlhood (2014). All three are very different from this latest movie in most ways but especially since Portrait of a Lady on Fire is essentially a period piece as well as a love story between women.
To me, Portrait of a Lady on Fire is truly perfect. 
Watch Portrait of a Lady on Fire in a movie theater if you get the chance!
This movie has immediately become one of my favorite movies ever. Not just one of my favorite LGBTQ movies, but a favorite overall. Just as The Favourite was the best movie I watched at AFI Fest in 2018, Portrait of a Lady on Fire was the very best movie I caught at AFI Fest in 2019.
If you get the chance to watch Portrait of a Lady on Fire in a movie theater, then please grab it. I will definitely get this movie on Blu-ray when it comes out since it's a movie I just have to own in its best possible version. However, I am extremely happy that I watched it in a movie theater (twice even), and I wish this experience for everyone!
Portrait of a Lady on Fire will be out in US theatrical release on Valentine's Day 2020 (February 14, 2020). 
Director: Céline Sciamma
Writer: Céline Sciamma
Cast: Noémie Merlant, Adèle Haenel, Luàna Bajrami, Valeria Golino 
Official plot:
In 18th century France a young painter, Marianne, is commissioned to do the wedding portrait of Héloïse without her knowing. Therefore, Marianne must observe her model by day to paint her portrait at night. Day by day, the two women become closer as they share Héloïse's last moments of freedom before the impending wedding.