TWO OF US is a new movie from France (org. title Deux). It's about a love story between two women. A truly beautiful LGBTQ movie and very safe to watch – even though it is also a drama. Comedy and romance are what carry this little gem of a story. Read our full Two of Us movie review here!
TWO OF US is a new movie from France. It's a romantic movie that has drama and comedy, but more than anything, it's a real love story. At the heart, we see Nina and Madeleine who have been a loving couple for decades while still being in the closet. This soon becomes more important than ever and they fight for their love.
Two of Us is ultimately a happy story and therefore very safe to watch if you're wanting to avoid death and heartbreak. Sure, there will be struggles along the way but this is a very life-affirming story. This is a real gem of an LGBTQ love story and it's also a really good movie. In fact, it's France's Official Submission for Best International Feature Film at the 93rd Academy Awards. 
Continue reading our Two of Us movie review below.
Don't worry, there is a happy ending!
I know this might be a spoiler, but Two of Us is in the romance genre, so I would expect a happy ending. You'd expect the same from a Christmas movie, which we also got a few of in 2020 and now 2021 begins with this treat. Still, after seeing gay couples suffer death, forced separation, or other impossible forms of love stories, it feels important to mention.
So yes, I will tell you upfront that Two of Us does have a happy ending!
Even better, it also has a very happy and extremely cute, and loving, beginning. Then there's the middle part which has a lot of drama – and you will get angry at some characters along the way. Still, even when there's drama, the love and passion never disappear.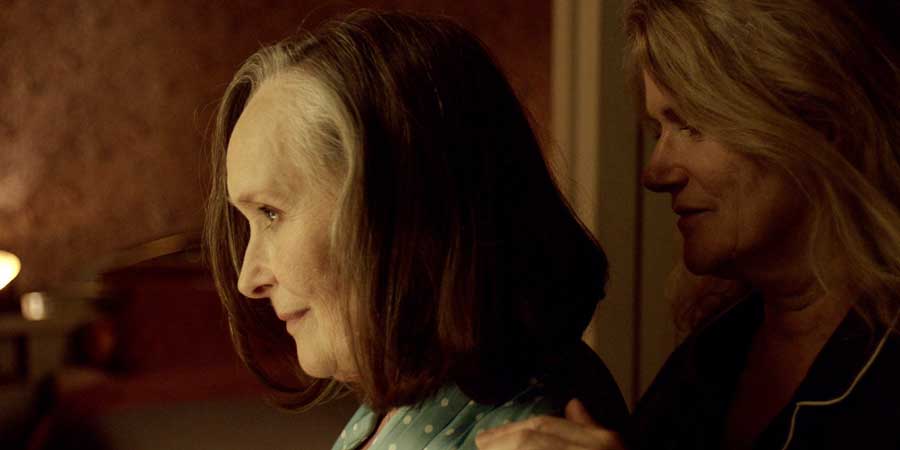 A realistic and beautiful love story
Nina (Barbara Sukowa) and Madeleine (Martine Chevallier) have been a loving couple for decades but still, they keep two apartments. The apartments are right next to one another and they only have them because Madeleine still hasn't come out to her children.
It's all about keeping up appearances while their relationship is actually strong, extremely loving, and very solid.
Still, the time has come for Madeleine to come out since they want to sell their apartments and move away together. An event happens that changes these plans and Madeleine is suddenly in the care of her daughter, while Nina (her loving partner of several decades) is forced to play the role of good friend and neighbor.
This is tough to watch at first, but Nina is very inventive which leads to both (mildly) cringeworthy and (mostly!) rather funny scenes. Comedy and romance are what carry this little gem of a story!
Barbara Sukowa is perfect as a modern-day (and older, obviously) version of the iconic bee-charmer Idgie Threadgoode from Fried Green Tomatoes (1991). Now, if that statement doesn't make you want to watch Two of Us, then I don't know what will.
If you recognize Barbara Sukowa, then maybe it's from her small role as the Coroner in the brilliant Atomic Blonde (2017). Her career is full of brilliant roles, so do check out her IMDb resume after watching Two of Us. The same goes for Martine Chevallier who is both repressed and full of love as Madeleine. Martine Chevallier was in Tell No One from 2006, which I highly recommend.
Watch Two of Us any way you can!
Filippo Meneghetti is the director and co-writer of Two of Us (org. title Deux), which is actually his debut feature film. And what a debut! Previously, Filippo Meneghetti has written and directed three short films and a documentary, so he is just getting started with his career.
Maybe now this movie will go on to become an Academy Award nominee for France. Something Portrait of a Lady on Fire (2019) should have been if France hadn't sent another movie to be nominated. Yes, I'm still bitter. Oh well, at least it received a Golden Globe nomination.
Getting back to Two of Us, I, admittedly, never would have thought this movie was made by a man from Italy born in 1980. He did a wonderful job! Be sure to watch this amazing LGBTQ movie in any way possible. You won't be sorry that you spent 100 minutes in the company of this French movie.
Two of Us is on in the US in select theaters and on VOD on February 5, 2021.
Director: Filippo Meneghetti
Writers: Malysone Bovorasmy, Filippo Meneghetti, Florence Vignon
Stars: Barbara Sukowa, Martine Chevallier, Léa Drucker, Eugénie Anselin, Muriel Bénazéraf, Stéphane Robles
Official plot:
Two retired women, Nina and Madeleine, have been secretly in love for decades. Everybody, including Madeleine's family, thinks they are simply neighbors, sharing the top floor of their building. They come and go between their two apartments, enjoying the affection and pleasures of daily life together, until an unforeseen event turns their relationship upside down and leads Madeleine's daughter to gradually unravel the truth about them.