PAPER GIRLS on Prime Video is a new Amazon Original series based on a comic book. It's sci-fi and fantasy which includes time travel as the main plot driver. A cast featuring mostly young actors make for an intriguing watch. Read our full Paper Girls season review here!
PAPER GIRLS is a new Prime Video sci-fi series based on a comic book. There are eight episodes in season 1 and by the second episode, you should have a pretty good idea about the concept. The series is sci-fi and fantasy with time travel as the main plot driver, but there is also plenty of comedy.
The core cast of the paper girls features four young talents while the adult version of one paper girl is portrayed by Ali Wong, who definitely delivers on humor. But also on heartbreak and other very adult issues.
Continue reading our Paper Girls season 1 review below. All eight episodes are out on Prime Video from July 29, 2022.
Girls helping girls
The new Amazon Original begins very early in the morning on November 1st of 1988. However, we won't be there for long since time travel is a big part of the story. Four young girls out on their paper route are being chased and harassed by young men still "celebrating" Halloween.
The more seasoned paper girls know that this day is notoriously awful to deliver papers on. The girl we follow, Erin, is out on her first paper route ever and has no idea what's coming. Fortunately, three other paper girls join her and they decide to deliver their papers together on this day to form a united front.
Unfortunately, even as they form a team and hunt those that are trying to hunt them, they end up in big trouble. We're talking four 12-year-olds being transported more than 30 years into the future since they end up in 2019. In other words, before the pandemic, but very much in the world of the Internet, which was certainly not a thing in 1988.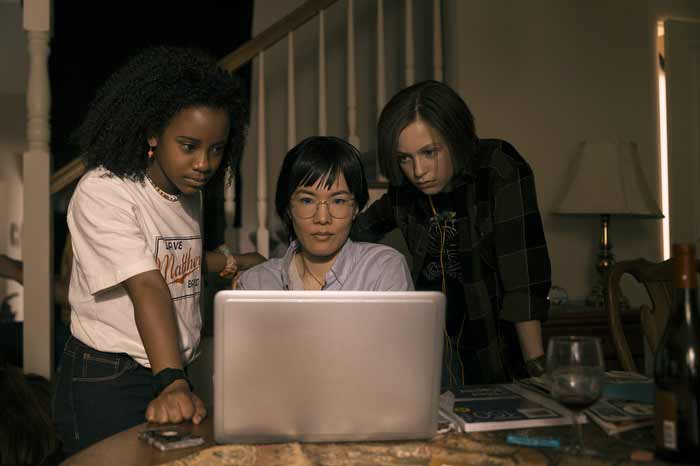 Great casting makes this work
Paper Girls is depicted through the eyes of four girls that are wildly different. The four characters are played by breakout leads Camryn Jones as Tiffany Quilkin, Riley Lai Nelet as Erin Tieng, Sofia Rosinsky as Mac Coyle, and Fina Strazza as KJ Brandman.
As they travel from 1988 to 2019, they arrive in a world where they exist as adults but have no memory of the events that the girls are currently going through. For comedy, Ali Wong alone delivers many wonderful moments. Ali Wong stars as the grown-up version of Erin and the casting is perfect!
Aside from these young talents and Ali Wong, we also see Nate Corddry (Mindhunter) as Larry and Adina Porter (True Blood, The 100) as Prioress. The character names might not mean much to you now, but they quickly will.
Watch Paper Girls on Prime Video
Paper Girls is based on the best-selling graphic novels written by Brian K. Vaughan and illustrated by Cliff Chiang. In the series, we get eight episodes that each deliver both fantasy, humor, great characters, and exciting twists and turns.
Stephany Folsom is responsible for creating this television series based on the comic books. Very soon, we'll see even more from her as she is also a writer on the upcoming The Lord of the Rings: The Rings of Power. Another series being released on Prime Video as Amazon Original productions.
Womentainment recommendation: Check out this lovely coming-of-age story
So often, coming-of-age stories (and those including time travel) feature boys or adult male characters. In Paper Girls, we see four girls bonding against all odds and finding their way in a world that is very foreign to them.
If you enjoy sci-fi and fantasy, then you'll definitely want to check out Paper Girls, but you should also want to watch this Prime Video series if you just like a good character-driven story.
Paper Girls season 1 is out on Prime Video from July 29, 2022.
Directors: Mairzee Almas, Georgi Banks-Davies, Destiny Ekaragha, and Karen Gaviola
Cast: Camryn Jones, Riley Lai Nelet, Sofia Rosinsky, Fina Strazza, Ali Wong, Nate Corddry, Adina Porter
Official plot:
In the early morning hours after Halloween 1988, four paper girls—Erin, Mac, Tiffany, and KJ—are out on their delivery route when they become caught in the crossfire between warring time-travelers, changing the course of their lives forever. Transported into the future, these girls must figure out a way to get back home to the past, a journey that will bring them face-to-face with the grown-up versions of themselves. While reconciling that their futures are far different than their 12-year-old selves imagined, they are being hunted by a militant faction of time-travelers known as the Old Watch, who have outlawed time travel so that they can stay in power. In order to survive, the girls will need to overcome their differences and learn to trust each other, and themselves.