The Miseducation of Cameron Post features a stellar performance by Chloë Grace Moretz. Both heartbreaking and very heartfelt, this is one of the best and most important LGBTQ movies. Ever! A must-watch for everyone.
The Miseducation of Cameron Post is the kind of LGBTQ movie that should be mandatory to watch. Not just for LGBTQ people, but everyone. Certainly, everyone who wants to be an ally.
The film already won the Grand Jury Prize [Dramatic] at Sundance Film Festival, where it premiered on January 22, 2018. When you watch it, you'll understand why.
As the story unfolds, it does so in a very open, honest, and direct way. Despite what you might feel about conversion therapy (and I truly loathe the very idea), nobody is made out to be a villain.
That's part of the strength in the storytelling; It's letting you judge each person and act on its own merits.
Also, The Miseducation of Cameron Post offers everything from heartbreak to unconditional love. Especially learning to love yourself unconditionally.
Chloë Grace Moretz is Cameron Post
Obviously, this is the story of Cameron Post – it's right there in the title. This means the casting of Cameron is paramount. If we don't care about her, then the rest of the film will struggle to get anything across.
Fortunately, Cameron Post is portrayed by Chloë Grace Moretz and I cannot imagine anyone else doing a better job. I've been following her career since the very beginning. After all, she started out with a few big horror movies, which is another passion of mine. Her first big role was in The Amityville Horror remake from 2005, where she acted across from Ryan Reynolds. 
My point (and I do have one) is the fact that I completely forgot about all the movies, I've seen her in before. When watching The Miseducation of Cameron Post, she was simply Cameron to me.
Obviously, that's always supposed to be the case, but with any well-known actor, it never truly is. This time around, it actually was. And this speaks volumes about the impressive performance Chloë Grace Moretz deliver in this movie.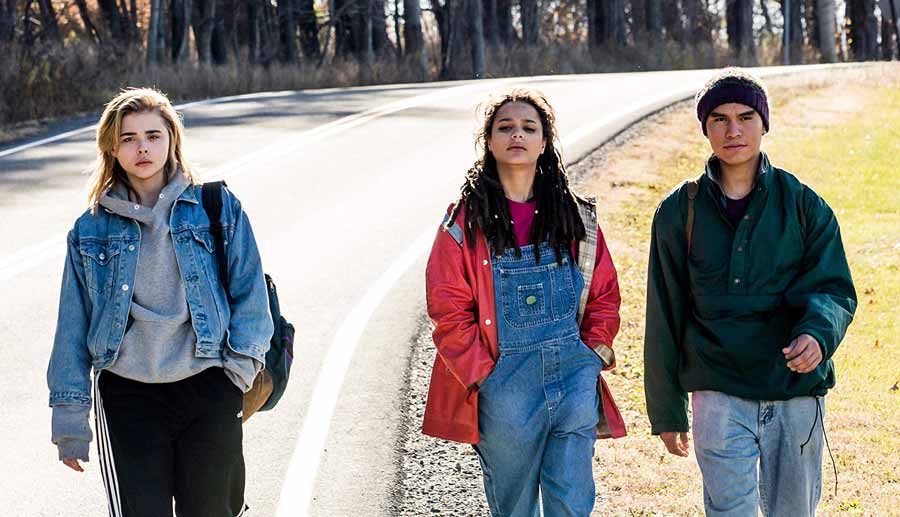 Writer and director Desiree Akhavan
In case you haven't come across Desiree Akhavan before, you should probably get ready for that to change. The Miseducation of Cameron Post is only her second feature film as a writer and director.
Her first movie was the critically acclaimed Appropriate Behavior from 2014, which she also starred in. I have yet to watch it, but it's very high up on my extensive list of movies to watch. And yes, it is also LGBTQ relevant since the main character identifies as bisexual. 
Personally, I only really knew her as an actress before watching this movie. She was in Creep 2 which came out in 2017. Don't worry, it's a much better horror thriller than the title would indicate. It's the sequel of a brilliant little indie movie (Creep) by the Duplass brothers.
After finishing her work on The Miseducation of Cameron Post she went on to do a TV series called The Bisexual. It was produced by Channel 4 [TV channel in the United Kingdom] and Hulu, which both released it in November 2018.
And when I say she went on to "do" this series, I mean she stars, directs, and co-wrote The Bisexual. It seems there's no stopping Desiree Akhavan and I, for one, am very happy about that.
Representation done right
The Miseducation of Cameron Post is a textbook example of how to do a movie about both LGBTQ people and a female protagonist right. That's one of the main reasons why this works so well.
Of course, a movie about a young adult realizing she's a lesbian will feature scenes with two women kissing one another. But how these scenes are done, will always tell you near everything you need to know about the filmmaker's intentions.
With The Miseducation of Cameron Post, the intention is clearly to show something very honest and real. The scenes between Cameron (Chloë Grace Moretz) and Coley (Quinn Shephard) feel very organic and real. Instead of getting the typical "sex scene"-treatment, we get to experience a true moment of "I know that feeling".
In an interview, I remember Desiree Akhavan crediting this with the fact that The Miseducation of Cameron Post is made mostly by women. And most of the women in key roles even identify as part of the LGBTQ community. Clearly, this should make a difference and it definitely does. 
The Miseducation of Cameron Post is a hundred times more intense and real than anything Blue is the Warmest Color managed to show with its many and long scenes of an erotic nature. That's not to say anything bad about the other movie.
But it is to say that I definitely prefer The Miseducation of Cameron Post, which has heart and grit at its very core.
One of the very best LGBTQ movies
I've watched a lot of LGBTQ movies and while there are many good ones, there are also many that are closer to just being mediocre. Either due to budget, story, casting, the filmmakers or a need to always end on a sad note.
The Miseducation of Cameron Post is one of the best LGBTQ movies because it falls into none of these categories. It has a very high production value, a heartfelt (and heartbreaking) story, brilliant casting, engaged filmmakers and it ends on a hopeful note.
In other words, you'll be smiling (and also be angry and possibly cry) during the movie, but you should definitely be smiling by the end of it.
After watching it, you'll hopefully recognize that while there's bad in this world – where gay conversion therapy is still happening – there is also so much good. We can actively do our part to make it matter by making the right choices and helping where needed. Not just in our own community (or even country), but wherever we can do our part.
Womentainment recommendation: Make sure you
own
The Miseducation of Cameron Post 
I don't buy many movies these days. I watch them at a movie theater screening whenever possible and rent them on VOD or stream through Netflix or another streaming subscription. However, every now and then a movie comes along that I feel a need to own so I can watch it over and over again. And whenever I want.
The Miseducation of Cameron Post is one of these very few movies, so my recommendation is to own a copy rather than "just" renting it. You won't regret it!
The Miseducation of Cameron Post is out on Digital HD from November 6 and DVD/Blu-ray from December 4, 2018.
Director: Desiree Akhavan
Writers: Desiree Akhavan, Cecilia Frugiuele, Emily M. Danforth (novel)
Cast: Chloë Grace Moretz, Steven Hauck, Quinn Shephard, John Gallagher Jr., Emily Skeggs, Marin Ireland
Official plot:
In 1993, a teenage girl is forced into a gay conversion therapy center by her conservative guardians.