A NEW YORK CHRISTMAS WEDDING is a new Netflix Christmas movie with a twist. The twist being of the LGBT variety with a very heartfelt story that will resonate with many. Read our full A New York Christmas Wedding movie review here and check it out on Netflix!
A NEW YORK CHRISTMAS WEDDING is a new Netflix Christmas movie. However, this one has the awesome twist of having an LGBT love story at the heart of it. And yes, this is a classic Christmas movie complete with all the cheesiness you'd expect from one. 
While the main story is LGBT, this movie is about accepting yourself and being brave enough to live the life you want. And often need to live, in order to be truly happy. A story that will no doubt resonate with many. This LGBT Christmas movie is a real gem on Netflix.
Continue reading our full A New York Christmas Wedding movie review below.
A movie full of diversity
The two main characters, Jennifer Ortiz and Gabrielle Vernaci, are portrayed by Nia Fairweather and Adriana DeMeo respectively. Two have wonderful chemistry which is obviously very important. And yes, this movie features lots of same-sex kisses and intimacy. Including a very respectful, loving, and hot, sex scene.
The character of Jennifer "Jenny" Ortiz is definitely the main character and Nia Fairweather does an excellent job of portraying her with heart and honesty. Adriana DeMeo plays the more brazen Gabrielle "Gabby" Vernaci who is clearly all about love and forgiveness.
Overall, there is a lot of diversity that feels extremely organic – in particular since it takes place in New York. We see actors of virtually every ethnicity as well as LGBT actors and characters. Yes, including trans!
Familiar faces in supporting roles
Chris Noth (yes, Mr. Big from Sex and the City) plays a key role in A New York Christmas Wedding as Father Kelly. He is also an executive producer of this LGBT Christmas movie, so he is clearly invested in the message.
Something that becomes very clear through the character he portrays as well.
In other small supporting roles, we have Tyra Ferell who I certainly grew up watching. She's been in movies such as Boyz n the Hood (1991), White Men Can't Jump (1992), and Poetic Justice (1993). Some truly classic and iconic movies. Also in a small role, Denny Dillon of Saturday Night Live (1980-1981) and the Dream On series (1990-1996).
Another small role is portrayed by singer and musical actor, Chris Trousdale, who never lived to see this movie premiere. The movie premiered at the American Black Film Festival in August 2020. Chris Trousdale died on June 2, 2020, of complications from Covid-19. He was only 34 years old and the movie ends with a dedication to him.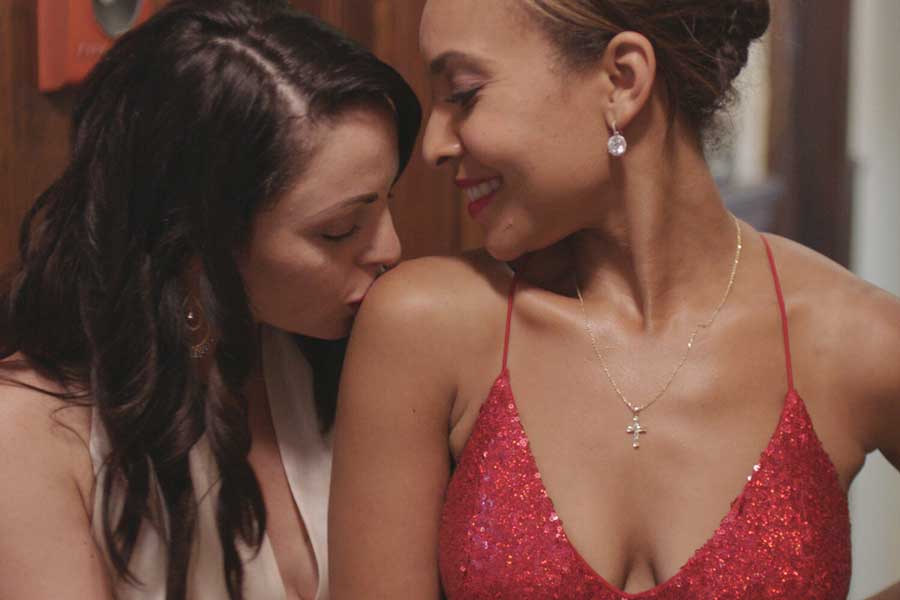 Yes, an LGBT Christmas movie!
While many of us are waiting for Clea DuVall's Happiest Season to be released on Hulu, it's a real treat to discover that there is already a very classic [and yes, cheesy] LGBT Christmas movie out on Netflix now. As with many other Christmas movies before this one – from A Christmas Carol to The Family Man – the concept is very familiar:
Would you choose differently if given another chance?
Whether it's choosing a different career or a different life partner. Actually, in Christmas movies, these two elements tend to be closely connected and A New York Christmas Wedding is no different. This queer Christmas movie has everything you'll love from all the many straight Christmas movies that there are literally hundreds of. Now, we get these stories for ourselves.
Have faith and enjoy the happy ending
I would hardly call this a spoiler, but still, I have to acknowledge that LGBT+ audiences are all-too-familiar with a sad ending. In this queer Christmas movie, there will be none of that.
Christmas movies have to have a happy ending and, fortunately, A New York Christmas Wedding is no exception.
In other words, do not fear when things might look bleak or appear to take a wrong turn. This is a Christmas movie for you and you too will get a happy ending this Christmas!
Watch A New York Christmas Wedding on Netflix now!
This new LGBT Christmas movie was written and directed by Otoja Abit who also co-stars. Otoja Abit also portrayed the iconic Marsha P. Johnson in the 2015 Stonewall movie. And no, we won't get into the issues of that particular movie here. Instead, I will continue in the positive spirit of the A New York Christmas Wedding movie.
While watching this with my wife, she even wondered out loud "Could you imagine having watched this when we were teenagers?" Sure, there were LGBT movies when I was a teenager (in the 1990s), but nothing like this. And I am so happy that there will now be at least two new movies this year. Not what you'd expect after what 2020 has provided so far!
If you want a classic feel-good Christmas movie with an LGBT love story, then check out A New York Christmas Wedding on Netflix!
A New York Christmas Wedding is out on Netflix from November 6, 2020 (in the US, UK, Canada, and Australia).
Director: Otoja Abit
Writer: Otoja Abit
Stars: Nia Fairweather, Cooper Koch, David Anzuelo, Otaja Abit, Chris Noth, Adriana DeMeo, Tyra Ferrell
Release date: November 6, 2020, on Netflix in the US, Canada, UK, and Australia
Official plot:
Jennifer (Nia Fairweather) is growing increasingly anxious about her upcoming Christmas wedding to her handsome, successful fiancé, David (Otoja Abit). She goes on a run to clear her head after a tense pre-wedding dinner with David and his family and is visited by a guardian angel named Azrael (Cooper Koch). Azrael tells Jennifer he can show her another version of her life with everything she truly wants. Jennifer is curious but dismisses his offer until she wakes up and finds herself in the alternate universe Azrael said he could show her. In this world, Jennifer's beloved father is still alive, her childhood priest Father Kelly (Chris Noth) has modernized their church congregation, and she is engaged to her best friend and true love Gabriella (Adriana DeMeo). As Jennifer begins to embrace this alternate reality, Azrael reminds her she only has a limited amount of time to decide which life she wants to live. Torn between the safe life she is currently living and the life of her dreams, Jennifer learns to take a risk and follow her heart.