A HOLIDAY I DO on Tello is a new lesbian Christmas movie. It's cute and kitsch with every trope in the Christmas movie niche. Unfortunately, it feels like it could've been made in the 1990s when it comes to the physicality between the two women. Read our full A Holiday I Do movie review here!
A HOLIDAY I DO is a new Tello movie. More specifically, it's a new lesbian Christmas movie. The story is cute and it really does mange to cover most Christmas movie tropes, which I am fine with. It's all part of this particular subgenre. However, the romance story being like something from the past century is less cute.
Overall, I wasn't crazy about this movie. I give it a 2 out of 5 for the cute story and chemistry between the love interests. Also, I adore Jill Larson of the brilliant 2014 horror movie The Taking of Deborah Logan, and she plays the mother of the lead lesbian character. How awesome is that phrasing: Lead lesbian character. Fun fact: her daughter in the 2014 horror movie is also gay.
Anyway, when it comes to new Holiday movies with LGBTQ characters, you should check out the movie It's A Wonderful Knife instead. It's a horror movie, but one that's gay in all the right ways. Truly made for us! Don't take my word for it. Check out the amazing It's A Wonderful Knife screenwriter, Michael Kennedy. He's having a blast at X/Twitter taking on anyone coming after the movie for being gay.
Also, do continue reading our A Holiday I Do movie review below to find out why I'm not thrilled.
Classic Christmas movie setup
In A Holiday I Do, we meet Jane who is a single mom. She's a sweetheart, but also a mess, and focuses on raising her 10-year-old daughter, Lexi, while managing her family's horse farm after the loss of her father. Jane lives with her mom, who offers lots of moral support and wants her daughter to find a girlfriend.
Jane's ex-husband (the father of Lexi) is getting married again. A Christmas Wedding, of course.
Now, Jane is best friends with her ex, Mark, so it's not surprising that she is his best (wo)man. His fiancé isn't thrilled about this and is portrayed as quite the bridezilla. However, she's sweet with her soon-to-be stepdaughter, so we know she isn't all bad.
Of course, nothing goes as planned, and Jane has no idea her mom is about to lose the family farm because her mom is trying to protect her daughter. However, one good thing does come from this Christmas wedding; The wedding planner Sue. As soon as Jane and Sue have their meet-cute, sparks fly between them. Clearly of a romantic kind.
But can anything ever come of this chance encounter? Well, this is a Christmas movie, so the answer is a given. Or is it?!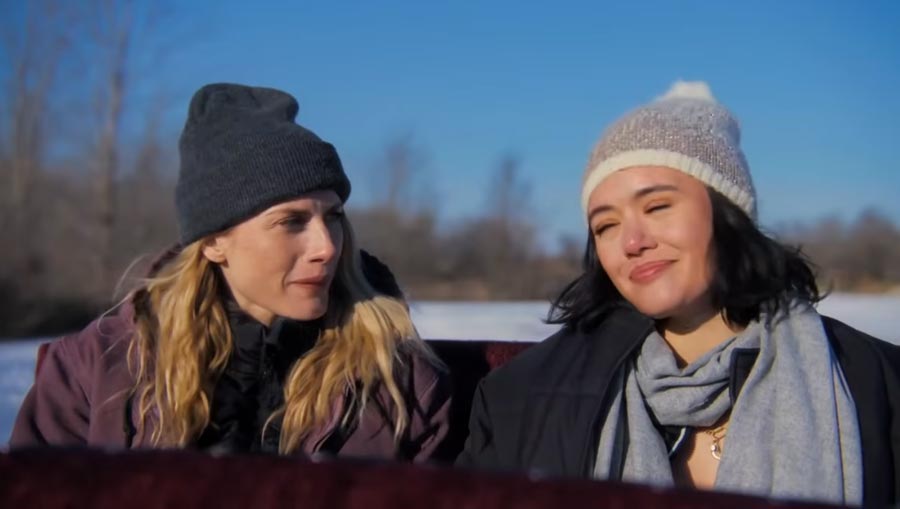 Do the women kiss in A Holiday I Do on Tello? *minor spoiler*
This is definitely a spoiler, so let me just do a SPOILER ALERT shoutout here. I don't like doing spoilers but I feel I need to make an exception for this one.
Yes, the two women in A Holiday I Do eventually kiss. This happens for a chaste second in the final scene of the movie and the camera immediately panes away. I almost laughed out loud (okay, more of a chuckle really) when this happened. It was like an immediate flashback to many of the lesbian romance movies of the 1990s.
Not the best ones, of course, but those that made the rounds at LGBT film festivals in the late 1990s and early 2000s. The ones where women look longingly in each other's direction and it's all subtext.
I admit I expected a lot more from a Tello Films release. I mean, this is the streaming platform that has the following description on their own Instagram account:
"A streaming platform that makes brave and original series and features with lesbians / queer women at the center of every story"
Sure, you could watch this Christmas movie because the lesbian love story is sweet, and the chemistry between Jane (Lindsay Hicks) and Sue (Rivkah Reyes) comes across clearly. This just makes it even sadder that we never get to see it more. And I'm not talking hot and steamy scenes. Though I wouldn't object, it's not traditionally part of Christmas romances.
However, more than the singular chaste kiss in the dying moments of this movie is the least we could expect.
Watch A Holiday I Do on Tello now!
The directors of A Holiday I Do are Paul Schneider and Alicia Schnieder. This is the second feature film for Paul Schneider as a director following the 2021 movie Just Another Dream which has a 3.7 IMDb rating as of writing this review. This is the first director credit for Alicia Schneider and also the first writing credit for them both.
All the actors in this movie deliver strong performances. Even those who have to be Christmas movie stereotypes. And, as mentioned, Lindsay Hicks and Rivkah Reyes (Onyx the Fortuitous and the Talisman of Souls) have amazing chemistry as Jane and Sue. So much good happened in the casting part of this lesbian Christmas movie.
If only the story could've reached the heights of the chemistry between the key characters, we could've had a new Christmas movie classic for LGBTQ+ viewers. But it doesn't and so we don't.
Womentainment recommendation:

Watch it for the cute story and positive representation

Having said that, you could watch A Holiday I Do for the cute story and positive representation, but I also have to (again!) focus on the fact that it could've been a lot better. Especially in terms of bringing the lesbian romance to fruition. So to speak.

I would rather watch A New York Christmas Wedding or Happiest Season again. In fact, I definitely will during the holiday season.

However, I don't expect I'll ever feel the need to watch A Holiday I Do again.

A Holiday I Do is out on Tello from November 10, 2023.
Directors: Paul Schneider & Alicia Schnieder
Writers: Melinda Bryce, Paul Schneider, Alicia Schnieder
Cast: Lindsay Hicks, Rivkah Reyes, Jill Larson, Michael Davis Arnold, India Chappell, Marsha Warfield, Kayden Bryce, Dale Dobson
Official plot:
When a small town, single mom falls for her BFF ex-husband's beautiful and sophisticated wedding planner, she'll need some Christmas magic to fix the chaos that ensues.