NYAD on Netflix is a movie based on an incredible true story. It's both a biography and a life-affirming story that focuses on dreams, perseverance, and friendship. The movie stars Annette Bening and Jodie Foster. What's not to like?! Absolutely nothing. It's brilliant. Read our full Nyad movie review here!
NYAD on Netflix is both a drama and a biography as it's based on the true story of the perseverance of marathon swimmer Diana Nyad. This is one of the very best Netflix movies I have ever watched. It uses archival footage of the real Diana Nyad throughout and mixes it obviously and unapologetically with this fictionalized feature film footage.
And why not? When you have a true story like this, you'll want to highlight the very real people who lived through this adventure. Or rather, these adventures as nothing is simple or easy. I absolutely adored this film and knew it would be a new favorite of mine. Before the title card even shows up on the screen – which happens a good ten minutes into the two-hour runtime – I was hooked.
Annette Bening and Jodie Foster are both brilliant in this movie as is Rhys Ifans, who gets a serious role with some real meat on it. All three could easily end up winning many awards for their portrayals. Who knows, maybe Annette Bening will get her fifth Academy Award nomination and finally win an Oscar. She's certainly more than worthy of having one!
Continue reading our Nyad movie review below. Find it on Netflix from November 3, 2023.
The amazing and true story of Diana Nyad
Nyad is a movie that tells the remarkable true story of how Diana Nyad decided at 60 that she wanted to revisit the challenge she couldn't complete at age 28. That in and of itself sounds crazy. Especially when taking into account that it's a brutally physical challenge that would obviously be better suited for a 28-year-old body than one more than twice as old.
Then again, Diana Nyad is a marathon swimmer and that particular discipline is as much a mental fight as it is physical. In that sense, it actually makes perfect sense that Diana would be better suited with three more decades behind her.
Ultimately, both the theoretically impossible challenge and the movie are about tenacity, friendship, and the triumph of the human spirit. World-class athlete Diana Nyad had been in retirement from marathon swimming for three decades when she decided to go back. She was enjoying a prominent career as a sports journalist, but decided she had to revisit that one epic swim that defeated her.
A 110-mile trek from Cuba to Florida. A challenge referred to as the "Mount Everest" of swims. Well, if Mount Everest was riddled with sharks and other animals that can harm you. Diana (four-time Academy Award nominee Annette Bening) embarks on what is to become a multi-year-long journey with her best friend and coach Bonnie Stoll (two-time Academy Award winner Jodie Foster), and a dedicated sailing team.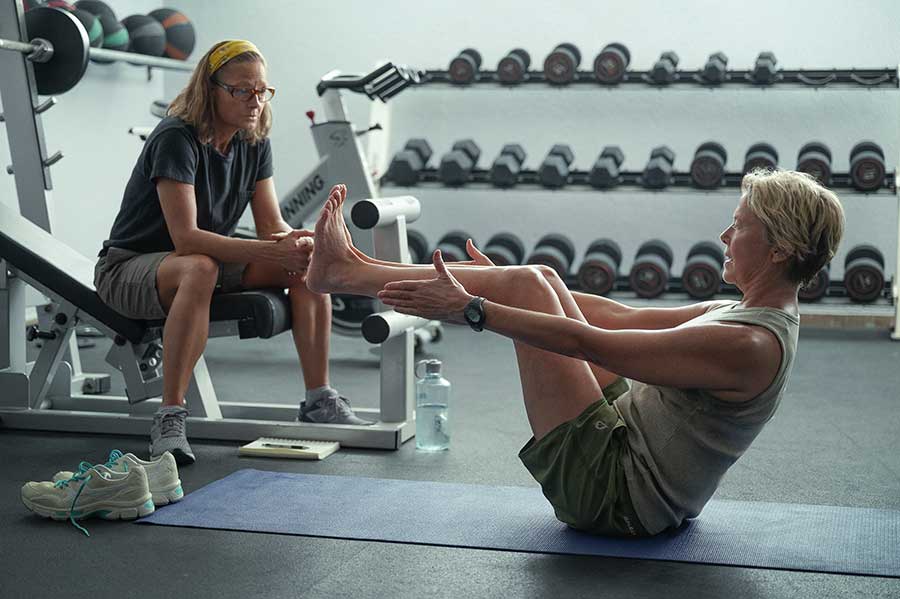 Annette Bening and Jodie Foster? Yes, please!
I'll admit that when I watched the trailer for this Netflix biopic, I knew instantly that I would love it. And yet, I had no idea just how much I would adore it and feel it deep in my soul. Oh yeah, I'm serious!
In the trailer, you'll see the love and friendship between Diana Nyad and Bonnie Stoll. Also, you'll feel the brilliant chemistry between Annette Bening as Diana and Jodie Foster as Bonnier. It is simply perfect.
You know when you watch a realistic sibling relationship, where there's tough love but also unconditional love and loyalty. They mock and irritate each other one second, but always have one another's backs. This is the kind of friendship Diana and Bonnie have. And being Diana's friend is no easy task.
Seeing this deep and loving friendship between two lesbian women in their post-menopausal age is so wonderful. It's honest and pure – but also with a few bumps along the way.
This movie may be a tribute to Diana's accomplishments, but it does not hold back. Whenever you hear actual commentary from interviews with the real Diana, you can tell she is one tough lady. You may even feel she's a little full of herself. And yet, she's not wrong in how she presents or describes herself. Just brutally honest.
Watch Nyad on Netflix now!
To describe Nyad as an inspirational film is almost selling it short. It absolutely is inspirational in so many ways. However, it's so much more. It's a thrilling adventure and an intense drama as well. It has everything really. Yes, also the funny and heartbreaking moments that movie magic is made of. And okay, yes, it is intensely inspirational!
The directors of Nyad are the Academy Award-winning documentary filmmakers Elizabeth Chai Vasarhelyi and Jimmy Chin. The two previously made documentaries such as Free Solo (2018) and The Rescue (2021), which I highly recommend as well. On paper, they would be perfect for a documentary version of Diana Nyad's story. Fortunately, they are also perfect for this feature film version.
This is their narrative directorial debut. I truly hope they'll go on to make both documentaries and feature films in the future. The screenplay comes from Julia Cox (The Last Tycoon, Recovery Road), adapted from the memoir "Find a Way" by Diana Nyad, and once again it's simply perfect.
What's not to like about Nyad?! Absolutely nothing. It's brilliant.
Womentainment recommendation: Watch it and discover one of your new favorite movies!
To me, Nyad is one of the best Netflix movies ever. Everyone should watch this. Especially women, who I have no doubt are already the ones who will go for it first. However, the message is universal; Never give up, don't let your age define your dreams, and remember that it often takes a team to accomplish things.
Seeing Annette Bening and Jodie Foster as Diana and Bonnie respectively is just amazing. Their scenes alone are enough to check out this movie. I could not have imagined a better casting. Especially when we get to see the real Diana and Bonnie towards the end of the film. Even alongside Annette and Jodie. It just works.
Whether in the water or out, Nyad is a masterpiece. And it really isn't the classic Hollywood production where everything is easy and goes as expected. It's very much a movie that stays true to the story it's based on.
Nyad is out on Netflix globally from November 3, 2023.
Directors: Elizabeth Chai Vasarhelyi & Jimmy Chin
Screenplay: Julia Cox
Cast: Annette Bening, Jodie Foster, Rhys Ifans
Official plot:
NYAD tells the remarkable true story of athlete Diana Nyad who, at the age of 60 and with the help of her best friend and coach, commits to achieving her life-long dream: a 110-mile open ocean swim from Cuba to Florida.