The Dressmaker is one of the most award-winning Australian movies ever. The reason why? It is very simply
that

good. Also, Kate Winslet is better than ever. And that's saying something. Don't miss this gem!
Let me be honest here, if The Dressmaker had been made in the USA, then we would've been talking Academy Awards, because this movie has it all. Of course, it would also have to be very much an indie production to keep the story the same. It has the most amazing characters that could've easily been turned into stereotypes.
Instead, they get to be real, fleshed-out characters. The kinds that make mistakes and goes a bit too far, but also recognizes it. Perhaps only to themselves, but still. And while this may be a very campy movie about how clothes can make a person – or bring out the best in someone – it is also about perseverance, long lost love, bullying, prejudice and a big ol' murder mystery.
YOU WILL LOVE THE DRESSMAKER IF YOU LOVE AMAZING WOMEN
I wasn't sure what to expect, but from the opening shot, I knew I was in for a real treat. And from the first scene, you will know that it is all thanks to Kate Winslet. This is absolutely her movie, but I'm happy to say that it's the story that carries the movie. And like I just stated, there are many fascinating characters in this movie.
Though really, the women rule this movie. Especially, when they come into their own thanks to Tilly's dresses – or rather thanks to her letting them be themselves. They are simply unstoppable and everyone knows it. Everyone is a diva in her own right. Even if the story takes place in a tiny outback village.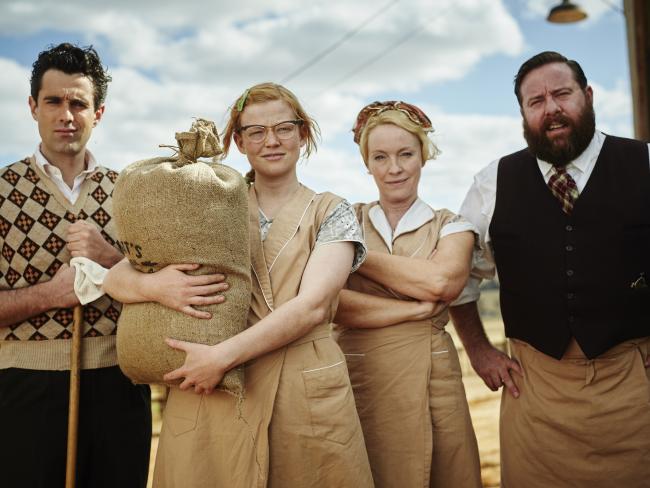 The Dressmaker stars Kate Winslet as Tilly, who returns to her childhood home. The very same place she barely managed to escape, when things were looking very dark. Judy Davis is devastatingly good as her mother. She will both make you laugh and want to scream at her.
Hugo Weaving is playing a police officer, but really, it seems more like a perfect tribute to his character from Priscilla, Queen of the Desert. I mean that in the best way possible, mind you.
Finally, I have to mention Liam Hemsworth, who plays the adorable sweetheart, Teddy. He is all about his family and just doesn't want any trouble. And yes, he is Kate Winslet's love interest, but that really isn't what the movie is about. Also, not only is he really great in this movie, he is almost 15 years younger than Winslet. Not that it shows. And how awesome that we finally get a movie with the age difference set up this way. Without it being the Graduate "cougar story" trope, I mean.
MADE BY AN AUSTRALIAN POWER COUPLE
Maybe the focus on "real women" is, in part, because it was directed by a woman. Jocelyn Moorhouse directed The Dressmaker and also co-wrote the screenplay with husband P.J. Hogan. Hogan wrote and directed Muriel's Wedding, which is another Australian classic about how amazing women are.
Also, it's the movie than launched the international careers of both both Toni Collette and Rachel Griffiths, when it came out in 1994 (wide release in 1995). Moorhouse herself was also the director on How to Make an American Quilt, which starred Winona Ryder, Ellen Burstyn, Anne Bancroft, Alfree Woodard, Maya Angelou and more. Clearly, they both rock at making movies with amazing female characters and actors.
The Womentainment bottom line: Full of all kinds of heartbreak and also so much success, The Dressmaker will make you laugh and cry, but just like Tilly, you will persevere. This is a feel-good movie that should be an instant classic right up there with Priscilla, Queen of the Desert and Thelma and Louise thanks to the campy setting and amazingly awesome female characters.
Director: Jocelyn Moorhouse
Writer: Jocelyn Moorhouse, P.J. Hogan, Rosalie Ham (novel)
Cast: Kate Winslet, Judy Davis, Liam Hemsworth, Hugo Weaving, Julia Blake, Kerry Fox
Official plot:
A glamorous woman returns to her small town in rural Australia. With her sewing machine and haute couture style, she transforms the women and exacts sweet revenge on those who did her wrong.