I CARE A LOT is out on Netflix in the US and Amazon Prime Video in the UK. The genre is a hybrid of thriller, crime, and comedy with a sharp little story. The main protagonist is Marla Grayson – a brilliant and ruthless lioness of a woman. Read our full I Care a Lot movie review here!
I CARE A LOT is out on Netflix in the US and Amazon Prime Video in the UK. Before I say anything else, let me just state that Rosamund Pike is (once again!) absolutely brilliant as the star of this story.
If you liked her in Gone Girl, then you love her in this one as well. This movie is a wild ride and I enjoyed every single second of it… well, except for those very final seconds, but that's on more of a personal note.
Continue reading our I Care a Lot movie review below and find it on Netflix or Amazon Prime Video now.
Rosamund Pike shines as Marla Grayson
Look, I'll happily admit straight away that Rosamund Pike is always awesome in my book. I did love her in Gone Girl (2014) and A Private War (2018) which both seem like perfect precursors for this latest character: Marla Grayson. A self-described lioness who is absolutely unapologetic about it. Exactly like any man would be.
Also, it seems only fitting that all three characters have led to much-deserved Golden Globe nominations.
In I Care a Lot, Marla Grayson will do anything and everything to protect the ones she loves. And that primarily means her girlfriend, Fran, who is also her partner in the business. Fran has all the heat and heart that Marla tries to keep hidden. Eiza González (Baby Driver) plays the character of Fran wonderfully and has great chemistry with Rosamund Pike in this.
However, as much as Marla helps and protects those close to her, she is ruthless in all other aspects. Especially when it comes to business which is that of legal guardianship for the elderly. Basically, she's as crooked as she is brilliant – and she is a freakin' genius at what she does!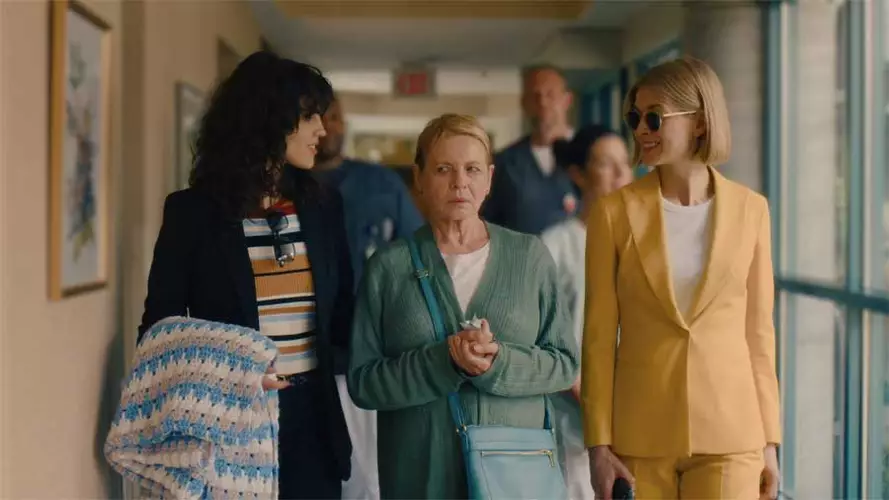 No good guys in this one
Unfortunately, Marla's latest ward victim is one with friends in very low places. Her name is Jennifer Peterson and she's portrayed by two-time Academy Award-winner Dianne Wiest, who turns in a very crisp and badass performance. This upsets one man in particular very much – that man is played by Peter Dinklage (Game of Thrones).
What I really enjoyed about I Care a Lot is the fact that there are no characters that are completely good. Everyone is bad in some way. Either by being actively crooked or by being complacent and not protecting those in need from said crooked people. Also, this is made very obvious; You make your own choices and pay your own prices.
Honestly, if you think any of the grossly rich people in the world are any different, then you're kidding yourself. Either they actively do stuff that isn't exactly "for the good of others" or they accept the fact that people around them act in this manner. It's brutal and sometimes revolting but it's also just the way that things are.
Something Marla (Rosamund Pike) is all too aware of and therefore acts accordingly!
Other supporting characters are portrayed by Chris Messina (Sharp Objects) as a sleazy lawyer, Alicia Witt as a very cooperative doctor, and Macon Blair (The Hunt) as the son of someone in Marla's "care". To pull off telling this story, a hybrid of the thriller, crime, and comedy genres are employed.
Watch I Care a Lot on Netflix (or Amazon Prime Video) now!
J Blakeson is the writer and director of I Care a Lot, which I wasn't even aware of when I started watching it. Sometimes I like to get into a movie "cold" without any idea of the filmmakers behind it. Had I known it was J Blakeson, I would not have been surprised that the female characters are so damn brilliant.
His feature film debut from 2009 was the thriller The Disappearance of Alice Creed which had the always wonderful (and awesome) Gemma Arterton (Summerland) in the title role. I love that movie! If you have not watched it yet, then do yourself a favor and check it out. Especially if you enjoy I Care a Lot.
In every way, I loved the style and characters in I Care a Lot. My one grief is the final moments of the movie. Not because I didn't like the ending. I did actually. However, it is a brutal trope that could have been avoided with just a few minor changes. I don't want to spoil anything more here, but maybe you'll be just mildly prepared for it now.
I Care a Lot is out on Netflix in the US and Amazon Prime Video in the UK from February 19, 2021.
Director: J Blakeson
Writer: J Blakeson
Stars: Rosamund Pike, Eiza González, Peter Dinklage, Dianne Wiest, Chris Messina, Alicia Witt, Isiah Whitlock Jr., Macon Blair, Damian Young, Nicholas Logan
Official plot:
I CARE A LOT follows Marla Grayson (Rosamund Pike), a highly successful legal guardian with a knack for exploiting the law to her financial benefit. After discovering her seemingly innocent new client (Dianne Wiest) harbors dangerous secrets, Marla and her partner (Eiza González) come to find they have unknowingly triggered a battle with a ruthless adversary (Peter Dinklage).