SUMMERLAND is a heartwarming drama set during World War II. It has an LGBTQ romance at the heart of its story. Overall, however, it's more of a story about love and acceptance in all forms. Gemma Arterton stars in this beautiful movie. Read our full Summerland movie review here!
SUMMERLAND is a drama set during World War II. There's an LGBTQ romance in the movie, but mostly, it's about finding love and acceptance. Both from yourself and those around you. The lead character is one tough cookie of a woman – I love it! 
It truly is a heartwarming story that surprises in many different ways before it's over. Gemma Arterton stars in this gem of a movie where you'll see her character falling in love with a character portrayed by Gugu Mbatha-Raw. Not the easiest situation when the story begins nearly 100 years ago.
Continue reading our Summerland movie review below.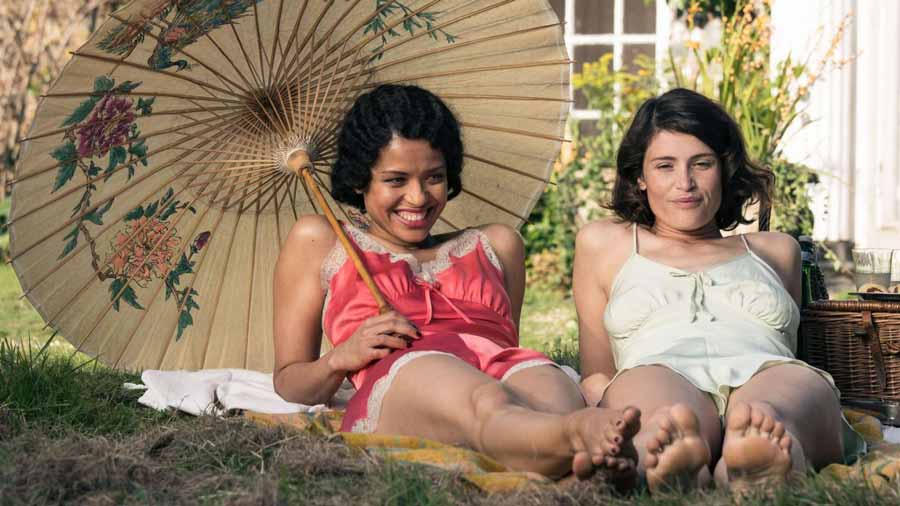 Gemma Arterton and Gugu Mbatha-Raw star
While Summerland is definitely the story of Gemma Arterton's character, Alice, it is also very much about the love she shared with Vera. With the brazen and beautiful Vera portrayed by Gugu Mbatha-Raw, this movie has one gorgeous LGBTQ couple at the center of its romantic love story. Portraying lady-loving ladies is nothing new to either Gugu Mbatha-Raw or Gemma Arterton.
Gemma Arterton played the real-life author Vita Sackville-West in Vita & Virginia in 2018. That particular movie was about the love affair between Vita Sackville-West and Virginia Woolf (played by Elizabeth Debicki). Of course, we last saw Gemma Arterton as a struggling (in many ways) nun in the Black Narcissus mini-series on FX and Hulu. Whatever she does, I'm always impressed by her!
You might like: Our review of the Black Narcissus mini-series >
Gugu Mbatha-Raw broke onto the LGBTQ world stage with her role in the iconic Black Mirror episode "San Junipero". Here, she starred across from Mackenzie Davis (Happiest Season) in a love story for the ages. Their roles in this permanently cemented both as favorites in the LGBTQ community. The San Junipero episode remains my personal favorite and one of the highest-rated Black Mirror episodes.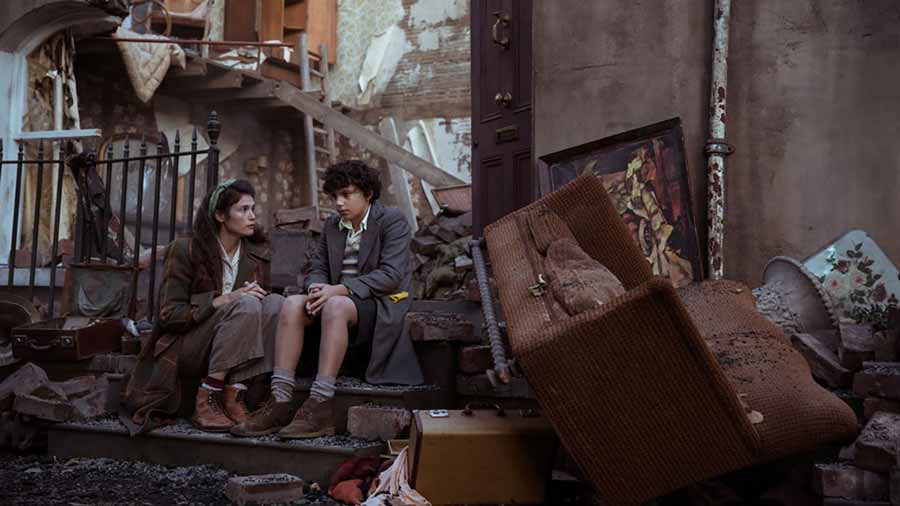 Love in all shapes and sizes
I referred to the relationship between Gemma Arterton and Guga Mbatha-Raw's characters as a "romantic love story" because Summerland is definitely the kind of movie that touches on several kinds of love. Both the kind you find in romantic relationships, friendships, from family, and everything in between.
Most importantly, perhaps, is also to feel acceptance from those you love and care about.
In Summerland, Alice (Gemma Arterton) is a very bitter and hurt woman. For good reason, we learn, but still, she is actively choosing to live her life in this rather sad way. Never truly allowing other people to come close, which in return makes her the kind of strange woman that people fear. And, to no surprise, she is even labeled as a witch which was more common in the 1940s than now. I hope!
However, along comes the very charming boy Frank. Since London was a huge target during World War II, the children were sent to live in the more rural areas. Either with relatives or people who volunteered. Alice is neither, but still ends up with Frank and (very reluctantly) agrees to let him stay for a few days until a new home can be found for the boy.
Lucas Bond plays the role of Frank with so much joy, love, and intensity that I would definitely allow him to live in my house as well. He is quite the little charmer and I expect we'll see a lot more of Lucas Bond in the years to come if he continues to act. He has already been in several episodes of the TNT series The Alienist and has been in several movies.
Watch Summerland on VOD or DVD
Summerland was written and directed by Jessica Swale and marks her feature film debut. She already has another movie in pre-production as a writer and is announced as the writer for yet another one. Both are adaptions of novels and I'll definitely want to watch them.
In 2018, Jessica Swale also made the very poignant (and funny!) BBC short film Leading Lady Parts. It is full of brilliant actors and, yes, Gemma Arterton plays a key role in this one as well. If you haven't already watched it, then you can check it out on YouTube for free. Also, we've embedded it at the end of this review – find it just below the Summerland trailer here!
If you're looking for a heartwarming and life-affirming movie, then Summerland will definitely deliver. This isn't a movie about the relationship between the two women, but it is a key element of the story. And, trust me, you will be smiling when the end credits come.
So, please, don't miss out on this wonderful gem of a movie because you want to avoid heartbreak.
Summerland is out on DVD or you can watch it On-Demand via Google Play, Amazon, iTunes, etc.
Director: Jessica Swale
Writer: Jessica Swale
Stars: Gemma Arterton, Gugu Mbatha-Raw, Lucas Bond, Penelope Wilton, Dixie Egerickx, Tom Courtenay
Official plot:
During World War II, an Englishwoman opens her heart to an evacuee after initially resolving to be rid of him in this moving journey of womanhood, love and friendship.