SO MY GRANDMA'S A LESBIAN! is a new Spanish movie on Netflix (org. title Salir del ropero). A comedy with a cute LGBTQ story but also a very messy movie due to the many side plots. However, this movie is full of brilliant Spanish actors. Read our So My Grandma's a Lesbian! movie review here!
SO MY GRANDMA'S A LESBIAN! is a new Spanish LGBTQ movie on Netflix. The title has been turned into a more catchy one instead of the original Salir del ropero. As the title indicates, we're dealing with a comedy that centers on an LGBTQ plot. Or rather, it should have focused on this, but the many side plots continuously take away from this story.
A huge plus for this movie is the cast. It is chock full of brilliant Spanish actors. Many of whom you should recognize from both Spanish movies and other productions.
Continue reading our So My Grandma's a Lesbian! movie review below and find it on Netflix now.
"Coming out of the wardrobe!"
On the surface, So My Grandma's a Lesbian! is a movie about two older women who finally decide to live their truth and get married. They're very concerned about how their family will take this news. And also, how the people in their fairly small village on one of the Spanish Canary Islands (off the West Coast of the African continent) will react.
One of these wonderful women insists on calling it "Coming out of the wardrobe" instead of "Coming out of the closet". She thinks "closet" sounds more like a male gay thing while wardrobe is more feminine and just suits her better. This is a cute little detail that describes her perfectly. She's done with everyone else deciding how to feel and act, so she's choosing her own way of life.
And, obviously, this is also the reasoning behind the original Spanish title Salir de ropero which translates into "come out of the wardrobe". Or simply closet, since it's the same thing and just a small pun.
So My Grandma's a Lesbian! would have been a much better movie in every way, if the story had actually centered on these two women wanting to get married. Instead, a myriad of side plots takes up way too much space in this movie. Despite a runtime of just over an hour and a half, it feels much longer.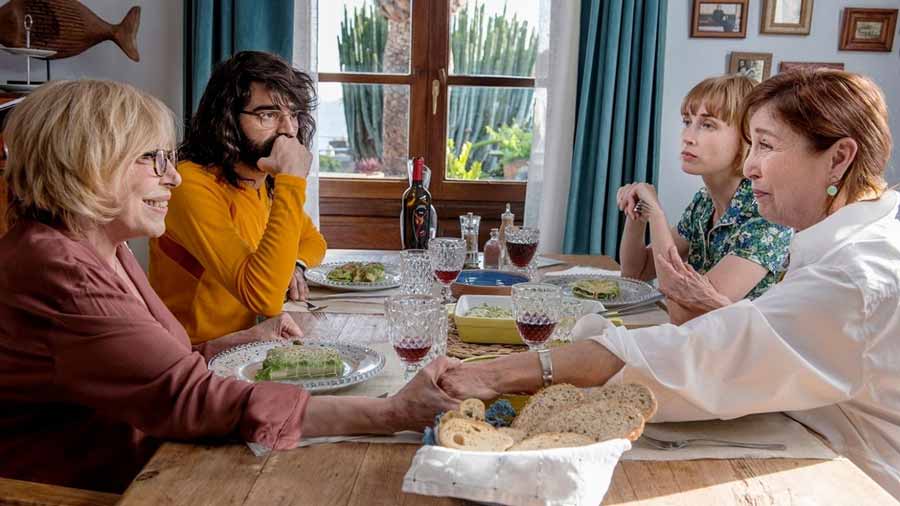 Such a gorgeous cast
The cast of So My Grandma's a Lesbian! is definitely enough reason to check it out. As the older lesbian couple, Celia and Sofía, we have two amazing Spanish veteran actors; Rosa Maria Sardà and Verónica Forqué.
Rosa Maria Sardà plays the role of the brazen Celia, who wears a red leather jacket and drives a motorcycle. She's both full of love and way too reckless which falls back on the more calm and careful Sofía, who is portrayed by Verónica Forqué.
If you're familiar with Spanish movies – such as those made by the always amazing Pedro Almodóvar – then you'll probably find both familiar. Rosa Maria Sardà was in the Academy Award-winning All About My Mother (org. title Todo sober mi madre) from 1999 and Verónica Forqué played the title role in Kika from 1993. And yes, both movies were written and directed by Almodóvar.
Unfortunately, Rosa Maria Sardà (Celia in the movie) passed away in June of 2020, which makes this her final film. What is fortunate, is that this movie originally premiered back in October of 2019 and came out in Spain in December of 2019, so she was still here for the release.
In other key roles, we see Ingrid García Jonsson as the granddaughter, Eva, while David Verdaguer plays the role of Jorge, who is also related to one of these older women. If you've watched the LGBTQ movie Anchor and Hope, then you'll recognize David Verdaguer from a key role in that movie. 
You might like: Our review of Anchor and Hope here >
Every single actor actually worked really well for me. The story just became a mess in the final half, which was a shame. However, I feel quite sure that they all had a blast making this. 
Watch So My Grandma's a Lesbian on Netflix now!
Ángeles Reiné is the writer and director of So My Grandma's a Lesbian! (org. title Salir del ropero). This is the feature film debut of Ángeles Reiné as both writer and director, so hopefully, he'll continue working with the awesome moments from this movie and leave the rest in editing.
While I genuinely appreciate what he's trying to do in terms of showing same-sex love between older people and the challenges (as well as the love and acceptance), he does ultimately fail. The story ends up being about too many other (straight) side plots that, frankly, bore me.
Since the loving gay couple only takes up a maximum of 30 percent of the runtime, it would have made for a solid short film instead of a messy feature film. The French movie Two of Us (org. title Deux) is coming out in the US in a few weeks. It also has a story about an older lesbian couple trying to come out and be together officially.
However, unlike this new movie on Netflix, Two of Us really does focus entirely on the story of these two older women in love. Also, it's the French submission for Academy Award in "Best foreign film" so you'll be hearing more about it.
Still, the scenes in So My Grandma's a Lesbian! that do focus on these two wonderful women – and their crazy family – does make it worth watching. So while I can't claim that I loved this movie as a whole, it had some funny and heartwarming moments along the way that make it worth your attention. 
So My Grandma's a Lesbian! is out on Netflix in several countries worldwide from January 22, 2021.
Director: Ángeles Reiné
Writer: Ángeles Reiné
Stars: Rosa Maria Sardà, Verónica Forqué, David Verdaguer, Ingrid García-Jonsson, Candela Peña, Mónica López, Alex O'Dogherty, Pol Monen, Leander Vyvey, Liz Lobato, Maria Caballero
Official plot:
Two women in their 70s decide to come out to their families and get married, sparking chaos — and threatening a granddaughter's engagement.