Fugitiva is a Spanish series out on Netflix now. Watch Magda (Paz Vega) as she escapes her husband by staging a kidnapping of both herself and their kids. More drama than thriller, unfortunately!
Fugitiva is a new Spanish series on Netflix. It's listed as a drama series and isn't a Netflix produced show. Unfortunately, this also shows.
Whereas shows like the Mexican Ingobernable (starring Kate del Castillo) or the very first Spanish production Cable Girls [org. title Las chicas del cable] offer tongue-in-cheek soap craziness and true drama, Fugitiva is something else.
It feels much more like a TV movie dragged out for a 9-episode TV show. That's not to say the actors are bad (they're absolutely not), but rather that the story is nothing more than mediocre. For me, it was even less than that.
The soap opera plot of Fugitiva
There's definitely an audience that will love Fugitiva. It's just not the audience who's become accustomed to the high quality shows from Netflix. Everything from the aforementioned Spanish-language shows to Orange is the New Black and more recently the brilliant The Haunting of Hill House.
Of course, there is also a huge difference in how you watch shows on Netflix versus "flow" television.
Netflix shows are notoriously binge-watched by the season whereas Fugitiva was originally shown one episode per week. This means a show like Fugitiva has to captivate the audience from the first episode. Otherwise, they won't be back next week for the next episode. 
Still, the fact that you'll be able to guess huge chunks of the plot from watching just the first episode, is never a good thing. So many clues are dropped that you'll know both what they want you to think and what's actually going on.
That's not the style of shows that have been created directly by Netflix to be released on their platform one season at a time. Then again, many other series on "real" TV (or flow television) manage to keep you guessing. 
Even though Fugitiva is very much a drama, it does also use thriller and crime as plot drivers. Just not very well.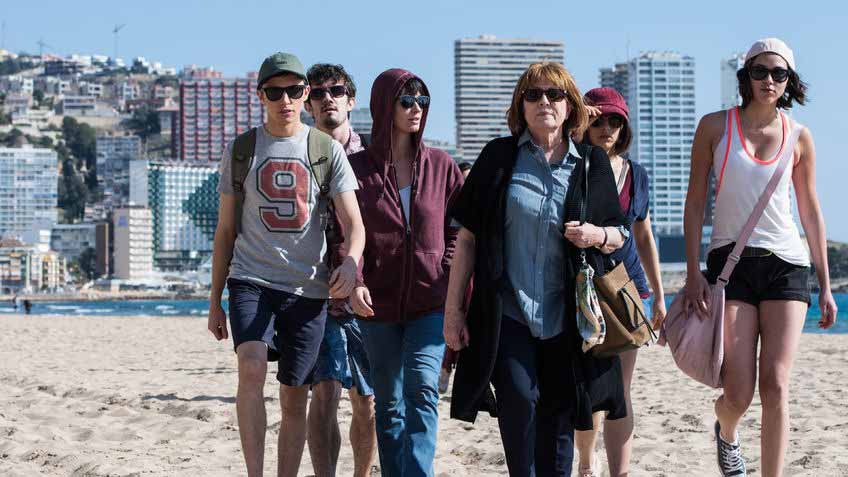 Fugitiva is all about Paz Vega
The absolute star of Fugitiva is the character of Magda. She's the woman who arranges the kidnapping of both herself and her three kids to escape her abusive husband. In other words, this show is about a woman who takes control of her own life.
Then again, it's also about how men continue to abuse her in other ways. And – of course – to show a few villainous women. All very interesting characters that are portrayed brilliantly.
Magda is portrayed by Paz Vega, who does a good job. She's just so much better than what she can show with this character. One second she's tough and smart. The next, she's naive and powerless. It gets real frustrating, real fast.
Paz Vega made a huge breakthrough in 2001 with the title role in Sex and Lucía. Also, she played the key character in Spanglish from 2004. Next, she'll be starring in both Emperor and Rambo 5. How's that for diversity?!
Very memorable supporting roles
Another key role is played by the mesmerizing Charo López. The Spanish veteran actress is worth watching this show for. I would have loved even more scenes with her. A complete scene stealer every single time!
Also, Melina Matthews has one of the more interesting female supporting characters. She's definitely a name you'll be getting familiar with in the future – including English speaking roles.
Melina Matthews already played the title role in Andy Muschetti's (director of the new It) horror movie Mama from 2013. A very small role given the nature of her character in it, but still.
Season 2 of Fugitiva
As of this moment, there is no word on whether there will be a season 2 of Fugitiva. But if Fugitiva does get another season, I'm hoping Netflix will go into the production of this.
Hopefully, this could ensure that the season would be a more intense experience. Even for those binge-watching it.
Joaquín Oristrell is the creator of this series and I don't really know much about him. He's an award-winning screenwriter and director from both TV and film. I highly doubt Fugitiva will win any awards. Except maybe for the supporting actresses, but even that would be a huge stretch.
Womentainment recommendation: Watch Fugitiva on Netflix if you enjoy most Lifetime movies
I was hoping Fugitiva would be my new Netflix obsession, but unfortunately, it didn't live up to my expectations. I usually enjoy watching movies in Spanish and adore Spanish horror and thriller movies. In fact, I write reviews for these over at Heaven of Horror. 
Fugitiva is out on Netflix in most of the world now!
Creator: Joaquin Oristrell
Cast: Paz Vega, Julio Bracho, Arantza Ruiz, Roberto Alamo, Mercedes Sampietro, Charo Lopez, Melina Matthews, Ivan Pellicer, Lander Otaola, Luisa Rubino, Raul Medina, Pedro Mari Sanchez, Odiseo Bichir, Jose Manuel Poga
Official plot:
A domestic abuse survivor orchestrates an elaborate deception to protect her family from her powerfully wealthy husband and his vindictive enemies.