Mary Queen of Scots is a beautiful movie by the first-time director, Josie Rourke, and a breathtaking score by Max Richter. Saoirse Ronan stars in the title role as Mary Stuart with Margot Robbie as Elizabeth I.
Mary Queen of Scots will draw you in from the first shot with both its visuals and score. Yes, the score is an immense part of the experience. For one, the use of drums highlights the historically epic struggles of Mary Stuart and Queen Elizabeth I. 
With the score securing a somber, yet forward-moving tone, the images are in beautiful contrast. Both the people and landscape are absolutely stunning. 
The combination of a breathtaking score by Max Richter and beautiful imagery by first-time director, Josie Rourke, is one I could get used to. Also, the casting is spot-on, so Mary Queen of Scots certainly has that going for it as well.
Regarding the amazing score, there's an interesting little video about the collaboration. Josie Rourke and Max Richter talk about finding the right tone for Mary Queen of Scots. Watch the video at the end of this review – right beneath the trailer.
Saoirse Ronan as Mary Stuart
While this movie has Saoirse Ronan in the title role as Mary Stuart, Margot Robbie turns in an award-deserving portrayal as Mary's cousin, Queen Elizabeth I.
But this is not to say that Saoirse Ronan isn't brilliant herself. She absolutely is. But we all know she won't succeed in overthrowing her cousin and become Queen of England.
In fact, I credit Saoirse with doing an excellent job of showing the change in Mary Stuart. While other events in the life of our Mary makes her harder and colder towards Elizabeth, the Queen of England is both intrigued and impressed by her cousin.
Elizabeth I hears Mary's plea of working together, but obviously won't just hand over the throne. To be very crude, this results in Mary becoming rather rebellious – and even a bit careless. Elizabeth only acts when necessary. And then she shows exactly how you lead and conquer.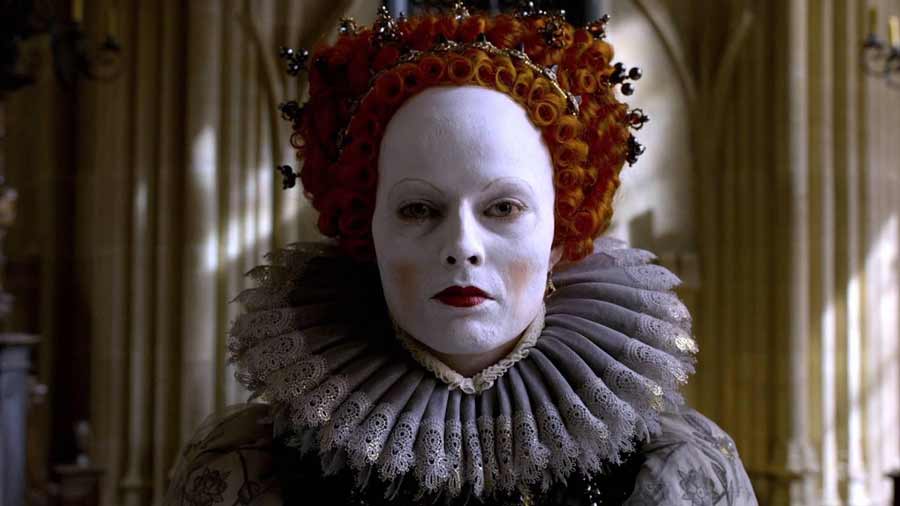 Give Margot Robbie ALL the awards
I doubt anyone could match the cold-as-ice yet heartwrenching performance by Margot Robbie in Mary Queen of Scots. She portrays Queen Elizabeth I in such a way that I could not get enough.
Obviously, there are elements during the final scenes, where the hair and makeup play a big part.
But the heart and intensity of the performance? That's all Margot Robbie.
For me, Margot Robbie is as excellent in the beginning of Mary Queen of Scots as she is in the end. In fact, I felt myself rooting for Elizabeth I from the beginning. Or rather, I was wishing the two of them would meet and talk instead of having all these men – many with their own agendas – doing it for them. 
I left the theater wanting an entire movie only about Queen Elizabeth I starring Margot Robbie.
Preferably directed by Josie Rourke and with a score by Max Richter. It's a very tall order, I know, but a girl can dream. And that movie would be a dream come true for me.
A very impressive debut
Josie Rourke directed Mary Queen of Scots and you have to give it to her; This is one HELL of a movie to debut with. I almost couldn't believe it when I realized this was her debut. Who starts out with a royal biopic? Apparently, Josie Rourke does.
Also, I thought it was "just" her feature film debut and that she had been directing short films or TV shows in the past. But no, this is her very first IMDb credit as a director. Ever!
Then again, she is an Olivier award-winning Artistic Director of several major theaters in the UK. So she's not new to directing per se. Still, theater and film are two very different creatures.
With a movie like Mary Queen of Scots as her film-director debut, I can't wait to see what Josie Rourke will give us next. Whatever it is, you can be damn sure I'll watch it. And yes, my expectations will be set accordingly. But I doubt she'll disappoint.
Womentainment recommendation: Watch Mary Queen of Scots in a movie theater
I was very lucky that I was able to attend the world premiere of Mary Queen of Scots at AFI Fest 2018. I stood in line with hundreds of other movie fans and was one of the final people that made the cut to see the screening. 
Honestly, I would gladly have been in line for longer. I simply had to catch a screening of The Favourite which was on the same day at AFI Fest.
Also read: Womentainment's top-rating review of The Favourite here >
Yes, I went from a bold and brazen crazy royal drama to an epic and breathtaking royal biopic. It was indeed a very good day for me at AFI Fest 2018, which has become one of my favorite (pun intended) film festivals.
Mary Queen of Scots premiered at AFI Fest in Los Angeles on November 15, 2018.
The movie is out in limited release in the US from December 7, and in Canada from December 14.
The UK premiere is set for January 18, 2019.
Also, Mary Queen of Scots will be out in movie theaters all over the world during January and February of 2019.
Director: Josie Rourke
Writer: Beau Willimon
Cast: Saoirse Ronan, Margot Robbie, Jack Lowden, Joe Alwyn, Guy Rhys, Thom Petty
Official plot:
Mary Queen of Scots explores the turbulent life of the charismatic Mary Stuart (Ronan). Queen of France at 16 and widowed at 18, Mary defies pressure to remarry. Instead, she returns to her native Scotland to reclaim her rightful throne. But Scotland and England fall under the rule of the compelling Elizabeth I (Robbie). Each young Queen beholds her "sister" in fear and fascination. Rivals in power and in love, and female regents in a masculine world, the two must decide how to play the game of marriage versus independence. Determined to rule as much more than a figurehead, Mary asserts her claim to the English throne, threatening Elizabeth's sovereignty. Betrayal, rebellion, and conspiracies within each court imperil both thrones – and change the course of history.