Ellen Degeneres: Relatable is a new Netflix Comedy Special. It marks Ellen's return to stand-up comedy for the first time in more than a decade. The result is classic Ellen in all the best ways. Just watch it!
Ellen DeGeneres: Relatable is out on Netflix now and the Comedy Special feels like an early Christmas present. At least this is what it was to me. And I'm guessing the same will be the case for fans of Ellen.
Granted, I am a huge fan of Ellen DeGeneres' stand-up and still quote her previous specials at least on a weekly basis.
The Netflix comedy special touches on both the good and sad parts of the stand-up comedian's life.
While she's happy today, life hasn't been entirely easy and this becomes part of the show as well. Not only the intense backlash after she came out but also back to a time before Ellen realized she was funny.
Is Ellen DeGeneres still relatable?
The question of whether Ellen DeGeneres is still relatable today is treated in the opening part of the show. As you'll know if you've watched her previous specials (or just Ellen aka The Ellen DeGeneres Show), this is done with perfect irony and sarcasm.
She starts out by describing her lavish lifestyle as if it was completely normal. Then she notices one little relatable element and the show if off to an awesome start.
The relatable bit? She has to scoot her bathmat across the floor to get to her towel just like everyone else. Well, there are a few differences which are (of course) wherein the joke lies.
Later in the show, we go back to hearing about the time when Ellen lived in a tiny basement apartment infested with fleas. This is where and when her groundbreaking "Phone Call to God" material was written.
Ellen DeGeneres: Relatable continues to go back and forth between her life now and the struggles of her past. By doing this, the Netflix comedy special perfectly shows that yes, Ellen DeGeneres is still very relatable!
As if there was ever any doubt.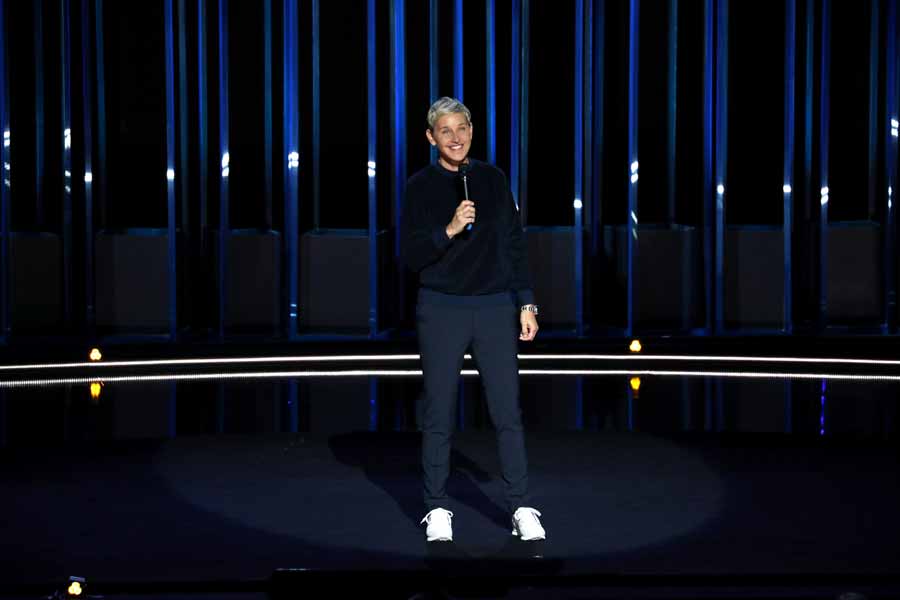 Oh yes, Ellen does dance!
While Ellen DeGeneres: Relatable talks about how you can get into trouble, she touches on the whole dancing bit. The truth is, she never meant for the dancing part of her Ellen daytime talk show to be an ongoing thing. It just turned out that way.
She created her own horrible dancing monster and finally became free of it. But yes, she does dance in the Netflix special. And yes, it's still a joy to watch, Also, it comes along as a very natural part of the show and as part of a very funny (and relatable) joke.
Another thing you might learn from watching Ellen DeGeneres: Relatable is that she was a bad girl in her teens.
Oh yeah, after being raised Christian Science and not being allowed to take any kind of medication, she was on one or maybe even two Aspirins per day for a while there.
If you've watched her previous special Ellen DeGeneres: Here and Now much of Ellen DeGeneres: Relatable will feel familiar but still new. And yes, she also touches on those three years after coming out, when she couldn't get any work.
Watching Ellen DeGeneres: Relatable is like getting a new movie with your favorite comedic actor. The jokes are new but the delivery is familiar and you joyfully anticipate every moment. It's pretty much perfect!
Don't miss the "Ask Ellen" bonus segment
When you watch Ellen DeGeneres: Relatable on Netflix, it will look like there are two episodes. And there is, but (yes, there is a but) before you get too excited, the second episodes is a 10-minute "Ask Ellen" segment.
This was a part that became famous in her previous special Here and Now when she said "Sir" to a butch lesbian. She went on to apologize and called the woman both queen and princess instead, so all was well.
Nothing similar happens in Ellen DeGeneres: Relatable but it is a nice bonus that you shouldn't miss.
Watch Ellen DeGeneres: Relatable on Netflix
Also, you'll see actress Laura Dern, who's in the audience and mentioned during the "Ask Ellen"-segment. If you're paying attention, you'll see her laughing during the actual stand-up show as well.
Turns out Laura Dern also didn't work for a long period of time after being part of Ellen's "Coming Out"-episode. Just like Oprah's participation in the episode resulted in her getting more hate mail than any other thing she had ever done. 
How the times have changed and yet, reading the newspaper makes Ellen want to curl up in a fetal position. For anyone fearing too much political commentary in this special, there isn't any.
Ellen DeGeneres does exactly what's she is the master of; She's a storyteller who makes everyday experiences relatable. By doing this, she shows us all that we really aren't that different from one another.  
Womentainment recommendation: Ellen DeGeneres: Relatable was worth the wait!
While 15 years is a long time to wait for a new stand-up special, it was well worth the wait. Her previous special was Ellen DeGeneres: Here and Now which is from 2003. Coincidentally (or not), her talk show Ellen: The Ellen DeGeneres Show also began that very same year.
Hopefully, we won't have to wait another 15 years for the next special. Ellen DeGeneres even said herself that she has missed doing stand-up. Fingers crossed that Netflix has signed her on for more specials already.
Knowing how business savvy Netflix is, they probably have. And it does make for a very nice Holiday treat. Enjoy!
Ellen DeGeneres: Relatable is out on Netflix worldwide from December 18, 2018.