POKER FACE on Peacock is a new mystery series starring Natasha Lyonne as a woman who can always tell when someone is lying. The season has 10 episodes and the first four are out now. We're off to a brilliant start. Read our full Poker Face season 1 review here!
POKER FACE on Peacock is a new series starring Natasha Lyonne in the all-important lead role. In the series, she plays, Charlie Cale, a woman who can always sense when someone is lying. It's just a gift – and sometimes a curse.
This first season of the series has 10 episodes and each one features several familiar faces. We're talking about actors you'll know from Orange Is the New Black, Transparent, Boys Don't Cry, Russian Doll, and many other huge series and movies. The first four episodes are out now, and they're absolutely brilliant.
Continue reading our Poker Face season 1 review below. The series premiered on the Peacock streaming platform on January 26, 2023.
Natasha Lyonne is brilliant – again!
Each episode revolves around a specific event where Charlie Cale (Natasha Lyonne) somehow gets involved and solves a mystery. We're talking about the classic style of Columbo. Which is an obvious reference by way of a downright tribute to the iconic character.
Well, except, of course, that Charlie Cale is not a cop. In fact, following the events in episode 1, she's on the run from both the police and someone who wants her dead.
Along with starring in and executive producing the series, Natasha Lyonne is also the writer and director of an episode. You can't watch it yet, however, as it's episode 8 "The Orpheus Syndrome" which will be released on February 23, 2023.
That particular episode will guest star Cherry Jones. Well, among others, since every episode has a stellar guest-starring roster.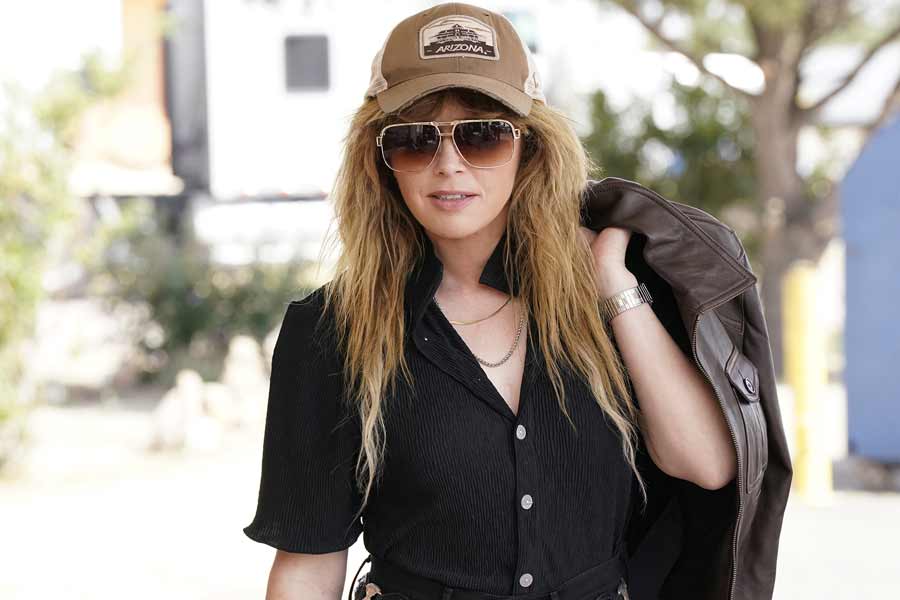 Nostalgia done right!
The fact that Poker Face reminded me (and no doubt many others) of the very series that inspired its creation is proof that it was done right. Not only do you get the sense that this is a modern-day Columbo, but it's also obvious that it's been updated.
It takes place in the world we know and stars a woman with a gift for recognizing bullsh*t when she hears it. That's my kind of protagonist. It's awesome and shows that we can use nostalgia to create something new and – dare I say it – even better!
Also, I love how each and every episode has a very unique story along with the ongoing theme of Charlie (Lyonne) having to constantly be on the move to avoid getting caught. Plus, there is an approach that you quickly become familiar with; We first see a crime committed and then we see how Charlie has been around or in the background all along.
Brilliant guest stars and side stories
All of these "little" crime side stories tend to lead her to work on finding out the truth. It's impossible for her to walk away when she calls bullsh*t on what those closest to the crime are saying.
In episode 1, Charlie wants to help her friend Natalie portrayed by Orange Is the New Black alumni Dascha Polanco. I won't spoil anything about the events!
Then, Charlie's first stop – after her stint of being on the run begins – results in her getting acquainted with Marge who is played brilliantly by Hong Chau (Homecoming, The Menu). In episode 3, she comes across a BBQ place in Texas.
Here, the pitmaster watched Okja (2017) and has the same gut reaction that I did. Basically, I felt this episode in my soul! The pitmaster, George, is portrayed perfectly by Larry Brown, while two of his family members are portrayed by Lil Rel Howery (Get Out) and Danielle Macdonald (Unbelievable, The Tourist). His brother and wife, respectively.
The final episode released on premiere day is episode 4. This has none other than Chloë Sevigny as the rock singer Ruby Ruin. Natasha Lyonne and Chloë Sevigny have been in many productions together. From If These Walls Could Talk 2 (2000) to Antibirth (2016), and even Russian Doll (2019-), where they were mother and daughter.
Start watching season 1 of Poker Face on Peacock now!
This is the second amazing series starring Natasha Lyonne to come in the past few years. First, it was the Netflix series Russian Doll which she both starred in and co-created along with Amy Poehler and Leslye Headland. Now, she's the absolute star of Poker Face on Peacock which was created by Rian Johnson (Glass Onion).
The entire premise just works, which is definitely thanks to the combination of Rian Johnson's mystery plot and Natasha Lyonne's awesome character portrayal. 10 episodes can't possibly be enough.
Here's hoping we'll get many seasons of the series. Ultimately, Columbo ran from 1971 to 2003, so I don't see why we can't get at least a good decade of this one as well. Or actually, this obviously depends on how season 1 ends, which I don't know as I have yet to watch the finale episode!
Womentainment recommendation: You'll want to watch Poker Face on Peacock!
Natasha Lyonne is amazing and the series is full of charm, mystery, wit, and so many brilliant guest stars.
It's a real treat and even a feel-good show. Yes, despite people getting killed left and right.
Why? Because unlike in the real world (but very much like in the Columbo series of the past), Lyonne's Charlie Cale will make sure justice is served!
Poker Face premiered on Peacock with the first 4 episodes on January 26, 2023. The remaining six episodes of the season will be released weekly with the season finale on March 9, 2023.
Creator / Writer / Director: Rian Johnson
Cast: Natasha Lyonne, Adrien Brody, Angel Desai, Audrey Corsa, Benjamin Bratt, Brandon Micheal Hall, Charles Melton, Chelsea Frei, Cherry Jones, Chloë Sevigny, Clea DuVall, Colton Ryan, Danielle Macdonald, Dascha Polanco, Ellen Barkin, Hong Chau, Jasmine Aiyana Garvin, Jameela Jamil, Joseph Gordon-Levitt, Judith Light, Leslie Silva, Lil Rel Howery, Luis Guzmán, Megan Suri, Niall Cunningham, Nicholas Cirillo, Nick Nolte, Reed Birney, Rhea Perlman, Ron Perlman, Rowan Blanchard, S. Epatha Merkerson, Shane Paul McGhie, Simon Helberg, Stephanie Hsu, Tim Blake Nelson and Tim Meadows
Official plot:
Poker Face is a 10-episode mystery-of-the-week series following Natasha Lyonne's "Charlie", who has an extraordinary ability to determine when someone is lying. She hits the road with her Plymouth Barracuda and with every stop encounters a new cast of characters and strange crimes she can't help but solve.