The Feels is a sweet and sexy LGBT movie on Netflix. The comedy features almost entirely women and takes place at a lesbian bachelorette weekend. Also, one of the actors wrote and directed it!
The Feels is out on Netflix now and there's absolutely no reason why you shouldn't watch it. It's sweet, sexy, and lots of fun. Still, it does also manage to cover more serious subjects.
While "lesbian drama" is part of the story (duh!), it is ultimately, about love and understanding. It's a movie about women loving women in all kinds of ways. Though mostly in a gay way, since it is all about two women about to marry each other.
Seriously, what's not to like? Well, nothing really. So go watch The Feels on Netflix.
Now!
Honestly, you can come back to this review later and notice what I've pointed out as my favorite bits and pieces.
Spoiler (not really): Constance Wu and Ever Mainard will be mentioned quite a bit!
Constance Wu, I adore you!
You were warned in the above paragraph that I would mention Constance Wu. Because yes, she does portray one of the lead characters. Admittedly, I already liked her a lot before watching her in The Feels. Now I adore her!
The Fresh off the Boat and Crazy Rich Asians star, who is also a very outspoken human rights advocate, plays one of the brides to be. Not that playing a lesbian is anything new for Constance Wu. She already played a lesbian struggling to get home to her wife and child for Christmas in an episode of Hulu's Dimension 404.
If you don't know the show, it's an anthology series along the lines of Black Mirror. Wu starred in episode 5 of Season 1, an episode called "Bob", where Megan Mullally plays her boss. Read more about the episode on IMDb here >
For anyone wondering, Constance Wu is not shy about kissing the ladies. In The Feels, she's a woman, who clearly (and wonderfully unapologetically) enjoys sex. The big issue arises when it comes out (pun intended) that her wife-to-be has never had an orgasm.
Obviously, this is something that's pretty hard for Andi (Constance Wu) to comprehend since sex is such a big part of her life. Especially her life with Lu (Angela Trimbur), her future wife. 
However, it's really not as big a deal for Lu, which just confuses Andi even further. As I said, there's no shortage of lesbian drama. Then again, it wouldn't be an LGBT comedy, if there was.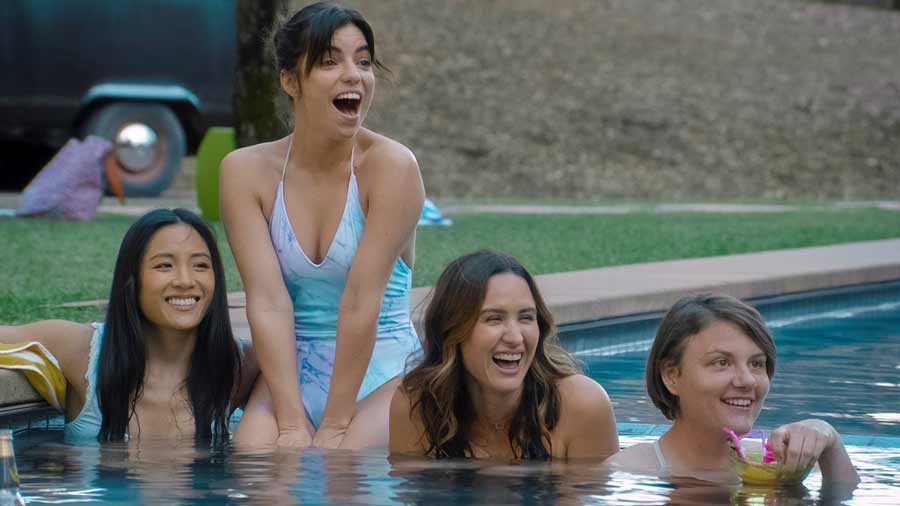 You'll love "Regular Helen"
Honestly, I loved everyone in The Feels, but I still have to mention someone else besides Constance Wu. And that someone is newcomer, Ever Mainard, who portrays the character of "Regular Helen".
Yes, that's the official name of the character – and there is an explanation for this in the movie. Ever Mainard is a stand-up comedian, as well as actor, and apparently improvised a lot of her lines.
But really, a lot of The Feels features improvised dialogue which is probably why it feels so real.
She just delivers a lot of the very funny moments as Regular Helen, which is why you will love her. Comic relief is necessary when things get intense.
Ever Mainard has already won two awards (L.A. Outfest and Long Beach Qfilm Festival) for her portrayal of Regular Ellen, so I'm far from the only one loving her work on The Feels.
Angela Trimbur is the heart
Also, while I do love the funny ladies, let me just mention that the real star of the story is actually Angela Trimbur, who breathes life into the orgasm-free Andi.
The story does revolve around her relationship with Lu (which is awesome) and her feelings about her own body and sensuality. Andi is the sun in the universe of The Feels.
And Angela Trimbur portrays the character of Andi with wonderful honesty and a very realistic approach to confrontation. No, she's not the one to storm off. But she does need just a second to deal with everything.
Netflix LGBT movie with a happy ending
Sure, call it a spoiler, but I know you all want to know this; Yes, The Feels is an LGBT movie with a happy ending.
Of course, the fact that it's a romantic comedy should already mean this is a given. But, for the record, let me confirm that this is indeed a movie featuring a lesbian relationship that ends with happiness and love. 
Jenée LaMarque is one of the stars of The Feels, but she's also the writer and director of the movie. This is only her second feature film after having written and directed The Pretty One back in 2013. 
For the record, the script for The Feels was co-written with Lauren Parks, who also stars in the movie as Vivien. And also, Lauren Parks worked as an assistant to Jenée LaMarque when she directed The Pretty One.
Next, Jenée LaMarque will direct four episodes of the Starz show Vida. If you haven't watched this show featuring two Mexican-American sisters, then please do so.
It's wonderfully queer in many ways – including one of the lead characters being a lesbian.
Womentainment recommendation: Watch The Feels now!
The Feels has such a gorgeously organic feel to it – and so much heart – that I'm honestly heartbroken it hasn't gotten more attention. I certainly haven't seen enough people talking about it. Don't miss out on this little gem of an LGBT movie.
The Feels is available to watch on Netflix now!
Director: Jenée LaMarque
Writer: Jenée LaMarque, Lauren Parks
Cast: Constance Wu, Angela Trimbur, Jenée LaMarque, Lauren Parks, Ever Mainard, Kárin Tatoyan, Josh Fadem
Official plot:
A lesbian bachelorette weekend goes awry when one of the brides admits she's never had an orgasm.