Anchor and Hope is an LGBTQ comedy-drama with both heart and real-life struggles. Game of Thrones' Natalia Tena and Oona Chaplin are perfect as soulmates and you can't help but root for them. Watch it on Netflix in the US from February 15, 2019!
Anchor and Hope is such a wonderful movie that I wish everyone would watch it. Yes, it's an LGBTQ story about two women struggling to find a future they both want.
But really, the story is very universal and something everyone should be able to relate to. And please don't be thrown off by the fact that the plot sounds like the tired old "lesbians pregnancy" storyline. This is a whole new kind of story. 
One you should like. I know I certainly did and I almost didn't even watch the trailer because of the plot. Fortunately, my curiosity got the better of me and the trailer convinced me that Anchor and Hope is very much a movie for me. 
Update: Watch Anchor and Hope on Netflix from February 15, 2019.
Game of Thrones cast reunion
The stars of Anchor and Hope are Natalia Tena and Oona Chaplin, who both played key roles in HBO's mega-hit show Game of Thrones. Oona Chaplin's job on the show was over with the infamous "Red Wedding" episode while Natalia Tena's role as a wildling was set in another part of the story.
However, the two met on this show and became best friends. The fact that these two are apparently very close in real life can only have improved their on-screen chemistry. If it was any stronger, this movie would have needed a different rating.
Yes, Anchor and Hope does offer up some wonderfully heartfelt (and genuinely realistic) portrayals of their life as a couple. Including a few sex scenes. We never have to doubt that Eva (Oona Chaplin) and Kat (Natalia Tena) is the couple in this movie.
The third party in their family is Kat's best friend, Roger, who agrees to become a sperm donor for the couple. Unfortunately, Roger is more excited about this idea than Kat, who is quite frankly terrified at the thought of becoming a parent.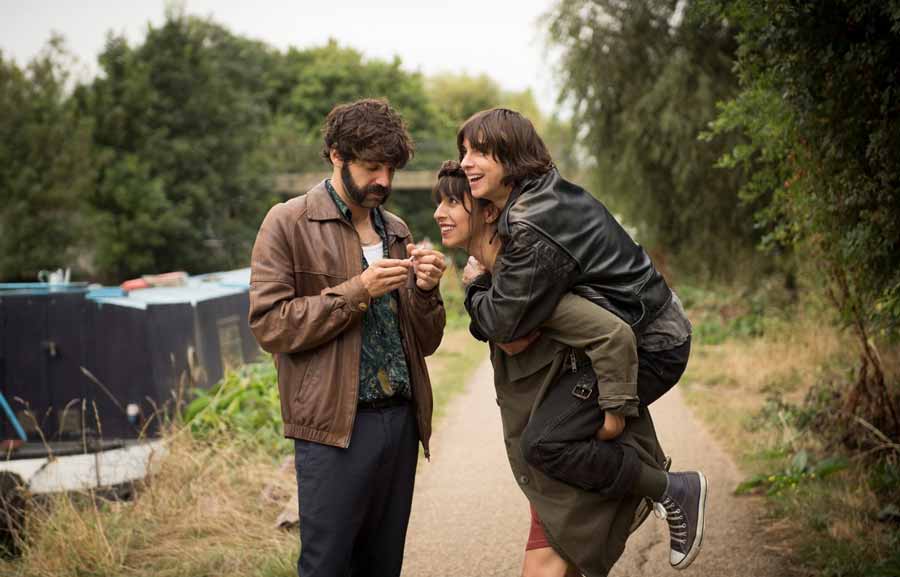 Wonderful supporting cast
Roger is played with perfect comedic timing and boyish charm by David Verdaguer. This character could so easily have been an annoying third wheel. Instead, he becomes the silly but honest big brother that never means any harm to anyone.
To me, he's equivalent to Matthew Goode's character in Imagine Me & You, which speaks volumes. Imagine Me & You starred Piper Perabo and Lena Headey (yes, another Game of Thrones star) and came out in 2005.
We're so used to male characters being absolute idiots or a**holes in movies featuring a lesbian couple that these good (and dare I say "strong") male characters are a welcomed spin.
Now, more than a decade later, Imagine Me & You is still a favorite to many in the LGBTQ community because the characters are real and likable. Also, because it actually has a happy ending. A true rarity. Unfortunately.
*Happy Spoiler Alert* Anchor and Hope is another one of those rare LGBTQ movies with a very positive ending!
Other than David Verdaguer as Roger, Anchor and Hope also has Geraldine Chaplin portraying the mother of her real-life daughter, Oona. It's quite a treat really, and Geraldine Chaplin has the mouth of a sailor in this movie – which I loved!
Directed by a man?! Yes, and he got it right!
Anchor and Hope was directed by Carlos Marques-Marcet. So yes, this movie is also proof that a man can make a beautiful movie about a lesbian couple. In my book, the list of male directors with this ability is very short.
It consists primarily of Ol Parker, who directed the aforementioned Imagine Me & You) and Todd Haynes, the director of Carol. Also, Sebastián Lelio who directed the amazing Disobedience and the Academy Award-winning A Fantastic Woman.
The story of Anchor and Hope takes place mostly on a boat in the canals of London. This makes for a pretty damn gorgeous backdrop to the story unfolding. Also, it makes for a very diverse backdrop since our loving couple needs to move the boat every few weeks for it to be there legally.
It's almost like a character in itself and it lends a beautiful vibe to the story that matched it perfectly.
Womentainment recommendation: Anchor and Hope will make you believe in true love
Anchor and Hope is a small and heartfelt story featuring two people who love each other, but need to communicate better. Or rather, one needs to grow up and the other needs to set boundaries. Both of them are sure of the other's love but is this really enough?
Can two people be madly in love and still drift apart? Well, yes, if they stop communicating honestly. But drifting apart never has to be the ending to any story and that is exactly what Anchor and Hope is all about.
Also, it's about women loving each other and building a life together. Shown in the most honest, heartfelt and beautiful way.
Anchor and Hope is out now On Demand and on DVD.
Also, you'll be able to watch Anchor and Hope on Netflix in the US from February 15, 2019.
Director: Carlos Marques-Marcet
Writers: Jules Nurrish, Carlos Marques-Marcet
Cast: Natalia Tena, Oona Chaplin, David Verdaguer, Geraldine Chaplin
Official plot:
Two women, Eva and Kat, and the best friend of one of them, Roger. A boat in the canals of London and a question: Is it possible to live love, family, and life in such different ways and yet remain united?