THE WILDS is a new Amazon Prime Video series and it is brilliant. Season 1 has 10 episodes and you WILL want to binge-watch it. Trust me! Also, this series features very diverse characters and has breathtaking performances by its young actors. Read our full The Wilds Season 1 review here!
THE WILDS is a new Amazon Prime Video series that should blow your mind. Season 1 has 10 episodes and this series is extremely binge-worthy thanks to the rollercoaster storyline and gorgeous twists along the way. Just when you think you know something, you find yourself being set straight. Or not, in some cases.
The Wilds is full of brilliant performances. Sure, at first glance you'll probably think you have them all figured out. However, I assure you that every single one of these characters will have so much more to offer than you'd expect. Also, their pasts tend to have a lot more depth (as well as trauma) than you'd ever imagine.
Honestly, all you need to know is this; Forget the hate and believe the hype! A certain group tried to kill this series with bad reviews and ratings. Just like they did the 2016 Ghostbusters movie.
Continue reading our spoiler-free The Wilds season 1 review below. We've watched all 10 episodes of season 1 for this review.
Lost meets Lord of the Flies? No, this is so much better!
The Wilds is a brilliant series with breathtaking performances and rollercoaster plot twists along the way. It's been called Lost meets Lord of the Flies… but with girls. That description is ultimately all wrong, but I get the idea of presenting it that way.
However, it's much more than either of those comparisons. Also, it is so much better!
Fair warning, without giving away spoilers, would be to say that it ends rather open-ended. Or rather, it points in a certain direction but we still don't have the answers we've been craving from episode 1. Some of them, sure, but far from the full picture. That's just one reason why I cannot wait for season 2 of The Wilds to be greenlit any day now.
The most amazing cast… really!
Episode 1 begins with them arriving at a deserted island after they've been in a plane crash. They were all headed to a summer camp called "Dawn of Eve" (headed by the always stellar Rachel Griffiths as Gretchen Klein). Now, they're on a small island and have to work together to survive. The nine girls arriving on the island after the plane crash come from very different backgrounds.
We have the sexually confident and wonderfully unapologetic Fatin Jadmani (Sophia Ali) along with the obsessive and somewhat paranoid Leah Rilke (Sarah Pidgeon). Both from California. Then there's the fan of various Survivor-related series, Dot Campbell (Shannon Berry), and Jesus-loving pageant queen Shelby Goodkind (Mia Healey) from Texas.
The twin sisters that could not be more different: Elite diver with an eating disorder Rachel Reid (Reign Edwards) and brilliant prodigy Nora Reid (Helena Howard). Also, there are Martha Blackburn (Jenna Clause), who loves every creature on this planet, and the always angry but happy to be out-and-proud lesbian Toni Shalifoe (Erana James). Finally, there's Jeanette Dao (Chi Nguyen) who is the most bubbly and positive person. Desperately so, almost.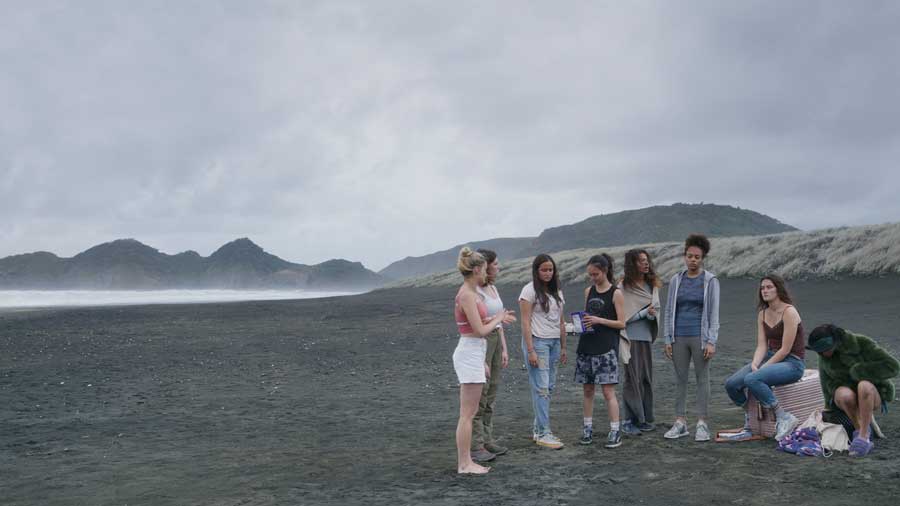 A study in brilliant performances and scene stealers
Among the above characters, we have a lot of diversity in terms of race as well; White, Black, Asian, and Native American.
Now, I don't want to play favorites. Especially since with every episode, I kept growing more and more fond of every single character. Always for different reasons and often in unexpected ways. Still, I do have to mention newcomer Mia Healey who plays the Christian Beauty Queen, Shelby Goodkind, with a heart of gold (and too much pain) perfectly. Yes, really, perfectly!
Also, Sophia Ali as Fatin was a revelation as was Sarah Pidgeon as Leah, who seriously scared me. More than once. And yet, I also related to her much more than I'd like to admit. Finally, Shannon Berry as Dot was brilliant.
Oh Hell, I loved all the characters in The Wilds which is why I better hear a season 2 announcement any day now!
The Wilds season 2?
Honestly, it does seem a given that there will be a season 2 of The Wilds based on the ending of season 1. But, of course, you never know until it's official. Creator Sarah Streicher has made it clear that she is definitely ready and already has lots of ideas good to go. Again, once you've watched the ending of The Wilds season 1, then you'll understand why she obviously has plenty of ideas already.
Want another reason why The Wilds is exactly the kind of show we need more seasons of?
For once, being on a deserted island actually takes a physical toll on women. Usually, female characters always have perfect eyebrows and absolutely no body hair. Also, only mild skin issues if any at all. No matter if women are chased by zombies for years or stuck on a deserted island, they still look fresh as rain.
The men will grow beards and get rugged, but the women remain dainty and pretty. Well, not this time. And yes, that is the kind of story and production I need more of. Show me real people with issues and flaws as well as heart and beauty. I for one will be ready to watch season 2 of The Wilds the second it's released.
UPDATE: There will be a Season 2 of The Wilds. Season 2 was announced on December 20, 2020. 
Do check out The Wilds on Amazon Prime Video!
Sarah Streicher is the creator of The Wilds and what an accomplishment that is! Prior to working on this series, she was a staff writer on Daredevil, and even earlier, she was a "creative assistant" on Drunk History. Out of the 10 episodes in Season 1 of The Wilds, a whopping six out of ten episodes, which seems only right given the theme and plot.
Also, because they're awesome directors. Obviously! The first episode [AKA the pilot] is directed by Susanna Fogel who most recently directed episodes of Utopia and The Flight Attendant. Before that, she wrote and directed The Spy Who Dumped Me. The five other female directors are Haifaa Al-Mansour, Sydney Freeland, Alison Maclean, Cherie Nowlan, and Tara Nicole Weyr.
The two male directors on the series are Ed Wild, who is also director of photography on five episodes (just like he was on the Jodie Foster-directed episode of Black Mirror) and John Polson, who directed three episodes in season 1.
You do not want to miss out on this amazing series, which is full of young actors that we are bound to see in more productions soon. If there's any sort of fairness in the world, anyway. They all do amazing work with their respective characters. Also, the plot and story is nothing short of brilliant… including that awesome twist at the very end of the final episode of season 1.
Season 1 of The Wilds was released on Amazon's Prime Video on December 11, 2020.
Creator: Sarah Streicher
Stars: Rachel Griffiths, Sophia Ali, Shannon Berry, Jenna Clause, Reign Edwards, Mia Healey, Helena Howard, Erana James, Sarah Pidgeon, David Sullivan, Troy Winbush, Jarred Blakiston, Barbara Eve Harris
Official plot:
A group of teen girls from different backgrounds must fight for survival after a plane crash strands them on a deserted island. The castaways both clash and bond as they learn more about each other, the secrets they keep, and the traumas they've all endured. There's just one twist to this thrilling Drama – Coming of Age … these girls did not end up on this island by accident.