CLASS OF '07 on Prime Video is a new Australian series (comedy and genre-hybrid) with 8 half-hour episodes. A group of young women is trapped at their all-girls 10-year high school reunion. Read our full Class of '07 season 1 review here!
CLASS OF '07 is a new Prime Video series from Australia. It's a comedy, but of the dark variety, resulting in somewhat of a genre-hybrid. There are eight 30-minute episodes, which means you can binge-watch the entire season in around four hours. And yes, that's exactly what I did for this review.
The first half of the season is by far the strongest with the two final episodes being the weakest for me. I loved the cast and the wacky and (for the most part) likable characters that we get to know better with each episode. And yet, the lack of any LGBTQ characters (or even mention of the possibility) baffles me. I mean, seriously?!
Continue reading our Class of '07 series review here. The series premieres on Prime Video on March 17, 2023.
Class of '07 is The Wilds meets GLOW
We follow a group of young women attending their 10-year high school reunion at an all-girl catholic school. A tidal wave of apocalyptic proportion traps them at the high school campus, where they need to band together to survive.
With all their high school drama coming to the surface, it's quite the struggle.
The all-female cast will probably lead many to think of Yellowjackets or The Wilds which are two amazing productions. However, this new Amazon Studios production is a very different kind of story. In fact, it feels more like the Netflix series GLOW at times.
No queer girls in an all-girl high school?!
I actually like all three series. And while the two first are much darker, the third (GLOW) utilizes comedy much more. Also, all three of those series have LGBTQ characters as part of the rather big ensemble casts. And it works brilliantly because it's both believable and relatable.
With Class of '07 playing out during an actual apocalypse, I feel it was a wasted opportunity to not take itself a bit more seriously at times. Comedy can get important points across, but so can drama or even horror!
Just look at a series like The Last of Us which manages to include all three. And has a queer leading character.
Yes, I'm a little bitter about the lack of LGBTQ representation in a story with an all-female cast. A cast that includes Caitlyn Stasey of the super gay horror movie All Cheerleaders Die (2013). To be completely honest, I was well and truly shocked that there was absolutely no LGBTQ representation in Class of '07.
Also, nobody looks at their best friend's lips that intensely. Not in my experience anyway.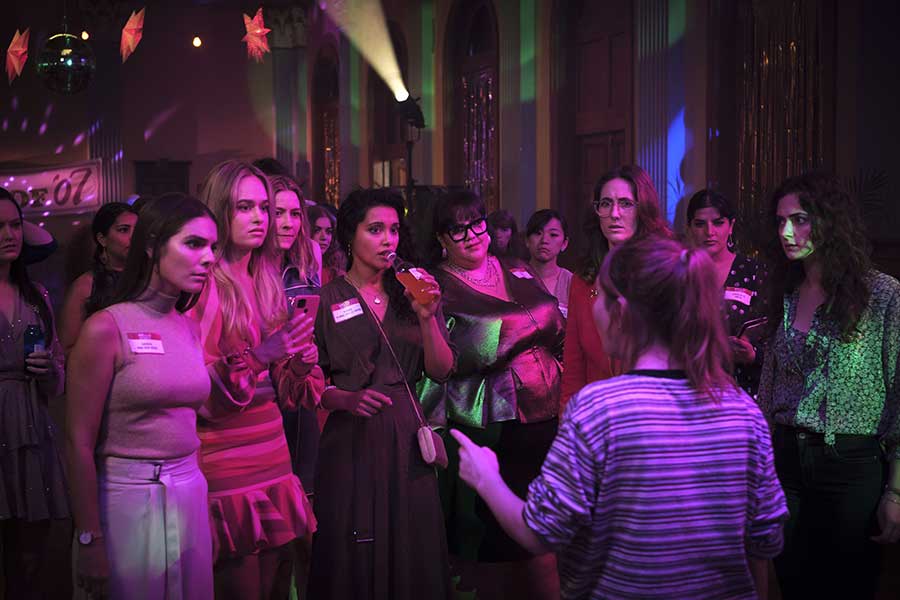 High school drama in the adult world
For the record, the "high school drama" featured in Class of '07 includes severe bullying, depression, grooming by adults, substance abuse problems, and so much more. Just not anything gay, which I still find extremely strange, and no, I won't let it go.
Where Class of '07 does get it right is when it works the whole "never-ending high school reunion with life-and-death stakes"-angle. This is perfect for a horror-comedy approach, but far too often, it foregoes the horror darkness and opts for complete silliness. A real shame because the inclusion of darkness would have helped.
Especially because some very serious issues are discussed. During the moments when Class of '07 gets more serious, it really shines. And also during some of the comedy moments that just works perfectly.
Described as "a love letter to female friendship", I can absolutely get behind Class of '07. It's both about old friends finding their way back to each other and about finding out what kind of person you want to be. And sometimes realizing that you don't like who you are. But you can change.
Just not in a gay way. Obviously.
Watch Class of '07 on Prime Video!
The cast of Class of '07 is all kinds of wonderful. Every single character has traits of a type you'll probably recognize from your own life. And yes, it does get very stereotypical at times, but with this being a comedy series first and foremost, it can get away with a lot. Just not if it's gay, it would appear.
The cast is led by Emily Browning (Sucker Punch), Megan Smart, Caitlin Stasey (Smile), Rose Flanagan, and Sana'a Shaik (Reckoning).
The series was created by Kacie Anning, who also directed all eight episodes. Other writers attached to the series (and who helped develop it) include Anchuli Felicia King (The Baby), Zoe Norton Lodge (Ding Dong I'm Gay), Adele Vuko, Courtney Wise, and Romina Accurso (Home and Away).
On a completely unrelated note (not really), several of these writers have previously worked on productions that did include LGBTQ characters. You'll never see a prison series with no queer characters and a all-girls (or all-boys) high school with only straight people is just unrealistic. Sorry, not sorry, for harping on about this!
Womentainment recommendation: Watch it for the focus on friendship and self-improvement
Class of '07 might shine when it gets the comedy right and when it deals with serious high school issues that can torment people for decades. However, towards the end, it loses too much of its edge.
That's when it becomes more of a fun series about [straight] female friendship. Also, it turns into more of a spoof on reality shows about survival. While I can understand the whole "coming full circle"-idea, as it also opens with a reality show scene, this is when Class of '07 is at its weakest for me.
And, for the record, I'm not saying that this series would have been better for having LGBTQ characters in it. But it sure wouldn't have hurt. On that note, I did love the very final scene, which happens right after I was ready to completely give up on the whole thing.
Class of '07 premieres on Prime Video on March 17, 2023.
Creator: Kacie Anning
Director: Kacie Anning
Cast: Emily Browning, Megan Smart, Caitlin Stasey, Sarah Krndija, Claire Lovering, Emma Horn, Steph Tisdell, Sana'a Shaik, Chi Nguyen, Bernie Van Tiel, Rose Flanagan, Debra Lawrence
Official plot:
Class of '07 is a comedy about a never-ending high school reunion with life and death stakes. When an apocalyptic tidal wave hits during the 10-year reunion of an all-girls high school, a group of women must find a way to survive atop the island peak of their high school campus. Now freshly entangled in decade-old drama, their greatest threat to survival isn't the end of the world, but each other. A love letter to female friendship, Class of '07 is about old friends finding their way back to each other, in the most absurd of settings: the apocalypse.