THE POWER on Prime Video is a new series in the fantasy and mystery genres with amazing characters and a stellar cast. Based on the New York Times bestseller, this series is acutely current and relevant. Read our The Power series review here!
THE POWER is a new Prime Video series that should draw in viewers on its cast alone. Toni Collette plays one of several main characters. This is truly an ensemble cast of the highest caliber. Both young and old, with characters that offer lots of diversity – be it ethnicity or sexuality.
Based on the New York Times bestseller by author Naomi Alderman. Yes, the very same Naomi Alderman who wrote Disobedience. The book was adapted into a movie starring Rachel Weisz and Rachel McAdams as lovers. Intrigued yet? You should be!
Continue reading our season 1 The Power review below. Start watching the series on Prime Video on March 31, 2023.
When women get the power
This new series is set in a world that mirrors our own very closely. However, it's also in the fantasy genre, so there's a twist; Women of the world develop an ability to electrocute. The gift (or curse) of actually being able to give jolts of electricity from their own bodies.
So, how will the world react to women getting this power?
Well, very much as you'd expect; In many instances with fear and by trying to control women. Not all men, obviously. But it still very much needs to be said. Of course, depending on how a woman has been treated in life, her reaction to getting this power also differs quite a lot.
Women in very tough situations where they've had to fight for everything (or maybe just to survive) realize that they now have a choice. They can fight back, leave, or simply take the power!
It's a fascinating and simple plot driver that impacts everything.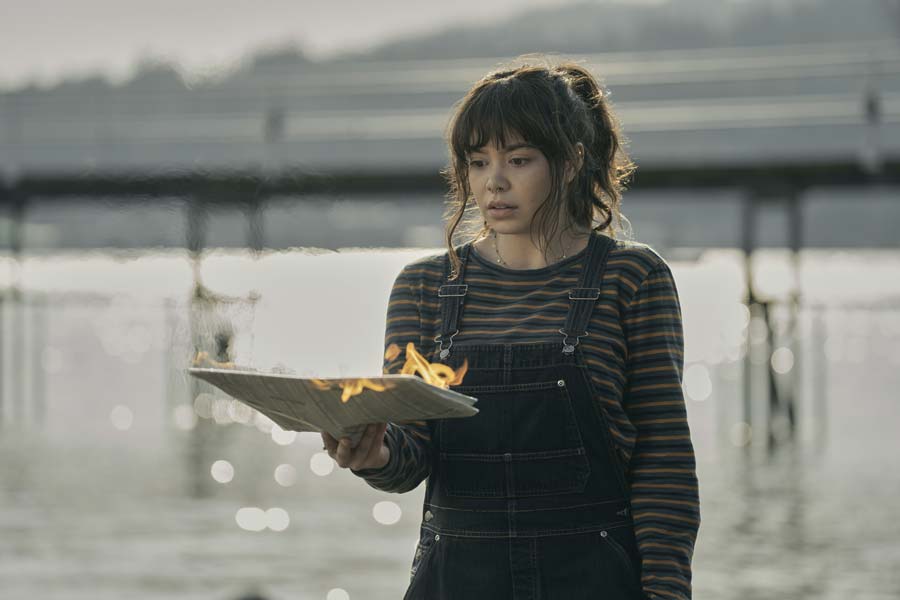 This series does represent right
In The Power, we follow a few select women very closely. These women include a female mayor (Toni Collette, The Staircase). She is battling both the male Governor (Josh Charles, The Good Wife) and her own teenage daughter (Auli'i Cravalho, Crush).
The husband of Toni Collette's character is portrayed by John Leguizamo (The Menu). He is a doctor and the family unites quickly when their daughter is one of the first to show the electrifying new powers.
Then there's the young black foster child (Halle Bush in a brilliant debut) who does not speak. She is not in a good place. Maybe she never has been! However, she does have a voice in her head guiding her constantly. The voice is of the amazing Adina Porter (The 100), and honestly, I'd listen to her too!
Diversity in the best way
We follow her quite a lot in The Power. Things look up for her when she arrives at a renegade convent of sorts. There, she meets Sister Maria (Daniela Vega, Una Mujer Fantástica) who is part of the reason why no one there is officially a nun anymore.
Sister Maria is transgender (as is Daniela Vega) and so all the nuns who supported her were excommunicated. While I am not much for religion in general, I'd fight alongside these nuns anytime. Leading these rebel nuns is Emily Kuroda (Gilmore Girls, Kimi).
We also meet a British young woman (Ria Zmitrowicz, Kill Your Friends) who is our queer representation. You'll see her kissing another woman very early on. She's battling to just be recognized in her own family. Well, in a sense… you'll see.
Her sexuality is a non-issue. It's more to do with marriage and infidelity. In other words, nothing she can change.
Finally, I have to mention a woman living in an Eastern European country. Actually, she's married to the brutal dictator of said country. She isn't exactly happy but when you see how she grew up, you can understand why she reacts as she does. Portrayed brilliantly by Zrinka Cvitesic.
Start watching The Power season 1 on Prime Video!
The new Amazon Original series The Power is based on Naomi Alderman's novel, but she's also taken part in the development of this series adaption. The three people credited with developing the series are Naomi Alderman, Sarah Quintrell, and Raelle Tucker. In other terms, these three are the creators of the series.
Sarah Quintrell wrote on the His Dark Materials series prior to developing this new series. Raelle Tucker previously created the series Sacred Lies and wrote on and produced series such as Supernatural, Jessica Jones, and True Blood.
She was even nominated for a Prime Time Emmy for True Blood as a producer. That's why it makes perfect sense that Raelle Tucker is also the showrunner of The Power with her impressive experience.
Womentainment recommendation: You definitely want to watch The Power on Prime Video!
Whether for the core plot of women getting a physical advantage or the stellar cast, this is a series you do not want to miss out on. Yes, there are many characters. Fortunately, the series is built with an impressive focus on both the individual storylines and the overall core story.
The final episodes of season 1 will be released on May 12, 2023. That makes this a real Spring treat of a series and one I am very much looking forward to watching.
The Power premieres its first three episodes on Prime Video on March 31, 2023.
Showrunner: Raelle Tucker
Cast: Toni Collette, John Leguizamo, Auli'i Cravalho, Toheeb Jimoh, Josh Charles, Eddie Marsan, Ria Zmitrowicz, Zrinka Cvitešić, Halle Bush
Official plot:
The Power is our world, but for one twist of nature. Suddenly, and without warning, teenage girls develop the power to electrocute people at will. The series features a cast of remarkable characters from London to Seattle, Nigeria to Eastern Europe, as the Power evolves from a tingle in teenagers' collarbones to a complete reversal of the power balance of the world.