Homecoming is a new Amazon Prime show starring Julia Roberts. With 10 intense 30-minute episodes, this thriller is simply brilliant in its execution. Just sit back, relax and take it all in to get your mind blown!
Homecoming is an Amazon Prime show in the thriller and drama genres. This usually means episodes with a run time around 45 minutes to an hour. Well, this time it doesn't.
Instead, the pace of the storyline is driven forward with an increasing urgency with 30-minute episodes. And honestly, it's a stroke of pure brilliance. Getting Julia Roberts as the star was another.
Season 1 of Homecoming can be binge-watched on Amazon Prime in less than five hours. And trust me, once you start, you won't be able to stop watching.
Now that's how you do flashbacks!
One of the first things you'll notice about Homecoming, is the way flashbacks are done. Or rather, the way the present is showed as opposed to the past. Instead of showing the past in flashback with a different light or in black and white, it's all been flipped.
In Homecoming, the present is showed by using around one-third of the screen. Pretty much as if it was shot on a smartphone, where someone forgot to shoot horizontally. The past is showed using the entire screen.
By this simple trick, you will always know whether we're in the present or watching more of the past. Once you realize that Julia Roberts' character can't remember very much about the past, it's clear why we're watching just a fraction of the image. 
This is how we get into her mindset. And this is the story of Heidi Bergman (Julia Roberts), so it makes sense that we get to experience her point of view in this manner.
Julia Roberts taking charge
I've always loved Julia Roberts in just about everything she's done. Still, I wasn't sure what to expect from her in Homecoming. Whatever I ended up expecting, she delivered above and beyond with her performance.
I really don't want to give away too much because I'll spoil the plot and you really should watch it without getting spoiled.
What I will say is this; It was great to see her acting across from her My Best Friend's Wedding co-star, Dermot Mulroney. Their relationship in Homecoming is nothing like their previous production together.
Bobby Cannavale does what he does best with his portrayal of Heidi's boss, Colin Belfast. He's an arrogant prick, but we get to see more than just this side of him. And Hong Chau does an excellent job portraying his assistant, Audrey.
Sissy Spacek is brilliant (when isn't she?!) as Heidi's mom. They live together in the present and she will do whatever it takes to both protect and push her daughter to act.
Also, Shea Whigham (Waco) plays Thomas Carrasco who tries to tie the past and present together and sets Heidi off on a journey to do the same. Shea Whigham tends to always be someone who leaves a lasting impression. This was no exception.
Finally, the runaway hit – and absolute scene-stealer – of Homecoming was Stephan James as Heidi's client, Walter Cruz.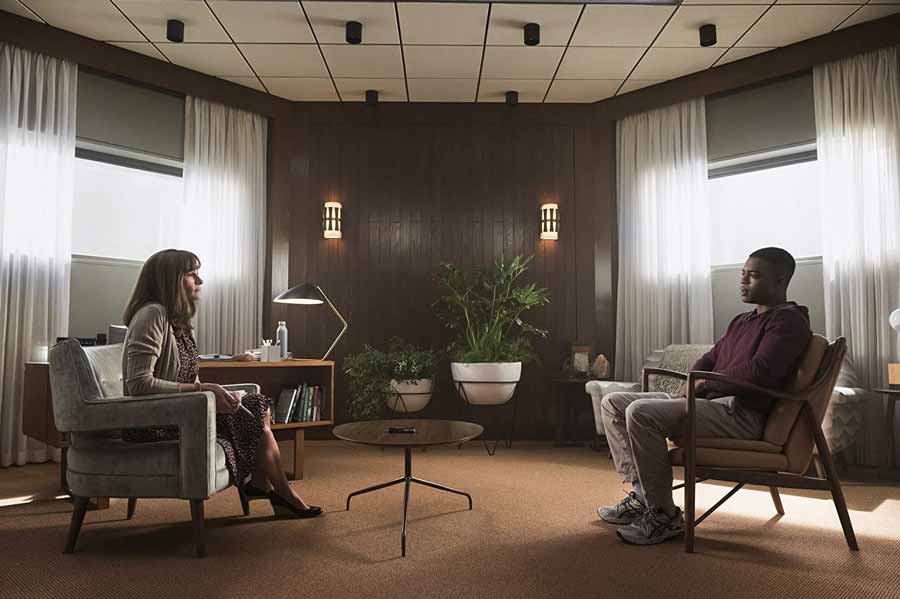 Stephan James in Homecoming
When watching Homecoming, you quickly realize that someone in the past is making a lasting impression on Heidi (Julia Roberts). That someone is Walter Cruz. Don't worry, this doesn't turn the story into some sordid love affair between a professional and her client. But it easily could have in the hands of someone other than creator Sam Esmail.
Walter Cruz is a soldier being helped by the Homecoming facility to better transition to civilian life. That's the official purpose of the facility anyway. We soon realize that this isn't exactly what's going on.
Stephan James portrays Walter Cruz with such heart that you can't help but like him. He's the kind of guy you want in your corner. The one who does the right thing and is loyal. In other words, he cares deeply about being a good and honest person. 
For this very reason, he talks about his experience with war in a very different way than most. He remembers people (soldiers and civilians) getting hurt, but also likes to focus on those they helped. He doesn't really seem like the kind of person, who needs help transitioning. 
To better understand Walter, we also meet his mom played by the always stellar Marianne Jean-Baptiste (Mike Leigh's Secrets & Lies).
You may already know Stephan James from Selma (2014) or Race (2016) where he portrayed Jesse Owens. Mostly, people are talking about the latest movie he starred in; If Beale Street Could Talk by Barry Jenkins, who won a whole slew of awards for his previous movie Moonlight.
Based on a podcast – adapted by Mr. Robot creator
The acclaimed USA Network TV show Mr. Robot was created by Sam Esmail, who also created this show. I love Mr. Robot and think Homecoming has many of the same qualities. However, to me Homecoming is a stronger show simply because of the tighter story.
The origin of the show is a Gimlet Media podcast of the same name. I'm not familiar with the podcast but I'm certainly intrigued now! This isn't the first time Amazon Prime has adapted a popular podcast into a TV show. They did the same thing with Lore, which had season 2 released in October 2018.
Along with Sam Esmail, Homecoming has Eli Horowitz and Micah Bloomberg listed as co-creators since they made the podcast. 
Season 2 of Homecoming
Will there be a season 2 of Homecoming? Yep, so you better get on board now because all signs point to a season 2 being released in 2019.
In fact, when the Homecoming podcast adaption was announced by Amazon (back in July 2017), the message was regarding a "two-season straight-to-series order".
No word yet on who will be in season 2 of Homecoming. However, we're hoping for much more screen time for Hong Chau who portrayed Audrey Temple. She was an assistant to Bobby Cannavale's character Colin. 
In fact, it would be all kinds of awesome if season 2 starred Hong Chau. Just wanted to throw that out there!
Womentainment recommendation: Homecoming is very binge-worthy!
Unless you don't like watching TV shows in general, I can think of no reason why you shouldn't watch Homecoming. It's intelligent, engaging (and enraging!), and features wonderful performances from every actor involved.
Season 1 of Homecoming is available to watch on Amazon Prime now!
Creators: Sam Esmail, Micah Bloomberg, Eli Horowitz
Cast: Julia Roberts, Bobby Cannavale, Stephan James, Sissy Spacek, Shea Whigham, Marianne Jean-Baptiste, Ayden Mayeri, Sam Marra
Official plot:
Good intentions. Erratic bosses. Mounting paranoia. Unforeseen consequences spiraling out of control. Heidi (Julia Roberts) works at Homecoming, a facility helping soldiers transition to civilian life. Years later she has started a new life, when the Department of Defense questions why she left Homecoming. Heidi realizes there's a whole other story behind the one she's been telling herself.