Close is out on Netflix now and the action thriller starring Noomi Rapace is well worth your time. Vicky Jewson directed and co-wrote the movie that features awesome action scenes. Watch Close on Netflix!
Close is a new Netflix movie, which does feel like the kind of story you've seen before. However, it doesn't usually feature so many women and in that sense, it is quite remarkable.
Also, it opens with an intense and brutal story where we get to see Noomi Rapace in action as Sam. It's almost like the beginning of a movie in the James Bond or Mission Impossible franchise.
In fact, it even follows up the crazy opening scene with opening credits in the style of the two aforementioned franchises. A lot of gorgeous and colorful graphics are accompanied by an intense and upbeat song. I didn't expect it, but I did like it.
How it all begins…
Noomi Rapace stars as the bodyguard and counter-terrorism expert, Sam. She takes a job protecting a rich young heiress, Zoe (Sophie Nélisse) after her stepmom asks for someone Zoe "can't fuck".
Yeah, I know. As if hiring a woman would ensure that?! But this isn't that kind of movie and it is actually mentioned later on in a natural and off-handed way. So, I give it points for that.
After all, Noomi Rapace gained international fame after portraying the bisexual Lisbeth Salander in the original The Girl with the Dragon Tattoo (2009). And Zoe's stepmom is played by Indira Varma, who was kissing another woman on the previous season of Game of Thrones. What I'm saying is just that these women are familiar with LGBTQ characters.
Anyway, things go awry pretty fast in Close and it does become a survival story. Not just full of great action sequences but also about using your wits.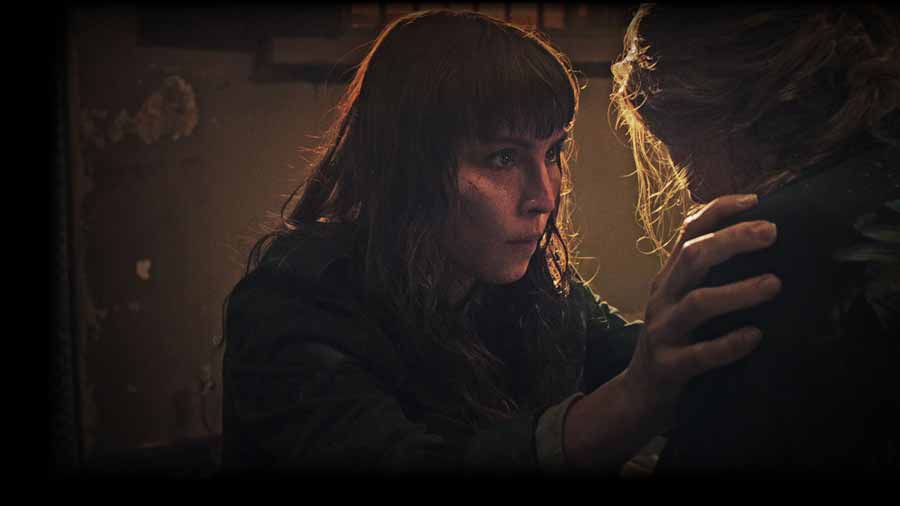 The performances in Close
All three women do give very good performances and you should watch the movie if you're a fan of either one of them. Indira Varma is a tough businesswoman working a lot of different angles, which I won't get into here. Personally, I just enjoyed watching Noomi Rapace doing awesome action scenes.
I most recently saw her in the Netflix movie Bright, which wasn't exactly a treat. Not that Noomi Rapace was to blame for that. If you're looking for a good movie starring Noomi Rapace, then the indie sci-fi thriller Rupture is a pretty fascinating watch.
Also, Sophie Nélisse had some really great moments in Close, once she got over being the spoiled and difficult teen. Fortunately, this happens pretty fast. If you can't quite place her, but feel like you know her, then it may be because she was the girl in The Book Thief (2013) co-starring Geoffrey Rush.  
Watch the Vicky Jewson movie on Netflix 
Close was directed and co-written by Vicky Jewson. She previously directed and co-wrote Born of War, which also features a younger woman in a similar environment. And by that, I mean surrounded by killers and terrorists.
Vicky Jewson seems to have found a niche story that works well for her. Also, both movies were co-written with Rupert Whitaker. If I should point out one thing I did not like about Close, it's the fact that the story is obviously misleading its audience.
It shows us a lot of evidence that points to one thing and then the "plot twist" changes this. Except, it doesn't feel like a plot twist when you're basically lying to your audience and then tell them the real facts later on. You've just been duping the audience. It's okay to have a plot twist but this wasn't executed very well. 
Womentainment recommendation: Close is well worth your time
While I wasn't thrilled with the storyline, I did enjoy the characters and the action scenes. I could have done without the added backstory for Sam (Noomi Rapace) since it was one you could spot a million miles away. In other words, been there and seen that before. Several times.
But it is totally badass to watch an action thriller about a female bodyguard working to protect her female client. Especially when we do absolutely get to avoid the typical "male gaze" elements that otherwise come with anything resembling a storyline like this. 
And no man is needed to rescue these women. We all know Noomi Rapace is more than capable. She doesn't need to look pretty fighting. She just gets sh*t done!
Close is out on Netflix worldwide from January 18, 2019.
Director: Vicky Jewson
Writers: Vicky Jewson, Rupert Whitaker
Stars: Noomi Rapace, Indira Varma, Sophie Nélisse
Official plot:
A bodyguard and counter-terrorism expert Sam takes a job protecting Zoe a rich young heiress. Neither party is keen on the arrangement until a violent kidnap forces them to go on the run.