KEVIN CAN F**K HIMSELF is a brilliant new series starring Annie Murphy. On the surface, it's a classic sitcom. However, in reality, it's a brutal and very realistic drama. The difference between these two worlds is illustrated perfectly. Read our full Kevin Can F**K Himself season 1 review here!
KEVIN CAN F**K HIMSELF is a new AMC+ series that is also released on Amazon's Prime Video in many other countries. Fortunately, the series has already been renewed for season 2. With that ending, we definitely need more of this story.
The plot is described as a "look at the secret life of a sitcom wife" which is both the perfect way to describe it and also way too simple. There is a lot to this story and boy, does it speak to me on so many levels. Also, Annie Murphy is absolutely amazing in the lead, so just give her all the awards (or at the very least, the nominations) right now!
Continue reading our Kevin Can F**K Himself season 1 review below. We've watched all eight episodes in the season for this review.
The real world of a sitcom wife
If you've also grown up watching the classic American sitcoms, then you'll find the initial setting very familiar. A goofy and selfish man has a sweet and gorgeous wife. She dotes on him and takes his cheap shots, at every minor thing, with a smile and a shrug. Somehow, this became the "picture of a married couple" in the US. Or rather, the white married couples in stereotypical suburbs.
We get to see the usual scenes play out. Complete with too bright lights, laugh track, and everything in general being over the top. Then it switches when we leave the sitcom setting and follow the wife as she leaves the room. The lights are dimmed, everything looks shabby, and she looks tired and depressed.
This is exactly how I imagine most wives in these sitcoms really felt.
Now, I can't watch two minutes of a sitcom without feeling dirty. Like I am literally watching someone being psychologically abused. Reruns of shows like Everybody Loves Raymond (no, they certainly do not!) or The King of Queens (marrying a queen does not make you a king) have taken on a whole new meaning.
Don't get me wrong, I can still laugh at these shows. Just not for long. And really, they stopped being funny a decade or two ago. The world is changing while they desperately stay the same.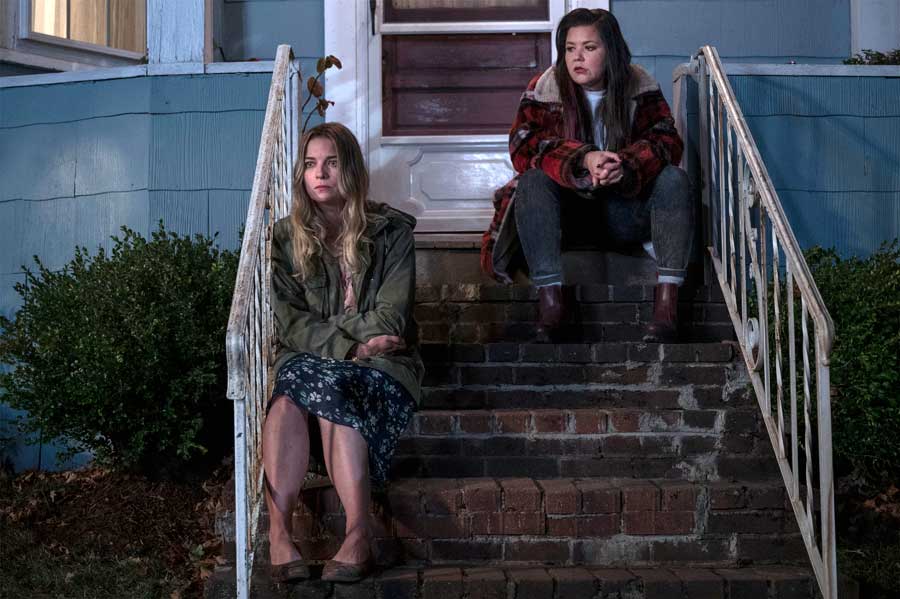 Annie Murphy is perfect as Allison
The story in Kevin Can F**K Himself revolves around Allison, who is married to Kevin. Yes, as in the title character. She has more than had it with her husband, but can't see a way out. At first, you might feel that a divorce is an obvious solution. However, as the awful things he has done to her, over their decade-long marriage, are revealed, you'll see why this isn't a viable option.
Annie Murphy (who I also grew to absolutely adore on Schitt's Creek) is absolutely perfect as Allison. Up next for Annie Murphy – aside from season 2 of Kevin Can F**K Himself, of course – is season 2 of the Netflix series Russian Doll which she will also co-star in.
GET READY FOR MORE ANNIE MURPHY
Another perfect character and actor is the neighbor. Her name is Patty and her brother, Neil, is Kevin's best friend. In fact, Neil desperately wants Kevin to always prefer him over his wife, Allison. And, of course, Kevin does.
Focus on female friendship
Patty is also "one of the boys", so she sides with Kevin and Neil. Simply because this is the role that allows her the most freedom. However, she is also expendable, which she learns quickly. After all, she isn't really one of the boys. That's why Patty and Allison become friends.
Reluctantly and conveniently at first, but then truly and honestly. Mary Hollis Inboden (American Princess) plays Patty with so much heart and heartbreak that I immediately liked her. There was a lot about Kevin Can F**K Himself that reminded me of the absolutely amazing Netflix series Dead to Me.
And yes, the friendship between Allison and Patty in Kevin Can F**K Himself did echo that of Jen (Christina Applegate) and Judy (Linda Cardellini) in Dead to Me.
YOU MIGHT LIKE
Also, in many ways, Patty goes through the biggest transformation right alongside Allison. For Patty, this even includes realizing that maybe there's a reason why she doesn't want to commit to her boyfriend. Meeting Tammy, helps her realize this. In other words, a nice little LGBTQ character arc!
Yet another thing this series has in common with Dead to Me (in season 2). In all the best ways, mind you!
Watch Kevin Can F**K Himself season 1 on AMC+ and Amazon Prime Video
The creator of Kevin Can F**K Himself is Valerie Armstrong, who previously wrote on series such as Lodge 49 and SEAL Team. This is the first time Valerie Armstrong has created and produced a series, but I certainly hope she's only just getting started. Just like Liz Feldman (creator of Dead to Me), I have no doubt that these women have a lot more stories to tell!
For now, we do know that Kevin Can F**K Himself will have a season 2. I was a bit late to the party for season 1 and didn't watch until all episodes had been released. However, I doubt I can wait that long for season 2.
Also, I am so damn happy that Annie Murphy is out with something new so quickly after Schitt's Creek. She was amazing in that – once her character, Alexis, grew on me. For this new series, it's the style of the series you need to let in. Sure, she has funny moments in this new production as well, but it's a lot darker than anything from Schitt's Creek. It suits her to show more sides to her talent!
Kevin Can F**k Himself is out on AMC+ in the US and on Amazon Prime Video in many other countries.
Womentainment recommendation:

Watch Kevin Can F**K Himself and just allow the crazy and jarring difference (between the classic sitcom scenes and the brutal reality) to wash over you!
Creator: Valerie Armstrong
Stars: Annie Murphy, Raymond Lee, Eric Petersen, Mary Hollis Inboden, Alex Bonifer, Brian Howe, Robin Lord Taylor, Candice Coke, Meghan Leathers, Kevin Chapman
Official plot:
Series centered around the prototypical Sitcom Wife, Allison McRoberts, married to her self-centered husband, Kevin. When Allison learns that the perfect future she envisioned is impossible, she makes a plan to take back control of her life.