SENTINELLE is a new Netflix action thriller with a female protagonist that is LGBTQ. Most importantly, she's also an awesome avenger – and quite damaged, but there's a reason for that. This is a French production with international appeal. Read our full Sentinelle movie review here!
SENTINELLE is a Netflix action thriller from France. In other words, yes, it's in French (and Russian and Arabic) but this movie is more about actions than words.
Also, Olga Kurylenko stars as a soldier, who knows five languages and is a total kick-ass hero. Actually, she's also dealing with PTSD and bad things keep happening in her life.
Continue reading our Sentinelle movie review below and find it on Netflix now.
Olga Kurylenko is great as Klara
You're probably already familiar with Olga Kurylenko even if the name doesn't ring a bell. She was in the 2008 James Bond movie Quantum of Solace and the Tom Cruise action flick Oblivion (2013). Okay, I mention Tom Cruise for that movie but, honestly, it was full of awesome women such as Melissa Leo (The Fighter), Andrea Riseborough (Possessor), and stunt superstar Zoë Bell.
With Sentinelle, Olga Kurylenko is no longer a supporting character but the absolute star. Of course, this isn't new for her either since she already starred in the 2018 horror movie Mara. Still, this feels different somehow.
Maybe due to the severity of the subjects being dealt with. I certainly feel like I've seen Olga Kurylenko really get to stretch her acting legs with this one. And she did great!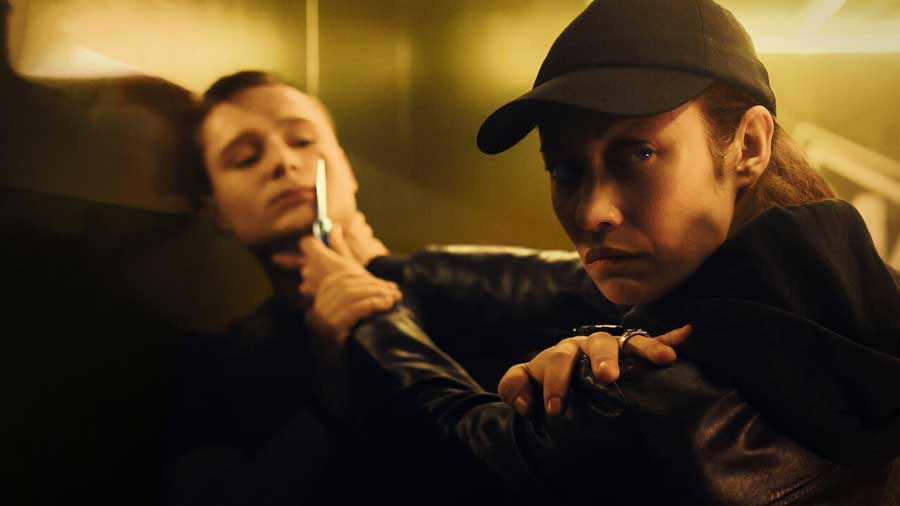 Payback is a bitch!
However, this is still very much an action movie. If you watch the trailer for it (which does contain a few spoilers), you'll see that this is a movie that lets her kick some serious butt.
Also, yes, she is LGBTQ which is made very obvious from the first chance given. And yes, it does also include some scenes of a more sexual nature. I must say though, they're done very tastefully.
Of course, this is a French production and whatever you might think of the French, they are all about flirting and romance. Aside from Klara's (Olga Kurylenko) night of pleasure, there isn't much good or positive in her world.
Or the world of those she loves and that is why this is an action-thriller. Revenge is the name of the game and Klara knows how to play – and win at it!
Watch Sentinelle on Netflix now!
Julien Leclercq is the director and co-writer of the screenplay for Sentinelle. He has done quite a few movies already and while I was not a fan of his previous movie, Earth and Blood (read my review over at Heaven of Horror here), I think he has done several good movies so far. He also did the Jean-Claude Van Damme movie Lukas from 2018 which was surprisingly good.
The co-writer for Sentinelle is actually Matthieu Serveau who also took part in writing Earth and Blood. However, to me, these two movies were like night and day in execution. Mostly because I really enjoyed watching this new movie and could accept when things went a little crazy. Sure, some elements are a bit far out but overall, this is an effective action movie that has a lot going for it.
A woman fights to set things right in the world after having already witnessed so much wrong? Yeah, that works for me. The fact that she's gay doesn't hurt either, but in the context of this plot, it serves an additional purpose; To see how confused men are when she clearly doesn't care about their attention. Quite the opposite, she turns away from it.
Sentinelle is out on Netflix from March 5, 2021.
Director: Julien Leclercq
Writers: Julien Leclercq, Matthieu Serveau
Stars: Olga Kurylenko, Marilyn Lima, Michel Nabokoff, Carole Weyers, Andrey Gorlenko
Official plot:
Transferred home after a traumatizing combat mission, a highly trained French soldier uses her lethal skills to hunt down the man who hurt her sister.