Russian Doll is a new Netflix show perfect for binge-watching. The Comedy, Drama, Mystery show was created by Leslye Headland and Amy Poehler along with Natasha Lyonne, who also stars in it. Season 1 is on Netflix now!
Russian Doll is out on Netflix with Season 1 and you should definitely treat yourself to it! This is one of the most binge-worthy show due to the perfect combination of comedy and drama with a mystery to keep you engaged.
The episodes are just short of 30 minutes and season 1 consists of 8 episodes.
Basically, you can almost watch Season 1 of Russian Doll on Netflix faster than deciding on what movie to watch.
Groundhog Day meets Happy Death Day and Final Destination
If you've watched the trailer – or even just read the plot – then you'll know the basic premise of this story. A cynical young New York City woman (Natasha Lyonne) is celebrating the birthday that makes her older than her mother ever became.
Unfortunately, she keeps dying and as soon as she does, she "wakes up" in the bathroom of that very same birthday party. Forced to figure out what's going on, she has to keep dying and reliving the same time loop to get to the bottom of this mystery.
This plot makes a comparison to the classic Groundhog Day obvious.
But honestly, the more accurate comparison is the horror comedy Happy Death Day, which has a sequel coming out in February 2019. Then again, in Happy Death Day, the protagonist is looking for her own killer in order to solve the mystery. In Russian Doll, our protagonist dies in all kinds of ways but isn't actually murdered.
It's more of a Final Destination vibe, where death is coming for you and can get very creative in order to secure your demise.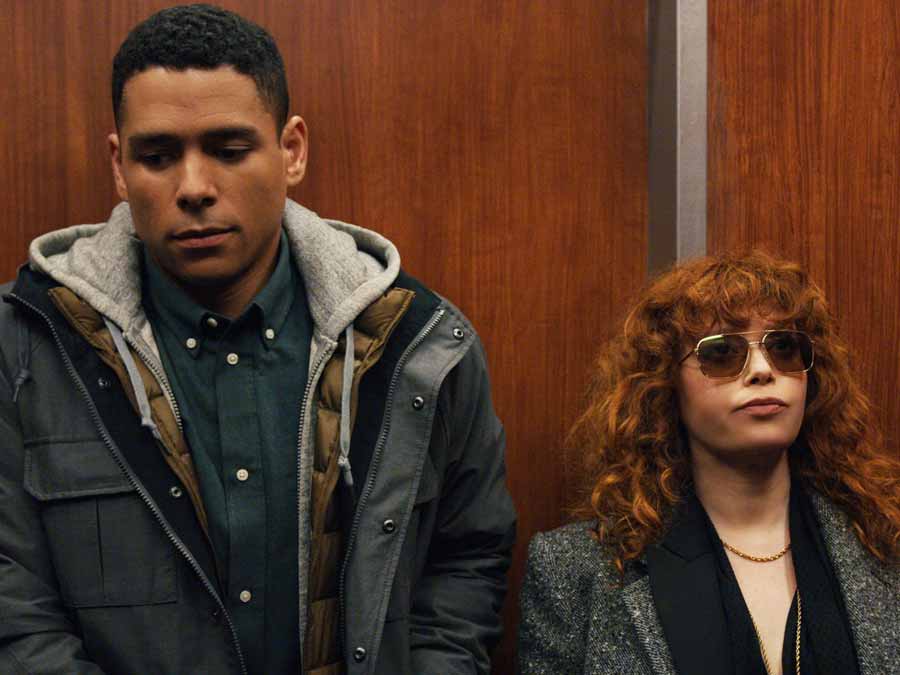 The less you know about Russian Doll, the better!
Natasha Lyonne stars in Russian Doll as Nadia Vulvokov, who keeps reliving the same birthday party. And yet, her story is deeply connected to others. Both those attending the birthday party and others she keeps meeting along the way.
Obviously, she becomes rather familiar with these people, but to them, she's a stranger every single time.
Now, I realize the thought of 8 episodes with a time loop that keeps repeating can sound pretty boring. But, trust me, it is in no way boring. Like an actual Russian doll figurine, we keep getting deeper into the mystery along with Nadia Vulvokov and those she interacts with.
Honestly, you should know as little as possible about the story before watching this show. Just know that there are so many reasons why you should watch it.
Obviously, the fact that Natasha Lyonne is part of that reason to those who like her. And I really do. Sure, she's great in Orange is The New Black, but to me, she's first and foremost the cheerleader from But I'm A Cheerleader. Actually, I've never experienced a bad performance from her.
Another reason to watch Russian Doll is the creators of this new Netflix show!
The creators of Russian Doll on Netflix
The new Netflix show Russian Doll was created by Leslye Headland, Amy Poehler and Natasha Lyonne herself. Of course, Amy Poehler has quite a lot of experience with TV shows as both an actor and writer. Parks and Recreation has achieved cult-like status, which is a show she even directed a few episodes of.
For Russian Doll, Natasha Lyonne herself also directed an episode. In fact, she directs the final episode of season 1 which clearly shows she can handle that task as well.
The other two directors of episodes in season 1 were Jamie Babbit and the third creator of the show, Leslye Headland.
Jamie Babbit also directed the earlier mentioned But I'm a Cheerleader with Lyonne in the title role. In terms of TV shows, Babbit has directed episodes of shows like The Marvelous Mrs. Maisel (Prime Video), Silicon Valley (HBO), and Santa Clarita Diet (Netflix).
Will there be a Season 2 of Russian Doll?
Yes, there will be a Season 2 of Russian Doll. In fact, word has it that Russian Doll was sold as a three-season deal, so we should get a season 2 and a season 3.
Season 2 of Russian Doll is hopefully in the relatively near future. Or, you know, at least within 6-12 months. And yes, Season 3 of Russian Doll should be a sure thing as well.
This is absolutely perfect for a show like Russian Doll where season 1 can be watched in around four hours. I certainly couldn't stop once I began!
Womentainment recommendation: Watch Russian Doll ASAP and avoid all spoilers!
Russian Doll is a fierce new Netflix show unlike anything else out there. It's unapologetic and realistic in its character portrayals and a beautiful storytelling arc. Whether you watch this for comedy, drama, or mystery, you'll get a kick out of it.
Also, while there are so many brilliant women creating this show both in front of and behind the camera, the show also has some wonderful men in the cast.
In supporting roles, we have Jeremy Bobb (the Netflix show Godless), Brendan Sexton III (Boys Don't Cry), and Yul Vazquez (I Am the Night).
In a key role, we have Charlie Barnett as Alan Zaveri. We'll soon see him again in the long-anticipated Tales of the City continuation, where he'll play Ben Marshall. Also, he was in an episode of Orange Is the New Black as Wes Driscoll – a character you'll definitely remember if you've watched the show.
Other than Charlie Barnett's "Alan", Russian Doll really is all about Nadia and her female friends and family. I should also mention that Chloë Sevigny plays her mother. We only see her in flashbacks, but she is (of course) brilliant as always.
Season 1 of Russian Doll is out on Netflix worldwide from February 7, 2019.
Creators: Leslye Headland, Natasha Lyonne, Amy Poehler
Stars: Natasha Lyonne, Charlie Barnett, Greta Lee, Elizabeth Ashley, Rebecca Henderson, Jeremy Bobb, Ritesh Rajan, Yul Vazquez, Dascha Polanco, Brendan Sexton III
Official plot:
A cynical young woman in New York City keeps dying and returning to the party that's being thrown in her honor on that same evening. She tries to find a way out of this strange time loop.