Lez Bomb is a Comedy-Drama out on Netflix now. The LGBTQ movie was written and directed by Jenna Laurenzo. She also stars as Lauren, a woman who is trying to come out to her parents during Thanksgiving. Watch Lez Bomb on Netflix in the US, Canada, and more now!
Lez Bomb is out on Netflix now and the LGBTQ Comedy-Drama is well worth your time. Not only does it have an awesome cast, but the story is also really sweet and heartwarming. 
I mean, honestly, this is one of the better Thanksgiving comedies. Usually, I always watch Gurinder Chadha's What's Cooking? for Thanksgiving. In case you don't know What's Cooking, you probably know the movie Gurinder Chadha made a few years later called Bend It Like Beckham.
But honestly, try to get your hands on her Thanksgiving-themed movie as well. It has a brilliant cast and such an important story.
Lez Bomb has a much smaller story, but it's also important nonetheless.
Going home and Coming Out
I loved the trailer for Lez Bomb but it is basically a summary of the movie. So, if you don't want the entire plot revealed, then skip the trailer. Then again, you probably have a pretty good idea about how this will end. 
Lez Bomb is all about going home for Thanksgiving and fully intending on finally coming out. Hell, our protagonist Lauren (Jenna Laurenzo) even brings her girlfriend home for Thanksgiving dinner.
Nothing goes smoothly – otherwise, this would be a sweet little short film – and so everyone has to go through a lot before we get that far. Still, it's all about the journey getting there and that's probably something most people can recognize.
No matter how wonderful and loving your family is, it's never nice to tell them something you know could change things forever.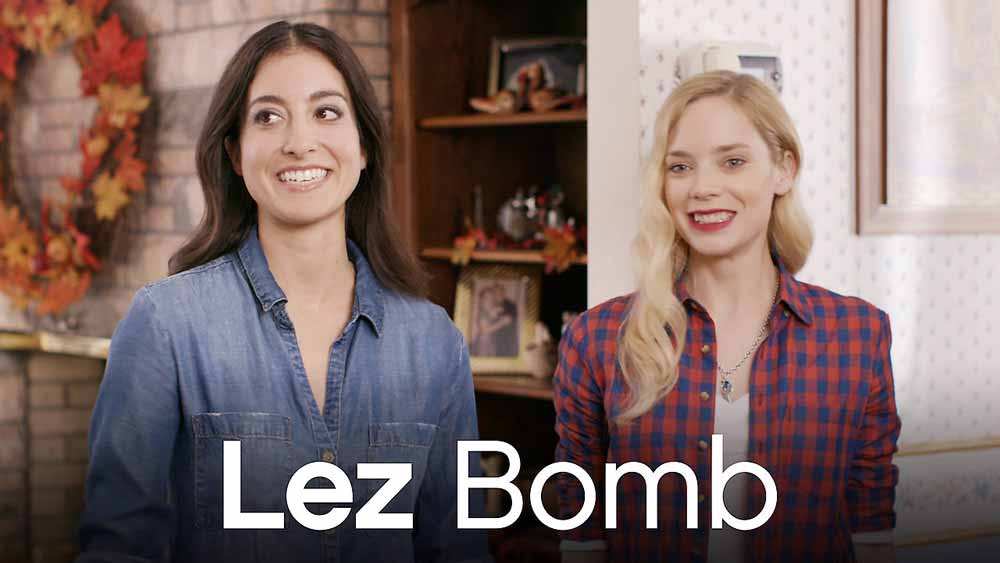 A supporting cast of familiar faces
Lez Bomb has so many familiar faces and listing the cast feels like some heavy name-dropping. There's Steve Guttenberg, Kevin Pollak, Bruce Dern, and then there's Cloris Leachman, who is someone I absolutely adore.
To me, Cloris Leachman is up there with Betty White of The Golden Girls and Rita Moreno from the Netflix's One Day at a Time. Both Morena and Leachman are Academy Award winners for supporting roles. Rita Moreno for West Side Story and Cloris Leachman for The Last Picture Show.
Also, Cloris Leachman played the mother of Ellen DeGeneres in the short-lived The Ellen Show (2001-2002). This was the initial comeback for Ellen DeGeneres after the harsh backlash she suffered after coming out. Sure, it might not seem like a big thing, but for a heavy-hitter like Leachman to portray her mom was a damn big deal!
In Lez Bomb, she's just one of many family members we get to know. But she's probably the one I remember the best!
Watch Lez Bomb on Netflix now!
The writer-director of Lez Bomb is Jenna Laurenzo. This is her feature film debut on both counts. She did write and direct the 2015 short film Girl Night Stand, but this is her first feature-length production. And only her second time as a director over all.
She does have more experience as a writer from both short films and writing for TV series. And if she looks familiar to you, it may be because she was in Green Book. Yes, the movie currently nominated for 5 Academy Awards.
Lez Bomb is a really sweet and important story. The combination of comedy and drama allows for an important story to be told in a way most people can digest. Also, it should be familiar to most people with LGBTQ members in their family.
Let me rephrase that; If you have out LGBTQ family members, you should recognize elements of the story in Lez Bomb. Because honestly, LGBTQ people are everywhere. The real question is simply if you know who they are and if they feel safe coming out.
Womentainment recommendation: Watch it now! Because we can never have too many LGBTQ movies with happy endings!
The number of LGBTQ stories with tragic storylines and heartbreaking endings still outway those with a more positive outcome. This alone gives an advantage to any LGBTQ movie with a happy ending.
Also, Lez Bomb is a fun and good movie, which is more than enough reason to watch it!
Lez Bomb is out on Netflix in the US, Canada, and several other countries from February 7, 2019.
Director: Jenna Laurenzo
Writer: Jenna Laurenzo
Cast: Jenna Laurenzo, Caitlin Mehner, Cloris Leach man, Bruce Dern, Kevin Pollak, Steve Guttenberg
Official plot:
A still closeted young woman brings her girlfriend home for Thanksgiving, only to have her coming out efforts thwarted by the unexpected arrival of her male roommate.