Finally, a release date for My Days Of Mercy is here. The LGBTQ movie starring and produced by Ellen Page and Kate Mara originally premiered at TIFF back in 2017. It will be out in select theaters and on Digital VOD in the spring of 2019. 
The release date for My Days of Mercy has been a long time coming. After the movie premiered at TIFF (Toronto International Film Festival), the only chance of watching it was at other film festivals.
We had the chance to watch it back in early 2018 and wrote a review for My Days of Mercy here >
Earlier, the title of the movie was simply Mercy, but I have to admit I prefer this title. Maybe because this title was already attached by the time I watched it.
My Days of Mercy released in 2019
Since the movie is being released in the spring of 2019, all trailers now feature that year.
The official trailer from Lionsgate (which we've included here) is listed as "MY DAYS OF MERCY official trailer (2019)".
However, have no fear, this is indeed the movie you've been waiting for since the 2017 world premiere.
Ellen Page stars as Lucy with Kate Mara playing the title role (sort of) as Mercy. I only include the "sort of" comment since this movie is also about the death penalty, so mercy is both the name of a character and the concept of having or showing mercy.
You can find more on this in our review. Read our review of My Days of Mercy by clicking this link (it will open on a new tab).
Also, here's the brand new official poster for My Days of Mercy (2019) which is a thing of beauty in itself: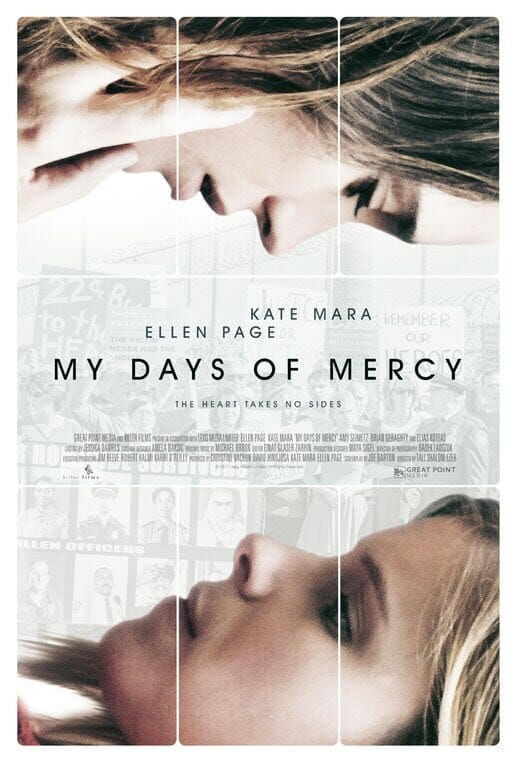 Watch My Days Of Mercy on VOD from April 5, 2019
Lionsgate will release My Days of Mercy directly On Demand, so you can watch it on your preferred VOD platform. Also, it will be out in select theaters (or limited release, if you will). Look out for any screenings, if you live in a city such as Los Angeles or New York.
The movie was directed by the brilliant Tali Shalom-Ezer and I am so happy her movie will finally reach a larger audience.
We've had people inquire about how to watch My Days of Mercy ever since we reviewed it. Well, now you can finally watch this amazing movie. Enjoy it… I know I will be sure to get my hands on it to watch again!
The release date for My Days of Mercy is April 5, 2019. 
Make sure you buy or rent it to show support for this little gem of a movie! And if you get the chance to watch it in a theater, then you should jump at that opportunity.