The Booksmart trailer is here and you do not want to miss it. Honestly, it. is. AWESOME! This is the directorial debut for Olivia Wilde and I'm so ready for this movie. Watch the trailer for Booksmart here!
The trailer for Olivia Wilde's movie Booksmart is finally here. Before you watch it, here's a little about the movie itself.
The movie is directed by Olivia Wilde and yes, this is her first (but hopefully far from last) time directing a feature film. She has already done a few short films, so she's hardly new to this job.
The supporting cast is chock full of familiar faces; Lisa Kudrow and Will Forte play the parents of Amy (Kaitlyn Dever) and Jason Sudeikis (husband of Olivia Wilde) is the High School principal.
Also in the cast are Jessica Williams (The Daily Show), Billie Lourd (Star Wars), Skyler Gisondo (Santa Clarita Diet), Molly Gordon (Animal Kingdom), and Diana Silvers (Ma).
The stars of Booksmart
Booksmart stars Kaitlyn Dever who co-starred with Captain Marvel's Brie Larson in Short Term 12 (2013) before being on TV series such as Justified and Last Man Standing. Also, we know from the trailer that Amy (Kaitlyn Dever) is gay.
So Booksmart already has that going for itself. As far as I'm concerned anyway!
As the best friend of Kaitlyn Dever's character, Amy, we have Beanie Feldstein as Molly. You may know Beanie Feldstein from Greta Gerwig's brilliant movie Lady Bird. Also, she's in the upcoming TV series version of What We Do In the Shadows, which is a horror comedy by Taika Waititi and Jermaine Clement.
With these two whipsmart and charming young women leading the shenanigans, I'm definitely ready for Booksmart!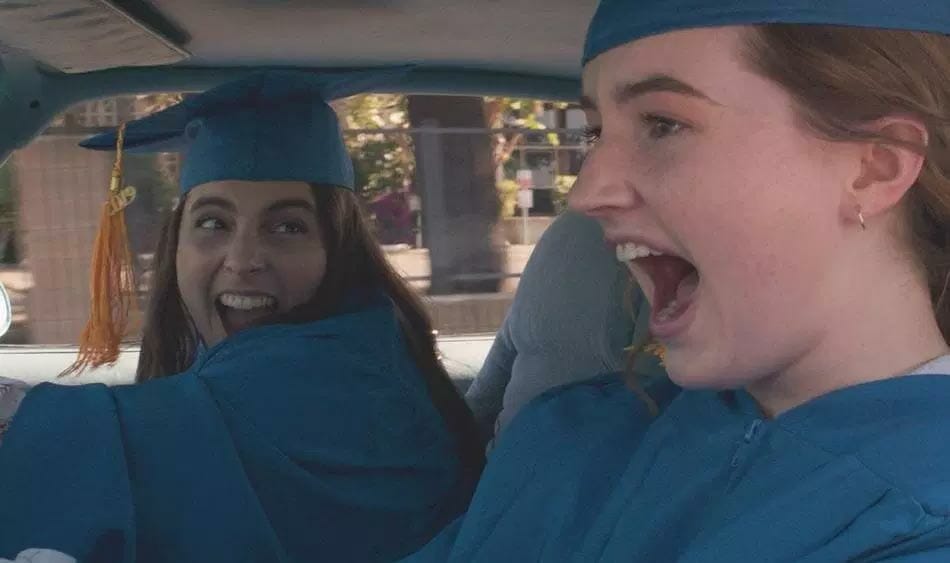 The plot of Booksmart
While the plot of Booksmart may not sound very new or innovative, it actually is. This type of plot usually revolves around young men heading off for college. This time, we follow two young women. And they are every bit as flawed and charming as their previous male counter parts.
Here's the official plot for Booksmart:
Watch 2 academic superstars and best friends who, on the eve of their high school graduation, realize they should have worked less and played more. Determined not to fall short of their peers, the girls try to cram 4 years of fun into 1 night.
The script is written by Katie Silberman, who also co-wrote the Netflix movie Isn't It Romantic. Isn't It Romantic came out on Netflix in February 2019 and stars Rebel Wilson and Liam Hemsworth along with Adam Devine, Priyanka Chopra, Betty Gilpin, and Jennifer Saunders as Rebel Wilson's mom. 
Finally, here's the first trailer for Booksmart below
The movie just premiered at SXSW on March 10, 2019. Booksmart will be out in US theaters from May 24, 2019.
Now, here's the trailer for Olivia Wilde's upcoming movie Booksmart.