The Enemy Within is a new NBC spy thriller series. Created by Ken Woodruff, the writer/producer of The Mentalist, Gotham, and Reverie. The show stars Jennifer Carpenter and Morris Chestnut, but only Carpenter really delivers. You should give this a chance for her!
The Enemy Within is a new thriller drama series on NBC, but this story could just as well have been told a decade ago. Maybe even two or three. After all, we're back to the enemy being Russian and it's all about spies and terrorists on US soil.
I wanted to watch this because of Jennifer Carpenter, who I have always adored. She absolutely makes The Enemy Within worth watching and her title character (or is she?) has been pushed heavily during its promotion.
However, the character portrayed by Morris Chestnut is the big hero of this new NBC series. And, unfortunately, his character seems straight out of an average 1990s action thriller.
You know every single thing he'll do or say before the thought even occurs to him.
Jennifer Carpenter to the rescue
If you've read the plot for The Enemy Within – or just watched the trailer – then you know exactly what to expect from the first episode. You won't be surprised by anything really, but Jennifer Carpenter makes it worth watching anyway.
In character as Erica Shepherd, she doesn't even have to utter a word to convey what's going through her mind. 
Honestly, I cannot remember ever seeing Jennifer Carpenter give a bad performance. She's been in movies and TV Series that weren't all that great, but she is always good!
Of course, she's also been in awesome movies. She played the title role in The Exorcism of Emily Rose (2005), but many people will probably know her as Debra Morgan. This was her character on Dexter and such an awesome character for her. Or rather, because of her.
Erica Shepherd has the potential to be an equally badass character. But as of episode 1 and episode 2 of The Enemy Within, she is the only thing this show has going for itself!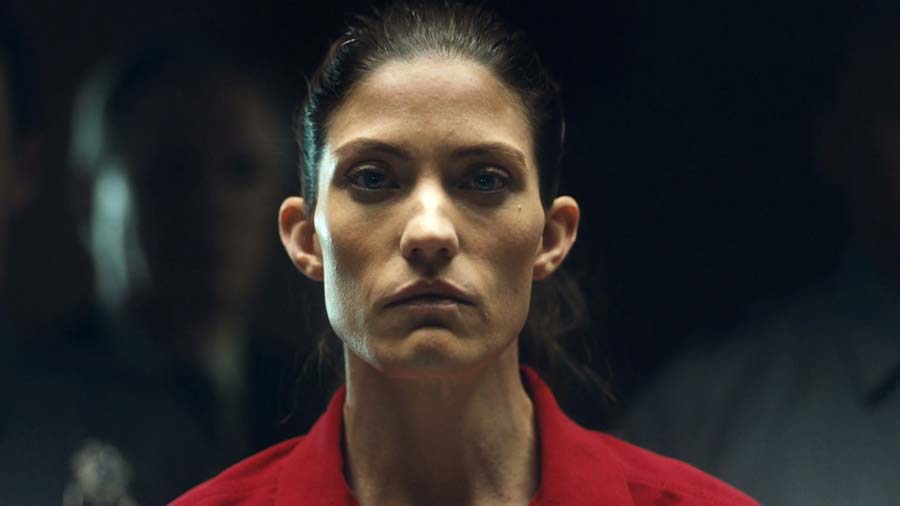 The forced fear and drama
While The Enemy Within does have its moments (mostly thanks to Jennifer Carpenter), it also has a real issue with pushing the fear and drama. Sure, this is a spy thriller drama hybrid series, but everything just feels too forced.
Even the score is giving me heart palpitations while trying the follow the plot developments. It's the equivalent of having a robot yelling "Danger, Will Robinson" on a continuous loop. And with the same instant fever no matter how drastic the situation is – or isn't.
Sure, I get it, things are tense, but could you give me a minute to watch the characters deal with the situation. Without having the "thrills and action" beat going a million miles per minute?!
You do actually have a rather interesting (if not very innovative) plot going on, so please, allow us to get into it.
Season 1 of The Enemy Within airs Mondays on NBC
The Enemy Within was created by Ken Woodruff who wrote several episodes of the shows The Mentalist, Gotham, and Reverie. He also worked as a producer in some capacity on all these shows. It seems an obvious next step that he tries his hand as creator. 
With The Enemy Within, Ken Woodruff has made a show that is probably most like The Mentalist (which I really liked). We just need the characters to get more time to develop for it to really work. And the story feels more like The Blacklist (which I also liked) but is currently a bit too stereotypical.
Hopefully, the story will get better as the season progresses, but currently, I'm just not that into it.
Womentainment recommendation: Once again with feeling, watch The Enemy Within for Jennifer Carpenter
After the first two episodes of The Enemy Within, I can only recommend watching this NBC series for Jennifer Carpenter. Her character, Erica Shepherd, is intriguing and smart. She doesn't take crap from anyone and will stop at nothing.
I like watching her and not knowing exactly what she'll do next. Especially because there is nothing surprising from the character played by Morris Chestnut, who is the hotshot FBI Agent, Will Keaton.
The Enemy Within airs Monday on NBC. The Season 1 premiere was on February 25, 2019.
Creator: Ken Woodruff
Cast: Jennifer Carpenter, Morris Chestnut, Raza Jaffrey, Kelli Garner, James Carpinello
Official plot:
FBI Agent Will Keaton enlists the most notorious traitor in American history, Erica Shepherd, to help catch a spy.