Her Smell stars Elizabeth Moss as a punk rocker and she is awesome! But really, every single character in this little indie gem is simply brilliant. You should love every second of its 2 hours and 14 minutes runtime. Read why in this review!
Her Smell is all about Elizabeth Moss' character, Becky Something. On the surface anyway. Because really, it's as much about all the people trying to exist in her orbit. It is one hell of a crazy life this girl is living. 
She's strung out on drugs and nearly impossible to get on stage. Once she's there, however, she is brilliant!
The casting of Her Smell is in a league of its own. It's full of familiar faces who are giving very honest and raw performances. No matter how big or small. It's a tour de force for Elizabeth Moss but also serves as a perfect vehicle for all the supporting actors.
Elizabeth Moss as a Punk Rocker
It seems there's nothing Elizabeth Moss can't do these years. After the initial success of having a supporting role on Mad Men to the title role in The Handmaid's Tale, this is her time.
As Becky Something, Elizabeth Moss gets to strip back everything to reveal a person you will be irritated with. Especially on behalf of those around her. One second she will make perfect sense and the next she will act like a spoiled brat.
After all, she is a star and she damn well knows it. Also, she's a punk rocker and people better accept that this means she's a bit out there. Both in terms of drugs and overall attitude. And still, she is good once she gets on stage.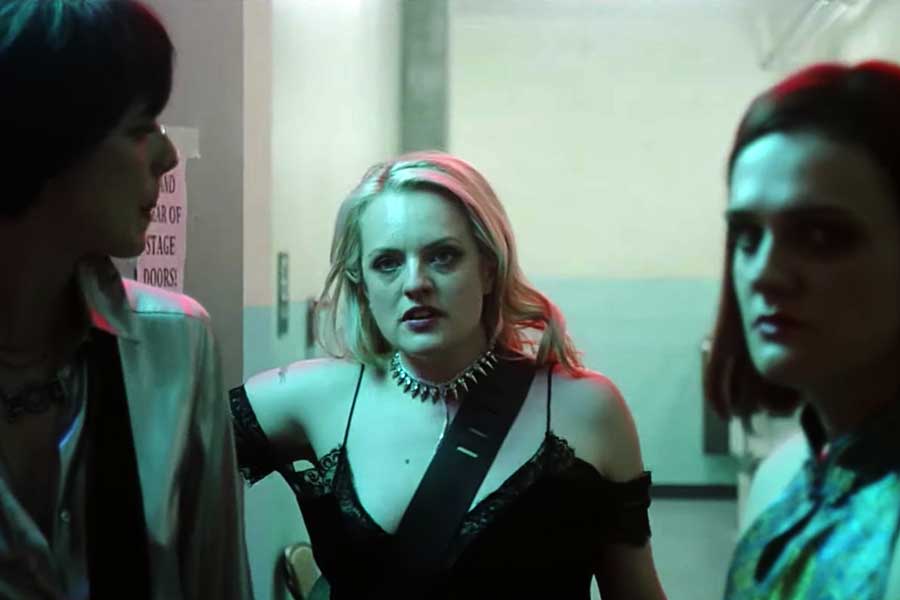 Her Smell features a supporting cast of stars
While Her Smell revolves around the character played by Elizabeth Moss, the supporting cast is absolutely stellar as well. We have Dan Stevens (Apostle on Netflix) as her ex. He has given up the crazy musician life to focus on raising their daughter.
This is such an important portrayal of a devoted father and Dan Stevens nails it! Also, the always amazing Lindsay Burdge (Karyn Kusama's The Invitation) is the new girlfriend who helps take care of the little girl.
Her partners in crime, as far as music goes, are played by Agyness Deyn and Gayle Rankin.
Agyness Deyn recently starred in Hard Sun on Hulu along with Ji Sturgess. And if you've watched the 80s themed female wrestling show GLOW on Netflix, you'll probably recognize Gayle Rankin as Sheila the She-Wolf. Ironically, the name of her character in Her Smell is actually "Ali van der Wolff".
Also, there's Virginia Madsen in a smaller role and Eric Stoltz is their manager. Not an easy task!
The other punk rockers in Her Smell
Her arch nemesis, who actually really likes both Becky and the rest of the band is Zelda E. Zekiel. She's played by Amber Heard who is simply divine as this character. That's right, I said divine! Hell, I'd love to watch a movie featuring her character as well.
As the up-and-coming punk rock girls, who adore Becky Something (Elizabeth Moss), we have a trio of "It Girls". There's Ashley Benson (Pretty Little Liars) as Roxie Rotten and top model turned actor Cara Delevigne as Crassie Cassie with Dylan Gelula as Dottie O.Z.
We also get to follow both the Amber Heard and the younger punk rockers as their careers' evolve. Both in contrast and tribute to the career of Becky Something. 
Her Smell shows the dangers of enabling
It might not look like it from the trailer, but this really is a full-fledged biopic. We follow the character of Becky Something (a stage name, of course) from the beginning of her career to the height of it and towards a possible ending. 
During this time we also see what happens to the people around her. They all love and support her – despite the way she treats them most of the time. Of course, drugs do play a big part in how she treats people.
It's a wonderful look into a world few people know. Her Smell is never trying to excuse the behavior of Becky Something, but it does show how it's enabled. Until it isn't and this is almost more dangerous.
Womentainment recommendation: Watch Her Smell for the real and complete character portrayals
Alex Ross Perry wrote and directed Her Smell. He has worked with Elizabeth Moss on most (if not every) project he's done so far. And I must admit, it does seem like a match made in heaven.
At another point in time, Her Smell would have gotten a lot more attention than it has. It has been a film festival darling since it premiered at Toronto International Film Festival in September 2018. Since then, it has played at so many film festivals in North American and Europa especially.
We were fortunate enough to catch a screening at AFI Fest back in November 2018.
Now, Her Smell will finally be out in US theaters from April 12, 2019.
Do. Not. Miss. It!
Director: Alex Ross Perry
Writer: Alex Ross Perry
Stars: Elisabeth Moss, Cara Delevingne, Dan Stevens, Gayle Rankin, Ashley Benson, Dylan Gelula, Eka Darville, Lindsay Burdge, Lindsay Burdge, Eric Stoltz, Amber Heard, Hannah Gross, Agyness Deyn
Official plot:
A self-destructive punk rocker struggles with sobriety while trying to recapture the creative inspiration that led her band to success.