Gentleman Jack is a new period piece on HBO that's also very much an LGBTQ story. The very simple and obvious reason being the fact that it's about Anne Lister. If you don't know who she is, then you're about to find out. Read more in our review here!
Gentleman Jack is out on HBO and the new series is a period piece drama. More than this, it's about a lesbian woman named Anne Lister. She is, in fact, the title character since "Gentleman Jack" refers to her.
In other words, the new HBO series is an LGBTQ period piece. And it is glorious!
If you've never heard of Anne Lister, then don't worry, this is the perfect way to become acquainted with her. When portrayed by Suranne Jones, it's easy to understand the power (and struggles) of her life. 
Keep reading this review to find out why you should definitely be watching Gentleman Jack on HBO.
Anne Lister is Gentleman Jack
LGBTQ people have always existed. For the most part, our sexuality has merely been erased or ignored (essentially the same thing). Anne Lister has been one of the few exceptions for a long time.
Very much like the Greek poet Sappho from the island of Lesbos, Anne Lister wrote. A lot! 
She has a journal which was fairly comprehensive and specific. Since she was also very honest about who she was (as much as you could be back then), she also covers the romantic and sexual aspects of her life.
As anyone concerned with actual facts will know, same-sex relationships have always existed. Anne Lister is just one very well documented example. Because she documented it herself.
But Gentleman Jack is not about the secret diaries of Anne Lister (which incidentally is also the title of a movie about Anne Lister). Instead, it's the story of her life and Anne Lister herself is telling it.
Literally by breaking the fourth wall several times. 
Sometimes to tell us something specific about her thoughts and plans. But often, it's just to show us a reaction. Or, more specifically, a tongue-in-cheek way of showing us that she's playing games. And winning at them!
Also, other characters do get to break the fourth wall as well. Though not as often. Three episodes into season 1 of Gentleman Jack, it has only been Anne Lister's sister, Marian Lister (Gemma Whelan).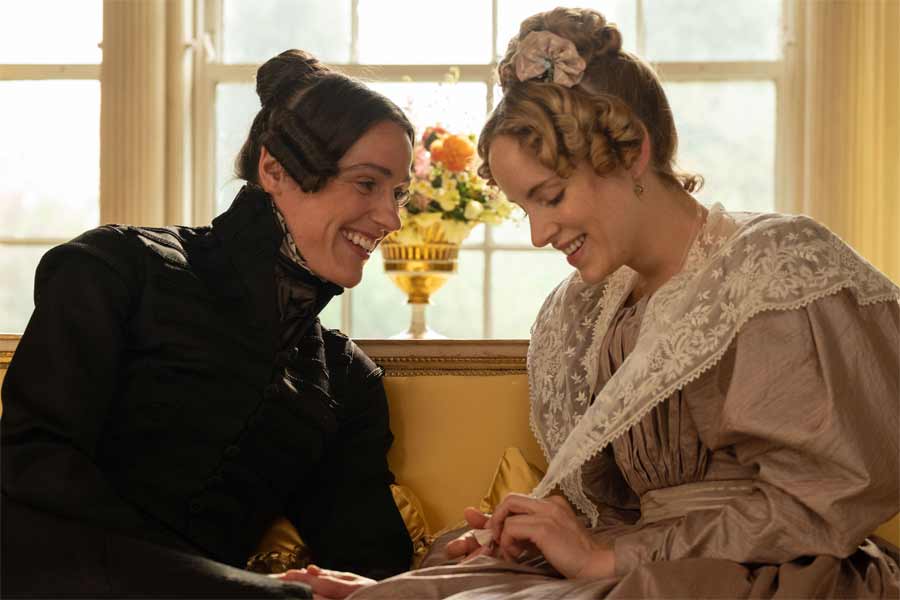 Suranne Jones is PERFECT as Anne Lister
Look, Anne Lister is not always fair. And she's never easy on people that try to cross her. She's not violent either, but she is whip-smart which is not something men were used to at that time. Many still aren't here in 2019.
Still, when portrayed by Suranne Jones, I can't help but be fascinated by Anne Lister. And I am always rooting for her. She knows when she's not being entirely fair. But she also knows that she's just doing what the successful businessmen are doing. Fortunately, she's not shy about pointing this out, when men ask her to be nicer or "softer".
Suranne Jones has made Anne Lister a real person that I can understand and relate to. Previous movies or TV series about Anne Lister have never managed to do this. 
If you're familiar with British TV series, then you might know Suranne Jones from her titular roles in either Scott & Bailey (2011-2016) or Doctor Foster (2015-2017). Also, she was on the British soap opera Coronation Street for over 250 episodes.
The supporting cast of Gentleman Jack
Anne's sister Marian Lister is portrayed equally spot-on by Gemma Whelan. If you're watching Game of Thrones, you'll probably recognize her as the woman-loving Yara Greyjoy. 
The romantic interest for Anne Lister is Ann Walker who is portrayed by Sophie Rundle (Peaky Blinders). During the first few episodes, Ann Walker seems pretty boring but all that changes rather quickly. Especially since she isn't shy about being curious – and then simply lusting for Anne Lister. Sophie Rundle slowly but surely breathes life into this character.
In a smaller role, we also see Jodhi May as Vera Hobart. Fans of Sarah Walker stories will probably recognize her from the LGBTQ miniseries Tipping the Velvet (2002). A pretty perfect match since Gentleman Jack is very much along the lines of that miniseries. Only more light and fun. So far anyway.
Also, Gentleman Jack does feature a lot of wonderful male characters. Most of whom learn a lot from Anne Lister and end up working for or with her. Basically, this series is full of wonderful and well-known British actors!
Watch Gentleman Jack on HBO now!
Gentleman Jack is being aired on HBO now. And since it's on HBO and not Netflix, it's one episode per week. This is probably for the best since you'd just binge-watch the whole thing in one sitting otherwise.
Season 1 consists of 8 episodes (each around one hour long) and the final episode will air on July 7, 2019.
The series was created by Sally Wainwright with Anne Lister herself getting writing credit for all 8 episodes. After all, the series is based on the diaries she left behind. And thank the Goddess (and Anne Lister) that she did!
Sally Wainwright is an award-winning writer who also created the brilliant British series Scott & Bailey and Happy Valley along with Last Tango in Halifax. The latter also featured a love story between two women. And, incidentally, Gentleman Jack also takes place in Halifax.
Common for all these series is the fact that they all feature female lead characters. Oh yeah, Sally Wainwright knows how to write women!
Womentainment recommendation: Watch Gentleman Jack and feel both powerful, vulnerable and vindicated!
With Gentleman Jack you will get a positive and honest representation of a lesbian woman living more than a century ago. She's fierce, brilliant and very sensual. Also, she seems to always get the girl. She just can't always keep her when the pressure of society becomes too much. Only Anne Lister seems to have come fully to terms with who and what she is!
Watch this heartwarming, funny, erotic and loving series because there really isn't anything else like it out there.
Gentleman Jack premiered on HBO on April 22, 2019.
Directors: Sarah Harding, Jennifer Perrott, Sally Wainwright
Writer: Anne Lister, Sally Wainwright
Cast: Suranne Jones, Sophie Rundle, Gemma Jones, Gemma Whelan, Joe Armstrong, Jessica Baglow, Amelia Bullmore
Official plot:
Anne Lister returns to Halifax, West Yorkshire in 1832, determined to transform the fate of her faded ancestral home Shibden Hall.