About a Donkey is a new indie movie with several LGBTQ characters and wonderful diversity. The low-budget movie was shot for just $20,000. Available on demand via Vimeo worldwide now! Read our review right here.
About a Donkey is a little gem of an indie film. The story is very universal and the characters are very diverse – as well as the cast, obviously.
Also, one of the main characters (several actually) is LGBTQ. That's something we always love to see here at Womentainment. Mostly because this is actually how the world is, so we want to see this reflected in stories told. Both movies and series.
However, while an LGBTQ main character is always enough to get me interested, what really got me hooked on About a Donkey is the dialogue. Or rather, I love the fun banter between family members. It feels honest, realistic, and so full of love.
Read more about why you should check out About a Donkey in the rest of our review below.
A truly wonderful and diverse cast
The real magic of About a Donkey comes from the wonderful and diverse cast bringing the story to life. At the heart of this story, we have the parents, their three adult children, and grandma. Well, along with the romantic interests of the three kids and (of course), a donkey!
About a Donkey starts out as a story about the mom (Katherine Wessling) in the family being depressed. Something everyone knew, but a doctor just confirmed with an official diagnosis. Dad (Peter Jensen), meanwhile, has bought a donkey and reveals this at the same time as the mom has gathered the family to tell them of her illness. This is the opening scene and it sets the mood perfectly.
It might sound very dark and depressing, but instead, it's pretty damn funny – though it still feels realistic.
The romantic interests of the kids in this (white) family are wonderfully diverse. I don't want to spoil too much here, but I will say that it never feels jaded or gratuitous. It just feels like this is the world we live in now.
Finally, let me just mention that grandma is a tough broad and I adore her. Katherine Wessling was probably the funniest to me while I related most to the character Cecilia (Christina Shea-Wright). Yes, she's the gay daughter.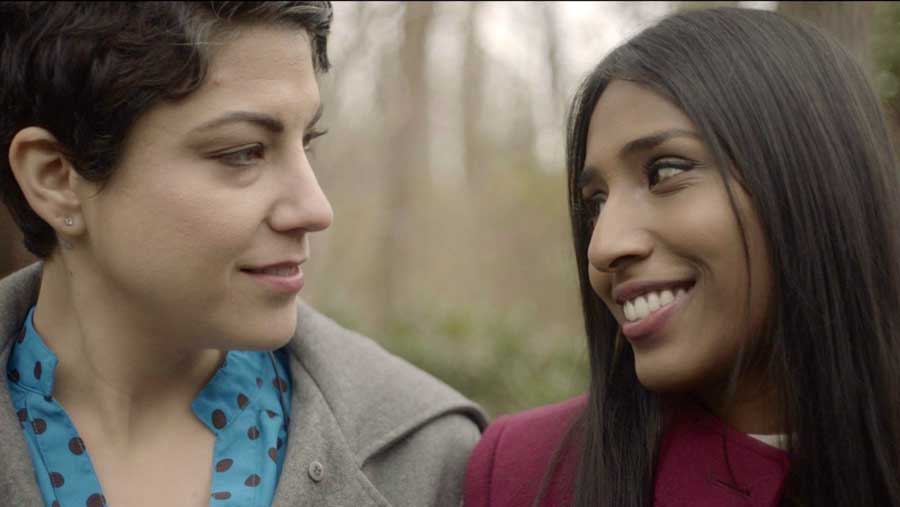 Don't miss out on this heartfelt indie movie
About a Donkey was written by Kelsey Rauber with Christina Raia directing. Also, both are onboard as producers. This is obviously a very good combination if the outcome is this.
This is only the second feature film directed by Christina Raia. She also made the horror-comedy Summit back in 2014 and have made a lot of short films as well as directed the webseries Kelsey which she created with Kelsey Rauber. As I said, these two are a good combination!
Sure, there are some issues with About a Donkey, but most of them are clearly related to having a very low budget. This movie was made for around 20,000 US dollars, which is next to nothing. On a very positive note, the very low budget also means the people working on the movie must've had passion for this project. And it shows.
Womentainment recommendation: About a Donkey is all heart and well worth your time!
The only "bad" thing, I can say about this movie, is the fact that the very low budget does show. Not in terms of quality of acting or storyline. No, it's the same thing that's always impacted by a low budget: Sound!
It really isn't a huge deal, but there are some issues with the audio in this movie. Nothing that ruins the overall experience (not even close!), but I found it hard not to notice. Especially since it really is a very heartfelt and funny story, so really this was the one thing that stuck out as an issue.
If you like indie movies and want to enjoy a sweet story with LGBTQ characters involved, then check out About a Donkey.
About a Donkey is available to watch On Demand (rent or purchase) through Vimeo.com now!
Director: Christina Raia
Writer: Kelsey Rauber
Stars: Christina Shea-Wright, Katherine Wessling, Peter Jensen, Alexandra Clayton, Ben Kaufman, Ricardo Manigat, Sarah Haruko, Gwen Albers
Official plot:
About a Donkey follows the Owens family: Ann & Tim, their 3 adult children, Cecilia, Burgh, and Annie (and her husband Paul), and matriarch Farrah. When Tim brings home a donkey in a mixture of wanting to rescue both it and himself, all of the characters' lives are shaken up and pushed forward.