Wine Country is a new Netflix comedy directed by Amy Poehler. The movie has an all-star cast of Saturday Night Live alumni women and it just works. Even if you're not a fan of SNL, you should enjoy this one. Read why in this review or just go watch it on Netflix now!
Wine Country is a new Netflix comedy which is all about its female characters. In fact, you don't really see two men talking to one another, so it's like the opposite side of the Bechdel test. And I love it!
The Netflix movie is directed by Amy Poehler who finally has her feature film debut. And it's about damn time. Of course, this does also feel like the perfect way to begin. I don't dare to hope for a sequel but I really don't see why not. 
You could easily make a franchise out of Wine Country just like they did with The Hangover. Oh yeah, and in case you wondered, the ladies do manage to get quite drunk.
Read more about the new Netflix movie in the rest of this review…
Wine Country is a beautiful SNL reunion
This new Netflix movie does feature one hell of an all-star cast. Every single one of the lead actors is a woman from Saturday Night Live. Also, this movie is supposedly based on an actual trip taken by the SNL alumni ladies.
Of course, we have the director of the movie, Amy Poehler, as one of the main characters. We do also have Tina Fey, but she has a smaller role as the Airbnb host of the house they live in. Due to scheduling issues, Tina Fey wasn't able to be in the main cast, but she does have quite a few scenes via this supporting role.
Also, we have Maya Rudolph, Rachel Dratch, Ana Gasteyer, Emily Spivey, and Paula Pell. For me, Paula Pell was a real treat in so many ways. Not only does she portray an LBGTQ character, but she is also the very positive and loving heart of this group.
Okay, maybe I'm just projecting, but my point (and I do have one) is that I loved Paula Pell's character, Val. Trust me, you will too!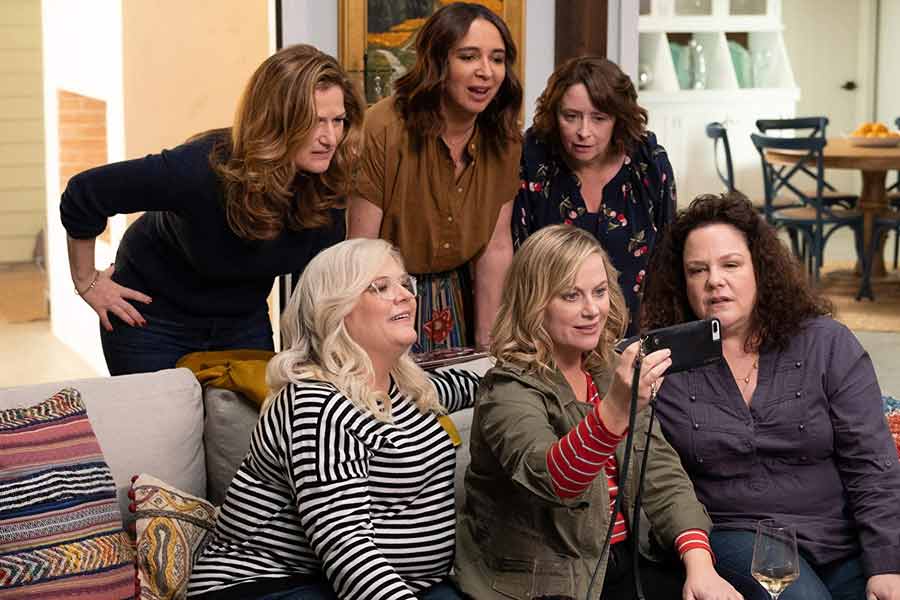 Amy Poehler as a director? Yes, please!
Wine Country is the directorial feature film debut of Amy Poehler. And it's about damn time! Of course, Amy Poehler should be directing comedies featuring awesome female characters. Or drama, if that's what she wants, obviously.
This isn't the first time ever that Amy Poehler has directed anything. She did direct three episodes of her TV series Parks and Recreation. Also, she directed an episode of Broad City and the TV movie Dumb Prince from 2016.
Fortunately, we won't have to wait too long for her next time directing. The TV movie Moxie is in pre-production and features a story about a "Texas teenager organizing a feminist revolution at her high school". Yep, sounds perfect!
Watch Wine Country on Netflix now!
The script for Wine Country was also written by two women (of course), Liz Cackowski and Emily Spivey, who are SNL alumni. Also, the two women are part of the movie in front of the camera as well.
Emily Spivey plays one of the main characters while Liz Cackowski has a rather funny smaller role.
I know not everyone is a fan of SNL [Saturday Night Live] and that particular brand of humor. In no way is Wine Country as over-the-top as SNL can be. But still, if you enjoy the style of comedy in SNL, you should enjoy Wine Country.
Womentainment recommendation: Wine Country is perfect for fans of these SNL women!
Honestly, if you don't care for SNL at all, then this probably won't be the funniest experience for you. However, you should still be able to enjoy this Netflix movie for many other reasons.
The characters are interesting and complex while their relationships in the group of friends feel very realistic. And with a cast like that, you really can't lose. Plus, one of the women in the group of friends is a lesbian and you should definitely love her!
Wine Country is out on Netflix worldwide where it premiered on May 10, 2019.
Director: Amy Poehler
Writers: Liz Cackowski, Emily Spivey
Stars: Paula Pell | Emily Spivey | Maya Rudolph | Rachel Dratch | Amy Poehler | Tina Fey | Ana Gasteyer | Maya Erskine |  Jason Schwartzman
Official plot:
When longtime friends meet up for a wine-soaked birthday getaway in Napa Valley, their perfectly planned weekend turns messier by the minute.