Vida is back on Starz with Season 2 and it's every bit as wonderful as Season 1 was. This series is a rockstar of a show and I love it. Check out our review of season 2 here!
Vida is back on Starz with Season 2 and you absolutely need to watch it. Seriously, if you don't watch this series, then you're really missing out!
With this story, we're following two sisters trying to save the bar owned by their mother (estranged mother for one of them). Their mom, Vida, recently passed away so it's up to her daughters to save her legacy.
Since one of her daughters, Emma, have had nothing to do with their mom for years, this is full of complications and heartache. Mostly because Emma (Mishel Prada) was sent away as a young girl for kissing another girl. And then Emma returned home to discover that her mom had married another woman herself!
Oh yes, Vida is full of love, drama, pain, passion, and strong women! 
When Season 2 begins, her daughters have decided to fight for the bar, but it's one hell of an uphill battle.
Season 2 of Vida picks up right where season 1 ended
When season 1 of Vida ended, Eddy (Ser Anzoategui) had been very violently attacked. Eddy was married to Vida and is still a co-owner of the bar. When Season 2 begins, Eddy is still in the hospital but slowly getting better.
Season 2 also opens with Emma being back in Chicago to tie up a few loose ends. One of them seems to involve her boss but (as it's always the case with Emma), she is very much in control. Or rather, she actively controls everything and everyone.
Emma also returns to Los Angeles to find out a few more secrets. Naturally, she immediately blames herself for not having checked all the details and facts. Will these new details change anything? You never really now with Emma, but she does also have her sister, Lyn (Melissa Barrera), who is all heart.
Lyn is trying desperately to get her life on track. You can't help but love this character since she really never intends to hurt anyone. Also, people seem to have no problem treating her very badly. And I have a huge problem with that.
Very early on in Season 2, Emma and Lyn also find some more common ground, when Emma comes to realize that they view life much in the same way!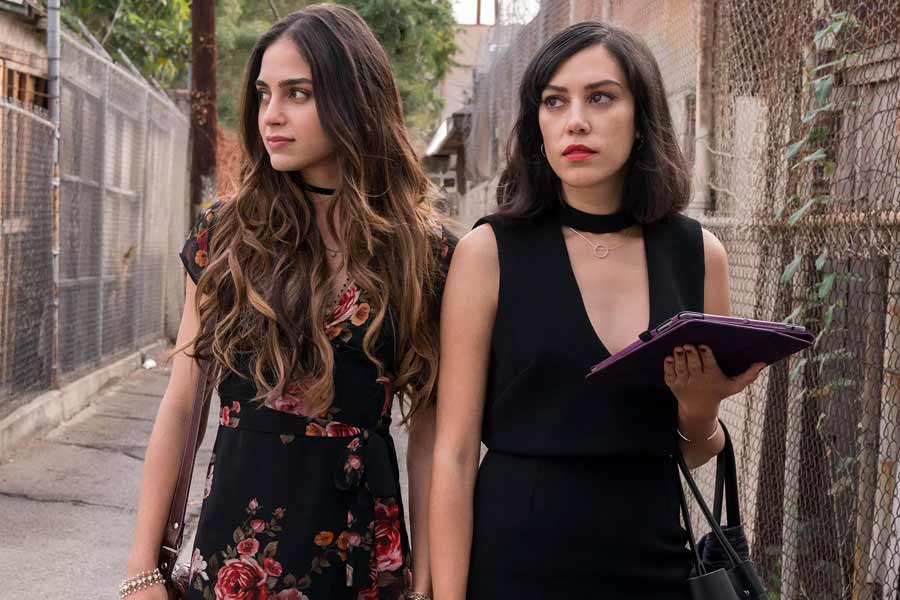 Created by Tanya Saracho
This delicious little gem of a series was created by Tanya Saracho. Vida is far from the first series that has benefitted from the wonderful writing of Tanya Saracho. She has written on shows such as How to Get Away with Murder and the LGBTQ focused Looking (HBO).
Also, her first writing credit was for Devious Maids which is obviously rather close to that of Vida in terms of the Latinx community. Though, to be fair, Looking also has a main Latin character, Richie, who was played by Raúl Castillo. 
Interestingly enough, Raúl Castillo is part of Vida from season 2 as well. His character is Baco and he's hired to help renovate the bar.
Other than writing, Saracho has been a producer on episodes of both Looking, How to Get Away with Murder and (of course) Vida. Finally, Tanya Saracho recently had her debut as a director since she directed the Season 2 finale episode of Vida.
I have no idea what Tanya Saracho will be up to next. Personally, I would obviously love a season 3 of Vida, to begin with. Also, I think we'll be getting a lot more stories from her since she seems to have a lot to say. And I, for one, am dying to hear it!
Watch Vida on Starz
If you still haven't watched Season 1 of Vida, then you really need to get up to speed. First of all, because it's an absolutely brilliant series featuring Latinx characters. Second, because it's full of wonderful, strong, crazy, and brilliant female characters.
Finally, you have to watch season 1 so you can move on to Season 2 of Vida now!
Womentainment recommendation: Please don't miss out on Vida
Vida is such a wonderful story and it really is full of amazing characters. You're bound to recognize both yourself and your friends or family in these characters. Maybe even more so if you're Latina, obviously!
Season 2 of Vida is out on Starz from May 23, 2019.
Creator: Tanya Saracho
Stars: Mishel Prada, Melissa Barrera, Ser Anzoategui, Carlos Miranda, Maria-Elena Laas, Luis Bordonada, Chelsea Rendon, Elizabeth De Razzo, Maria-Elena Laas, Raúl Castillo
Official plot:
In the second season of "Vida," Lyn and Emma begin the monumental task of rebuilding their mother's business while navigating financial constraints, competing developers and the growing anti-gentrification movement.