Trinkets is a new Netflix drama series where one of the three main characters is LGBTQ. Season 1 is a quick binge and definitely worth your time. Read more in our season 1 Trinkets review here.
Trinkets is a new Netflix drama series which also offers a lot of comedy. One of the three main characters is LGBTQ while the other two are both biracial.
Neither their sexuality nor their race, is why they end up becoming friends. Instead, it's when they meet at SA which is Shoplifters Anonymous. They're all there because they've been caught and forced to go and certainly not to stop shoplifting.
However, shoplifting itself is not the problem, which is why Trinkets is about finding and dealing with the actual problems each of them deal with.
Season 1 is just 10 half-hour episodes, so you can binge-watch it fairly quickly. Read more in our Trinkets review below.
Elodie, Moe and Tabitha
The three main characters in Trinkets are Elodie (Brianna Hildebrand), Moe (Kiana Madeira), and Tabitha (Quintessa Swindell). Each one of these characters and actors makes Trinkets worth watching. Well, obviously, the creators who wrote these characters have something to do with it as well, but more on them later.
You probably know Brianna Hildebrand from the Deadpool movies or maybe the dark horror-comedy Tragedy Girls (2017). She is perfect as Elodie who is gay. Or she's definitely LGBTQ, I'm not sure exactly what she defines as, but she seems to be interested only in women.
Elodie coming-out is very calm and matter-of-fact even though she's still new to being out as LGBTQ. It's all very sweet and heartwarming. Especially the way Moe and Tabitha support her immediately. In fact, if anything, it only makes them even closer.
Kiana Madeira (Moe) is someone you might recognize from The Flash or Sacred Lies. Also, she was in an episode of Wynonna Earp, so all you "Earpers" should find her familiar as well. The character of Moe lives alone with her white mom and her estranged dad (who is Latino) is in jail.
Finally, we have Quintessa Swindell as Tabitha Foster who comes from a very fancy home. Her mom is black and very focused on her career as an influencer, while her white dad seems to always be working. She is, however, very much a daddy's girl and he clearly adores his little girl. 
Trinkets is the first acting credit for Quintessa Swindell but she has two movies on the way. Also, she will be in the upcoming HBO series Euphoria which stars Zendaya.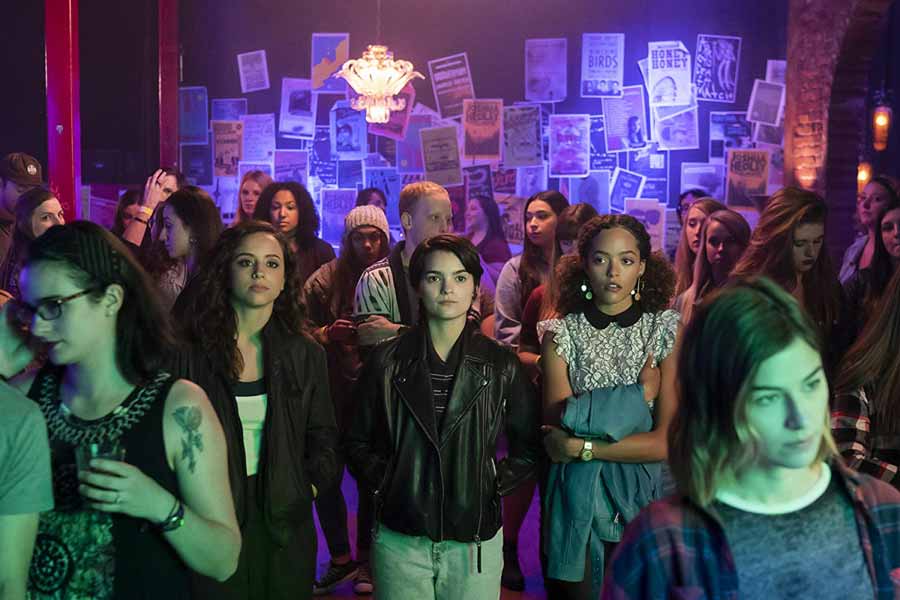 What's with the shoplifting in Trinkets?
Look, I'll be quick to admit that I did not like the focus on shoplifting when Trinkets first begins. Episode 1 of Trinkets seems to almost be showing us tricks to use while shoplifting.
However, and this is important, Trinkets does in no way seem to endorse nor recommend shoplifting. The fact that some people shoplift stuff to feel a rush, is hardly a new concept. This Netflix series simply takes a look at why some people do this.
So, if you're considering not watching Trinkets on Netflix because you think it glorifies shoplifting, then you can check those concerns at the door. Trinkets is about dealing with the underlying reasons why people would steal stuff they don't even want or need. Not the actual shoplifting. 
Also, this is why the three girls begin forming a friendship; They understand and respect one another. A fun detail is the fact that their friendship (which is very positive and real) is a secret to everyone else at their high school. It's almost like an affair but this is something they all agree on to make it work. And they are always there for one another.
Watch Season 1 of Trinkets on Netflix now!
Trinkets was created by Amy Andelson, Emily Meyer, and Kirsten Smith. Obviously, these three offer something of a perfect storm in terms of writing young women. 
Kirsten Smith has one hell of an impressive resume. She co-wrote the screenplays for Legally Blonde (2001), Ella Enchanted (2004), and She's the Man (2006). To mention just a few. All of these were co-written with Karen McCullah and the two will also co-author the screenplay for the "Untitled Female Expendables".
Amy Andelson and Emily Meyer wrote the screenplays for Step Up 3D (2010) and Naomi and Ely's No Kiss List (2015). This is the third writing credit for both of them.
Season 1 consists of just 10 episodes that are less than 30 minutes each, so Trinkets is a very quick binge-watch. And just go ahead and surrender to this little gem. Both for the story and the wonderful characters.
Season 1 of Trinkets was released on Netflix worldwide on June 14, 2019.
Creators: Amy Andelson, Emily Meyer, Kirsten Smith
Stars: Brianna Hildebrand, Kiana Madeira, Quintessa Swindell, Brandon Butler, Odiseas Georgiadis, Henry Zaga, Jessica Lynn Skinner
Official plot:
A grieving teen finds an unexpected connection with two classmates at her new high school after they all land in the same Shoplifters Anonymous group.