The Act is a new true crime drama on Hulu. It follows the story of Gypsy Blanchard trying to escape the truly toxic connection to her mother. Patricia Arquette and Joey King star as mother and daughter which makes this series work extremely well.
The Act is a new drama mini-series on Hulu. It features the true crime story involving Gypsy Rose Blanchard and her mother, Dee Dee Blanchard. It's a truly horrifying story that was destined to be made into a movie or mini-series.
The first two episodes (of the 8-episode mini-series) just aired on Hulu. Once you watch those first episodes, you'll be bound to come back for more.
We'll cover just a few of the reasons why The Act is very much worth your time in this review.
Patricia Arquette and Joey King
Well, yes, the reason why you should watch The Act is as simple as naming these two actors. Patricia Arquette and Joey King star as mother, Dee Dee Blanchard, and daughter, Gypsy Blanchard, respectively.
Obviously, the story is the real reason you'll be intrigued, to begin with. And the fact that it's based on a true crime, is all the more fascinating (for lack of a better word). All too often, it seems that real life trumps most things horror movies can come up with.
However, without the brilliant acting of Patricia Arquette and Joey King, the story would not stand a chance. Especially the portrayal of the relationship between the two is perfect. Again, if it wasn't, this wouldn't be very interesting to watch. 
You need to feel the depth of their codependence to have any inkling of an understanding of how this could happen.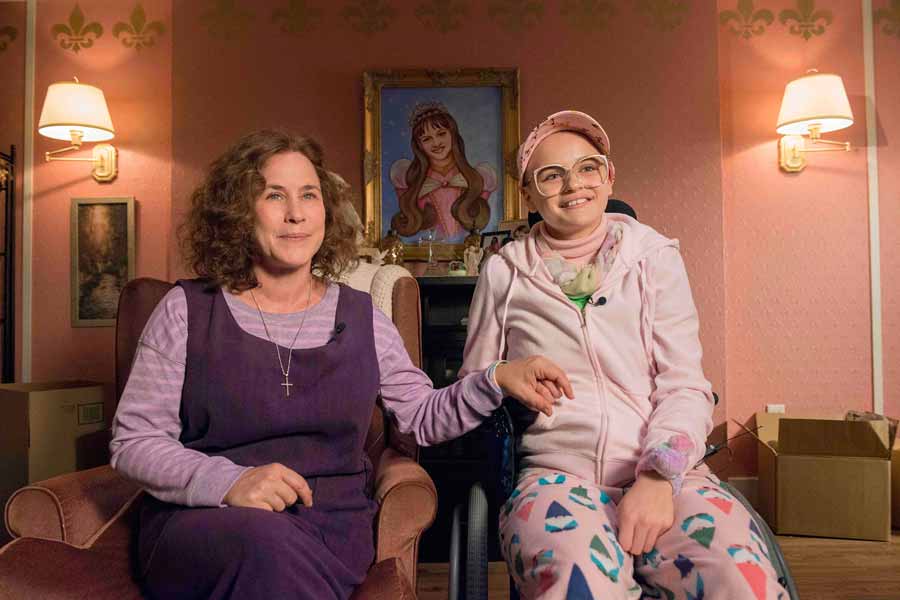 A lot of characters you'll enjoy
Chloë Sevigny co-stars as the neighbor who always has her bullsh*t detector set to high alert.
And, as always, Chloë Sevigny is the character you like from the onset. Not that she's super likable at first, but she is real. More importantly, she plays the character who asks all the questions you would want to. 
We recently saw just a few scenes with Chloë Sevigny in the Netflix series Russian Doll where she portrayed the mom of Natasha Lyonne. In this new Hulu mini-series, her role is much bigger and it's such a delight to watch her. 
Recommended reading: Read our Season 1 review of the Netflix drama-comedy Russian Doll right here >
Of course, there are a lot more characters in The Act, but we're just two episodes in so far. I will, however, mention Poorna Jagannathan who plays Dr. Lakshmi Chandra. She's the doctor who does not buy into Dee Dee Blanchard's ever-growing list of her daughter's health issues.
Ironically, Poorna Jagannathan was also in the Netflix series Gypsy. Of course, this had no relation to the story of Gypsy Blanchard, but it was (in my opinion) a rather brilliant little series that ended way too soon.
Watch the first episodes of The Act on Hulu now!
The Act was created by Nick Antosca and Michelle Dean. Nick Antosca previously wrote on TV series like Hannibal and Channel Zero, so he's used to working with the horror genre. Not surprisingly, this is very appropriate for this true crime story. 
Michelle Dean is a journalist, who only has one other credit on IMDb. It's perhaps the most appropriate one for this particular mini-series. She was a freelance journalist on the documentary Mommy Dead and Dearest (2017).
Mommy Dead and Dearest is an HBO documentary that was released in March of 2017. And yes, it is of course about the murder of Dee Dee Blanchard and the life she had with her daughter Gypsy Rose Blanchard.
If you're as intrigued by The Act as I am, then watching the documentary (after finishing the mini-series) seem like the perfect next step. 
Womentainment recommendation: If you like true crime, then don't miss The Act on Hulu
Also worth mentioning: 5 out of 8 episodes are directed by women. TV series have always been a better place for female directors and The Act is just yet another example of this.
The Act premiered on Hulu on March 20, 2019.
Creators: Nick Antosca, Michelle Dean
Cast: Patricia Arquette, Joey King, Chloë Sevigny
Official plot:
The Act follows Gypsy Blanchard, a girl trying to escape the toxic relationship she has with her overprotective mother, Dee Dee Blanchard.