Soni is a new drama on Netflix. It's from India and takes place in Delhi, but the story is very universal. We simply follow the policewoman, Soni, for a short period of her life. Check it out on Netflix now!
Soni is a new movie on Netflix and this time it's from India. Honestly, I cannot urge you enough to watch this gem. 
The story focuses on the short-fused policewoman, Soni. She goes undercover to fight crimes against women in Delhi but tends to get into trouble when she manages to beat up the perpetrators.
This means her level-headed female boss, Kalpana, has to fix the outcome of these situations. She's constantly accused of being too lenient and soft with those in her charge which couldn't be further from the truth.
Kalpana is tough-as-nails and very respected by both the male and female officers in her department.
Women will recognize the situations in Soni
Both Soni and her boss Kalpana are constantly struggling with gender issues in their own lives. However, and this is important, it's never pointed out explicitly. For this reason alone, people will watch this movie in very different ways.
Most women – and many men, obviously – will watch Soni and catch every little situation these women are faced with on a daily basis. Others will watch Soni and not catch half of the issues.
Sure, call them "microaggressions" if you will. That's what they are, but they are serious and very obvious here. Also, they will feel incredibly familiar to way too many women. And again, yes, I am sure many men will recognize these situations as well. But few (if any) will know them from their own life experience.
The lead characters Soni and Kalpana are portrayed by Geetika Vidya Ohlyan and Saloni Batra respectively. Both are absolutely stellar in their portrayals of these women. I cannot commend them enough for their performances in this movie.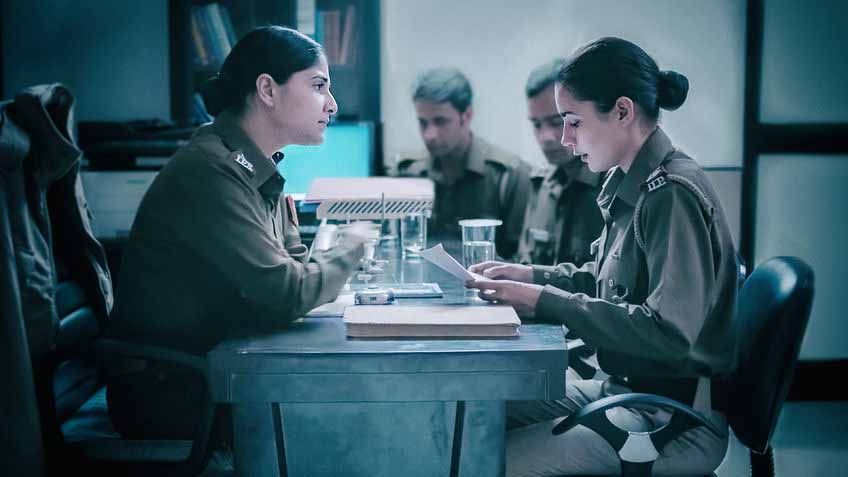 When women work together
One of my favorite elements of Soni is the relationship between the title character and her boss, Kalpana. We do also follow Kalpana separately, so really, the title could have been "Soni and Kalpana" but that would have given a different vibe to this movie.
But while the heart of the story is Soni, the soul of this movie is the relationship between the two.
Whenever Soni gets into trouble – which does happen quite a lot – Kalpana does her best to help her out. But to be fair, the trouble she gets in are situations that men would be applauded for.
No matter the reason for any altercation, Kalpana recognizes that they're both judged by different standards than their male colleagues. In fact, they even have to be "better" than their male subordinates, who are actually the only men in the story that do completely respect these two women.
Hopefully, you will recognize this…
Any woman who has had an awesome female boss (or supervisor or manager) as their direct superior in any job situation, will recognize the working relationship in this movie. It is absolutely wonderful to see. Kalpana takes charge and never lets Soni know how much she fights for her behind the scenes. 
If it's not obvious, I've been fortunate enough to have the most amazing female bosses myself, which is why I felt this story was very familiar. I'm neither a police officer or live in India, but that doesn't mean this story didn't strike a nerve with me.
Also, if you're a female boss yourself and have women working for you, then the relationship in this movie is what you should strive for.
Watch Soni on Netflix now
Ivan Ayr is the writer and director of Soni. This is his first feature film in both regards but he has written and directed short films in the past. From watching Soni alone, I certainly know that I enjoy his very realistic approach to storytelling. 
I haven't watched any of his short films, but I do look forward to watching more from Ivan Ayr in the future. He has already been nominated for and won several awards as a director. And with the wide exposure, this Netflix release of Soni offers, he should be on the right track.
If you liked Roma (also on Netflix), then you should also enjoy Soni. In fact, I think Soni has a much wider appeal due to its style, whereas Roma isn't for everyone.
Also, watch them for the wonderful performances from Geetika Vidya Ohlyan (Soni) and Saloni Batra (Kalpana).
Womentainment recommendation: Do not miss Soni on Netflix
This is exactly the kind of movie you should watch on Netflix. Not just because it's good, but for the simple reason that you probably never would have gotten the chance to watch it otherwise.
You wouldn't have known it existed and therefore couldn't even seek it out on DVD or some other VOD platform. For this reason alone, it's important to show Netflix that you do want this kind of quality entertainment.
It premiered at Venice Film Festival in September 2018 before heading to London Film Festival one month later. In that sense, it has already reached an international audience.
But through Netflix, it gets to reach a much larger audience. And the story in Soni is one that feels incredibly universal to at least some degree – no matter where in the world you live.
Soni is out on Netflix worldwide from January 18, 2019.
Director: Ivan Ayr
Writer: Ivan Ayr
Cast: Geetika Vidya Ohlyan, Saloni Batra, Mohinder Gujral, Vikas Shukla, Mohit Chauhan
Official plot:
While fighting crimes against women in Delhi, a short-fused policewoman, Soni, and her level-headed female boss grapple with gender issues in their own lives.