HAPPIEST SEASON is a new gay Christmas movie on Hulu. Yes, it's a Christmas movie where the love story is between two women. Directed by Clea DuVall and starring Kristen Stewart and Mackenzie Davis. Christmas has indeed come early in 2020. Read our full Happiest Season movie review here!
HAPPIEST SEASON is a new Christmas movie on Hulu. And yes, it's gay. Or rather, it's lesbian to be precise. But it also has a gay man in the cast. Actually, we can't be sure exactly what sexuality various characters have, but it does feature the traditional Christmas love story with a twist; This time, two women are in love!
The movie stars Kristen Stewart and Mackenzie Davis, which means it had already won before I started watching it. Just kidding, I know it could still suck… except Clea DuVall directed this, so I knew it wouldn't. And it really didn't.
In fact, it made me think that this is indeed a wonderful life and that Christmas had come early. Not something you would ever dare to expect from the year 2020. Continue reading our Happiest Season movie review below.
Kristen Stewart and Mackenzie Davis
The two women starring in Happiest Season are of course Kristen Stewart and Mackenzie Davis. Fortunately, these two work really well as a couple. Their chemistry is extremely natural and they seem so comfortable around one another. Just as you would expect from a couple in love.
Abby (Kristen Stewart) is completely out and proud while Harper (Mackenzie Davis) still isn't out to her parents. Or anyone from her life before Abby, it would appear. I don't need to go into the plot here since you'll know it from the trailer – or by reading the official plot in the end of this review. However, I will say that it all felt very realistic and portrayed in a very organic way.
Kristen Stewart is already known for being out in real life, while Mackenzie Davis has played gay on-screen before. She was in the iconic Black Mirror episode "San Junipero" with Gugu Mbatha-Raw. That episode earned several awards and sparked a huge LGBT fanbase for both actors. Also, Mackenzie Davis as "Grace" in Terminator: Dark Fate was full of gay subtext (to put it mildly).
Happiest Season has the best supporting cast
Other than Kristen Stewart and Mackenzie Davis kissing one another quite a lot in Happiest Season (as Abby and Harper, obviously), you have so many supporting characters to look forward to.
Lesbians (and other WLW) are already going crazy for Aubrey Plaza as Riley. And I can't say that I blame them since Aubrey Plaza is one huge sapphic energy-boost in this movie. Also, Dan Levy plays Abby's awesome – and very easily distracted – friend John, who is so wonderfully politically correct. Yes, I said wonderfully, since he can get away with it! Dan Levy rocks my world. There, I said it!
Portraying the sisters of Harper (Mackenzie Davis), we have Alison Brie and Mary Holland. While I have always liked Alison Brie, Mary Holland turned out to be the surprise scene-stealer for me. I just wanted to scoop up Mary Holland's "Jane" and get her away from her crazy family.
Harper's parents are portrayed by Mary Steenburgen and Victor Garber. In other words, a classic fabulous and somewhat on-edge mother and a very conservative-looking and serious father. Of course, in real life, Victor Garber is an out and proud gay man with a husband while Mary Steenburgen has always been an outspoken LGBTQ ally.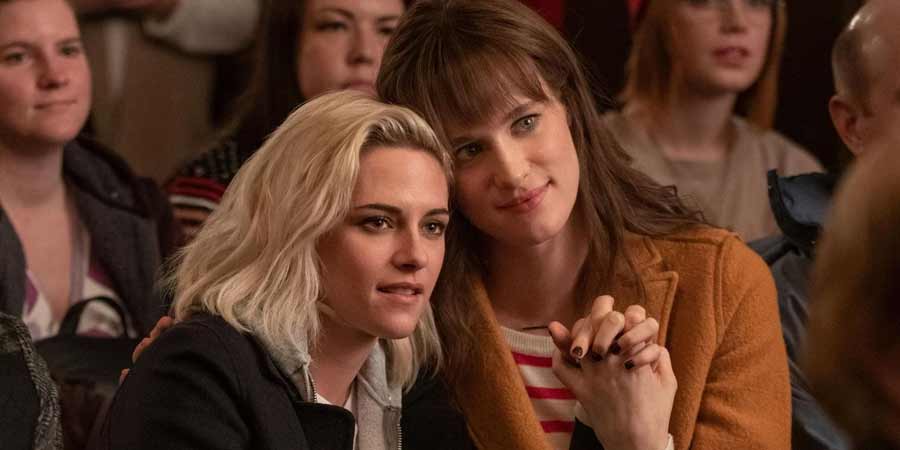 A new standard for gay Christmas movies
While we did recently review the LGBT Christmas movie, A New York Christmas Wedding, which is out on Netflix now, Happiest Season is more than "just" a Christmas movie. No offense meant to any of the many, many, Holiday themed romance movies out there, but this is so much more. 
As I was watching this with my wife, we immediately remembered what it was like when we weren't entirely out to the world at large. It was almost like a super intense therapy session and I credit Clea DuVall (and co-screenwriter Mary Holland) with having created the most beautiful LGBT Christmas movie. And obviously, this is an LGBTQ Christmas movie which is a fact I absolutely adore. 
To put it very simply: This is like the Imagine Me and You of Christmas for me. And there is no higher credit, I could possibly give any movie!
Having said that, I do want to recommend that you also check out A New York Christmas Wedding on Netflix – it also features people of color in starring roles. The better all these LGBT+ Christmas movies fare, the better chances we have of getting many more in the future. And there is plenty of room for many LGBTQ focused Christmas movies as well.
You might like: Our review of A New York Christmas Wedding on Netflix here >​
Watch Happiest Season on Hulu now!
Clea DuVall is the director of Happiest Season which is based on a story by her as well. The screenplay was also written by her along with Mary Holland (who also plays Harper's sister, Jane, in the movie). Back in 2016, Clea DuVall also wrote and directed the movie The Intervention which also featured a gay couple as part of an amazing ensemble cast. You should really check it out!
This is only the second feature film for Clea DuVall as a writer and director, but she is quickly carving out a niche of her own. One where we (LGBT+ people) get to be at the center and tell our stories. I am ready for so many more movies from her and hopefully, we won't have to wait another four years for her next movie. And if we do, then I'm sure it will be worth the wait.
While Happiest Season is definitely a new kind of Christmas movie, it is also exactly like the best of the Christmas movies I grew up watching.
The difference is that now I finally get to see myself on screen as well. Not as a token gay sidekick or for comic relief. Instead, this is my story. In fact, I get to see myself and my wife. And we get a happy ending.  Thank you, Clea DuVall. Just, thank you!
Happiest Season is out on Hulu from November 25, 2020.
Director: Clea DuVall
Screenplay: Clea DuVall & Mary Holland
Stars: Kristen Stewart, Mackenzie Davis, Alison Brie, Aubrey Plaza, Daniel Levy, Mary Holland, Burl Moseley, Victor Garber, and Mary Steenburgen.
Official plot:
Meeting your girlfriend's family for the first time can be tough. Planning to propose at her family's annual Christmas dinner — until you realize that they don't even know she's gay — is even harder. When Abby (Kristen Stewart) learns that Harper (Mackenzie Davis) has kept their relationship a secret from her family, she begins to question the girlfriend she thought she knew.