BLACK NARCISSUS is a new FX on Hulu series. It's a co-production with BBC made as a limited series with three episodes released in one go. It stars Gemma Arterton as Sister Superior with Aisling Franciosi playing the role of a young and questioning nun. Read our full Black Narcissus series review here!
BLACK NARCISSUS is a new FX on Hulu series based on the 1939 novel that was already been adapted into a movie in 1947. This time we're getting a 3-episode limited series co-produced by FX and BBC.
All three episodes are out now, so you can watch this as a long movie rather than a series. In fact, I'm not entirely sure why this was made into a series, but perhaps the release plan was originally very different.
In any case, it's worth watching for the performances by Gemma Arterton and Aisling Franciosi in particular. Continue reading our Black Narcissus series review below.
Gemma Arterton shines (as always)
While some of the stars of the 1947 adaptation included such iconic names as Deborah Kerr and Jean Simmons, this limited series has its own powerhouse duo: Gemma Arterton and Aisling Franciosi. Obviously, more actors are in this movie and deliver stellar performances, but these are the two that stand out.
Gemma Arterton stars as Sister Clodagh who is in charge of the small group of nuns attempting to build a school and convent in a remote Himalayan palace. As such, she is given the title of Sister Superior. Sister Superior and four nuns head for the Himalayan palace to begin their work. Among these Sisters is Sister Ruth who is portrayed by Aisling Franciosi.
Sister Clodagh (Gemma Arterton) and Sister Ruth (Aisling Frnaciosi) do not get along. While Sister Clodagh does her best to act as God would want her to, Sister Ruth seems to struggle a lot more with this. Admittedly, I love Gemma Arterton in pretty much everything she does. She never really gives a bad performance in my book.
Aisling Franciosi scares (in a good way)
Aisling Franciosi first came to my attention in the brilliant series The Fall starring Gillian Anderson and Jamie Dornan. If you've watched all three seasons of The Fall, then you will definitely recognize Aisling Franciosi. Especially since it seems like her role in that series was the perfect audition for her role in this new limited series.
However, there is a lot more to Aisling Franciosi than what these two productions might lead you to believe. So, for good measure, I would highly recommend that you check out the truly amazing The Nightingale (2018) written and directed by Jennifer Kent. Seriously, do check it out!
Finally, I have to mention that the late Diana Rigg (who most recently got new fans as the tough and tried Olenna Tyrell from Game of Thrones is in Black Narcissus as Mother Dorothea. The series appropriately ends with a dedication to her. She passed away on September 10th of 2020.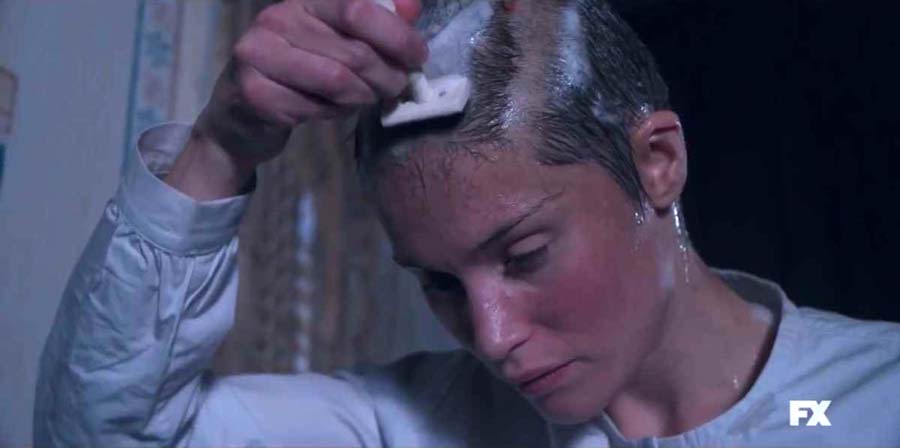 A new take on Black Narcissus 
Fortunately for those looking for a fresh take on this adaption of Black Narcissus, I'm not the kind of purist that bemoans when something is remade. No, the original is not always the best. Far from it. However, nostalgia has a way of making it so and I am gloriously free from having that particular affliction.
Instead, I watch both movies and series on their own merit. Sure, I will compare and weigh against anything that has come before, but I am not against any kind of remake, reboot, or adaption on principal. Quite the contrary!
In fact, I'll go so far as to say that a new version of Black Narcissus was necessary. A movie made more than 70 years ago will always be a product of its time. And while this new adaptation still keeps in mind that the story plays out in 1934 – meaning gender and race played an even bigger part than today – it is also more free to show realistic portrayals.
Whether the portrayals of the Asian characters are correct is not up to me to judge. And from what I have heard, it's not exactly unproblematic. However, in terms of letting the nuns be women (with all that this entails) was refreshing. All you have to do is watch the trailer for the 1947 Black Narcissus to know that it is rather dated when watched now.
Let me just say that the very British Jean Simmons plays the young Indian woman, Kanchi, in the original adaptation.
Watch Black Narcissus on FX on Hulu now!
Black Narcissus was directed by award-winning Danish cinematographer, Charlotte Bruus Christensen, who has also taken on the job of cinematographer for this production. Of course, who else should when she is arguably one of the best cinematographers around. She's been a cinematographer on Fences (2016), The Girl on the Train (2016), Molly's Game (2017), and A Quiet Place (2018).
In other words, movies that all had incredibly strong female leads and stories that featured women in very prominent ways. For the most part, the women of the above-mentioned movies were the stars and main protagonists of their own stories.  
Also, this means she's worked most recently with people who became stars in the industry as one thing and went on to direct. Academy Award-winning actor Denzel Washington directed Fences and Academy Award-winning screenwriter Aaron Sorkin directed Molly's Game. 
The script, adapted from Rumer Godden's original story, was written by Amanda Coe. She's worked on several TV series and limited series in the past. For the most part, Black Narcissus did work for me as a series. However, it did feel too long. While I always enjoy a good slow-burn, this still felt a tad too slow. And yet, the slow pace is necessary for us to get into their mindset – and downfall.
Still, I'm not sure a limited series with three episodes was the best way to adapt this novel yet again. I did really enjoy both the actors, the cinematography, and the overall pace of this limited series, so I would recommend it if you watch the trailer and feel like this is something worth your time.
Black Narcissus is out with all three episodes on FX on Hulu from November 24, 2020.
Writers: Amanda Coe, Rumer Godden
Director: Charlotte Bruus Christensen
Stars: Gemma Arterton, Aisling Franciosi, Alessandro Nivola, Jim Broadbent, Rosie Cavaliero, Patsy Ferran, Diana Rigg, Nila Aalia, Chaneil Kular, Dipika Kunwar, Kulvinder Ghir
Official plot:
Black Narcissus is an FX limited series based on the best-selling novel by Rumer Godden.

During the latter years of British rule in India, ambitious young nun Sister Clodagh heads a mission to a remote part of the Himalayas. The palace of Mopu has been donated by General Toda Rai, who hopes the Sisters of St. Faith will rid the 'House of Women' of unhappy memories connected to his late sister, Srimati. Although Clodagh ignores the warnings of the General's raffish agent Mr. Dean, isolation and illness soon take their toll, with the haunting atmosphere of the palace particularly affecting volatile Sister Ruth. As past and present collide, the arrival of the young General Dilip Rai is the catalyst for an explosion of repressed desires that may end in a fatal confrontation.