LOOKING FOR HER on TUBI is a new LGBTQ Christmas Movie. It has a lovely, well-made, and surprisingly realistic story. You'll definitely want to check out this 2022 WLW Christmas Movie. Read our full Looking For Her (2022) movie review here!
LOOKING FOR HER is the new TUBI Christmas Movie with an LGBTQ love story. It has all the makings of a classic Christmas Movie, so you'll be able to guess much of it. However, isn't that part of their allure and charm?!  It's sweet and safe because you know there will be a happy ending of some kind.
I know, what a novelty for queer women! Usually, we just hope that neither of the main characters in the love story dies. Anything beyond that is just confetti!
In any case, this TUBI Christmas Movie is definitely made for the LGBTQ audience, so you can rest assured that this won't end on a bad note. Also, it has the "fake dating / pretend relationship" that so many AU fanfics have been built on!
Continue reading our Looking For Her (2022) movie review below and find it on Tubi or On-Demand (more on how to watch Looking for Her at the bottom of this review).
From Fake Dating to True Love
As already mentioned, Looking for Her truly does have a very classic Christmas Movie plot, so let's get into it real quick.
Taylor (Olivia Buckle) is a workaholic, who was recently left by her girlfriend, Jess. Shortly before the holidays, Taylor gets a call from her dad who pleads with her to come home for Christmas. We quickly learn that she hasn't been home since they did not take her coming out very well. However, now her dad invited her girlfriend Jess as well.
Completely dumbfounded by him even saying the name of her girlfriend, she accepts. Now she just needs to find someone who will pretend to be Jess. There is no way Taylor will tell them the relationship didn't work out.
Enter Olive (Alexandra Swarens), a struggling actor, who just lost her job at a coffee shop and desperately needs to find work. Sure, she's a dog walker and dogsitter, but she needs work that pays much better.
Having unsuccessfully tried to find someone via a dating app (while being honest about the plan), Taylor is ready to admit defeat. In a twist of fate – and thanks to Taylor's colleague and a little Christmas miracle – Olive and Taylor meet and decide that they can make it work.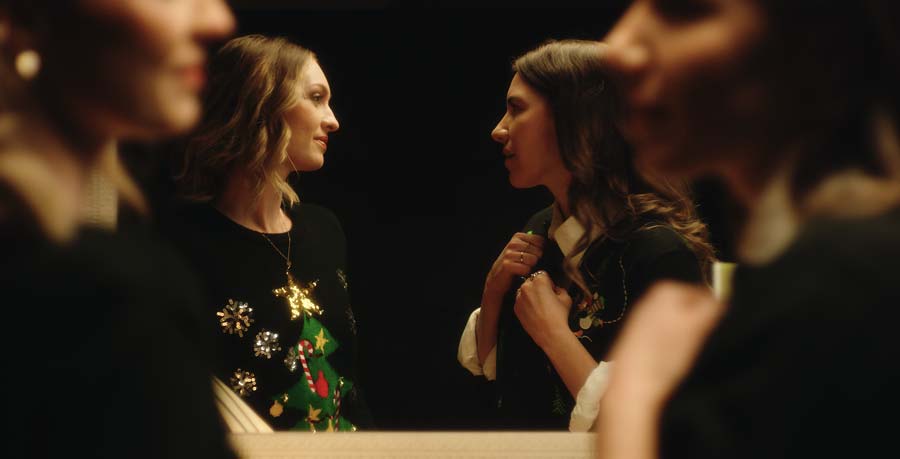 It works because of the chemistry!
As Taylor and Olive (who will be introduced as Jess) head to Taylor's parent's house for the holidays, they must convince everyone that they're in a romantic relationship – and not the total strangers they are.
And let's be real, they also need to convince us [the audience] that they are strangers, who fall for each other after starting a "pretend relationship". So let me just get it out right away; Looking for Her works because Oliva Buckle and Alexandra Swarens work!
The two have chemistry and their characters are fleshed out enough that you care about them. Their relationship and their banter are realistic, likable, and very believable.
WANT MORE LGBTQ CHRISTMAS MOVIES?

Of course you do, so check out A New York Christmas Wedding >
Also, if you want to watch the opposite story – real girlfriends pretending not to be dating while visiting family during the holidays – you obviously need to watch Happiest Season starring Kristen Stewart and Mackenzie Davis. Actually, you should watch that no matter what kind of story you want, because it's amazing!
Watch Looking for Her now!
Alexandra Swarens is the writer and director of Looking for Her. And yes, she is also one of the stars in the movie. I wasn't sure what to expect from this movie since it's been difficult to find anything about it really. There are some PR folks that have not been doing their jobs very well, I'm afraid.
In either case, I was surprised at the high production quality, the strong cast, and the overall watching experience. Of course, with a "fake dating"-plot, we're already off to a good start. It really is like something right out of a WLW fanfic.
Alexandra Swarens also wrote and directed City of Trees (2019) which had the same strong duo of herself and Olivia Buckle in the lead roles. It is also set during the Holiday season, so be sure to check out that one as well. You can click this link to see where you can watch City of Trees.
Just make sure you support this brand-new movie first, so we can get even more movies from Alexandra Swarens.
Looking for Her is out on Tubi on December 9, 2022.
Womentainment recommendation: Don't miss out on Looking for Her (2022).
This new movie is sweet, realistic, and really well-made. Basically, it's an LGBTQ Christmas Movie that should definitely be able to help you get into the spirit of the holiday season!
Where and how to watch the LGBTQ Christmas Movie Looking for Her?
Here at Womentainment, we know that many of you have struggled to find out how to watch the gay Christmas Movie Looking for Her on TUBI. Well, don't worry, we got you covered.
If you're in the US, simply go to Tubitv.com where you can watch it for free!
Here is the direct link to the 2022 LGBTQ Christmas Movie Looking for Her on Tubi >
If you're not in the US, then we recommend using a VPN to watch it, since that seems to be the only way. Sorry, but if you can't watch it any other way, then your hand is basically forced to use this option.
I mean, keeping you from watching a new LGBTQ Christmas Movie (of which there are very few) is just homophobic.
Want to watch Looking for Her without commercials?
While Tubi is free to watch, it does mean you'll be getting commercials throughout the movie. The commercial breaks a small and short, but they are (obviously) an inconvenience.
If you want to avoid them, you can watch Looking for Her (2022) On-Demand via iTunes or Vudu.
Here is the direct link for iTunes >
And here's the direct link for the movie on Vudu >
Since the movie isn't out worldwide, you will still need to use a VPN to access it via iTunes or Vudu.
Director: Alexandra Swarens
Writer: Alexandra Swarens
Cast: Olivia Buckle, Alexandra Swarens, Sophie Arrick-Lewis, Robert Artz, Stewart Harmen Mart, Allie Spetalnick
Official plot:
When her family guilt-trips her into going home for the holidays and bringing her girlfriend along, perfectionist Taylor concedes, but there's one little problem: they broke up. Not wanting her family to know, Taylor hires an actress to pose as her girlfriend.