DEAD TO ME Season 3 is on Netflix. And yes, it was worth the wait. This is one of those rare amazing final seasons. Over these ten final episodes, we get as close to perfection as you could hope for. Read our spoiler-free Dead to Me Season 3 review here!
DEAD TO ME Season 3 is finally on Netflix. The series premiered in May 2019 and season 2 came one year later in May 2020. Now, more than two years later, we finally get the much-anticipated season 3. And yes, it was worth the wait.
YOU MIGHT LIKE
I have loved this series since the very first episode, and it has never disappointed me. Always full of surprises while being intensely true to the heart of its characters. I will miss Jen and Judy profoundly, but I am happy to report that this final season is as close to perfection as you could dream of.
Continue reading our spoiler-free Dead to Me Season 3 review below. Find all ten episodes on Netflix from November 17, 2022.
Now,
this

is how you do a finale!

Actually, the above headline makes it sound like I'm only talking about the final episode. And I am, but not exclusively. Instead, I am referring to the entire season 3 of Dead to Me which is the final season.

Whenever you know a season will be the final one, there is much to wrap up. You have characters to say goodbye to and plot elements (as well as characters) you hope to revisit in some way. Well, Dead to Me season 3 is exactly the kind of final season that gets all of this right.

Jen (Christina Applegate) and Judy (Linda Cardellini) are brilliant. Jen curses constantly and Judy is just pure sunshine. Together, these two have made Dead to Me season 3 one of the best final seasons ever. Well, with the help of awesome writers, obviously.

And yes, you will also get to see more of the charming love interests played by James Marsden and Natalie Morales, as well as the nosy neighbor, Karen, portrayed by Suzy Nakamura. Plus, yes, obviously, Katey Sagal shows up again in Dead to Me season 3.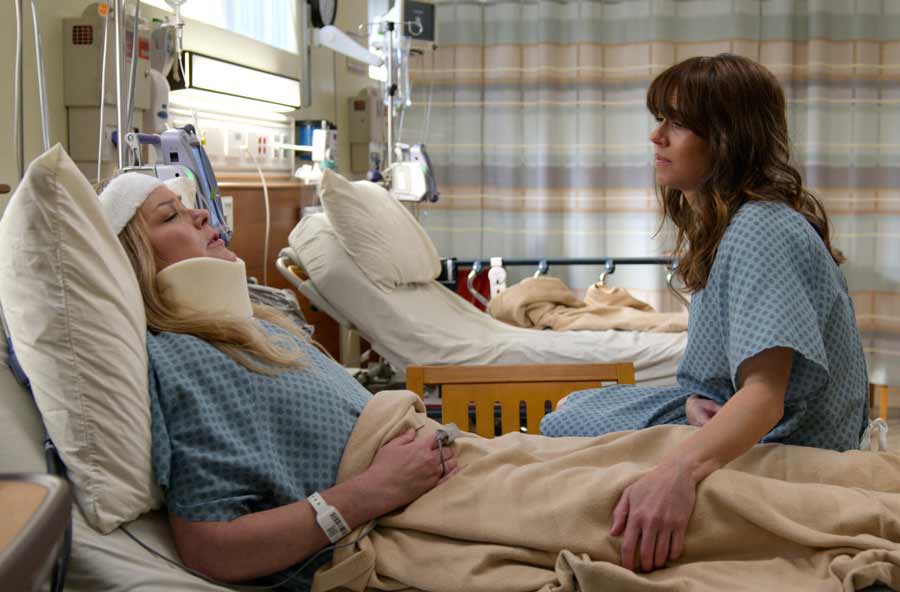 When real life plays a part
Obviously, there are also a lot of real-life issues that have come into play for the production of Dead to Me season 3.
One of the stars of this series, Christina Applegate, was diagnosed with multiple sclerosis (MS) before this third and final season was made. And yes, that does mean that she has some physical restraints, which she didn't earlier, just like the medication has caused weight gain.
However, someone gaining weight is hardly unheard of so it doesn't matter. Also, people working in television have been dealing with pregnancies that weren't relevant to the actor's character for decades. This means many television creators have been used to dealing with physical restraints of various kinds.
In this case, it isn't a pregnancy, but other accommodations that have been necessary.
What I'm trying to get at is this: Yes, you can try to catch whenever some kind of accommodations have been made to help the actor. But you can never know for a fact when this is the case because overall, the story just works.
Watch season 3 of Dead to Me on Netflix now!
Liz Feldman is the creator of Dead to Me and has worked on all three seasons, which shows. In all the right ways!
However, it should go without saying that when you get to that final tenth episode of Dead to Me season 3, then you'll need to have tissues handy. It is heartbreaking while also being funny and uplifting. Just as this series has always been – all while full of very colorful language that makes me laugh even harder.
I will miss Jen and Judy more than I want to admit. However, they did leave me with yet another few expressions that I am absolutely incorporating into my language. One of my favorites from an earlier season was "Read the Room, Fucko!".
One of the gems from this one had to do with the female equivalent of semen. You'll see!
Womentainment recommendation: If you've liked Dead to Me, you will love season 3!
Dead to Me season 3 is one of those rare amazing final seasons that just does not disappoint! It's funny (very!) and sad (heartbreaking), but most of all it is as close as you get to perfection.
Watch Dead to Me season 3 on Netflix from November 17, 2022.
Creator: Liz Feldman
Stars: Christina Applegate, Linda Cardellini, James Marsden, Sam McCarthy, Luke Roessler, Garret Dillahunt, Brandon Scott, Diana Maria Riva, Natalie Morales, Valerie Mahaffey, Frances Conroy
Official plot:
In the aftermath of yet another hit and run, both women receive shocking news and are ready to risk their lives for a friendship that's above the law.