Snapshots is a beautiful, intense and romantic LGBTQ movie released in 2018. Based on a true story, an 85-year old woman reveals the love of her life was another woman. Snapshots is truly a heartwarming gem.
Snapshots is a new LGBTQ movie that came out in 2018. I have no idea how I missed it, but I'm just glad that I had the chance to watch it now. It's out on pretty much all VOD platforms – including Amazon, iTunes, and YouTube.
The movie is based on a true story and is probably one that all too many people could tell. A woman reveals to her daughter and granddaughter that the love of her life was another woman.
Being a woman in love in 1960
The movie stars Piper Laurie as the grandmother, Rose. As far as her own daughter, Patty (Brooke Adams), and granddaughter, Allison (Emily Baldoni), knew, Rose was happily married to a man until he passed away.
This man was her best friend and her husband in every way. The true love of her life, however, was a woman she met in 1960 when they were both already married.
Since their husbands were busy working, the two women had plenty of opportunities to spend time together. They just always had to share each other with their respective husbands and this – of course – is part of the heartbreak for everyone involved.
And back in 1960, a woman really couldn't do much without a man in her life. The movie also touches on the fact that a woman couldn't even have her own credit card when the story begins. It wasn't a choice of being "out" in a world, where being gay was considered a disease. As a woman, you were very much dependant on a man – usually a father or husband.
I won't reveal how the story ends for Louise and Rose. But it's not in a typical "movie trope" way, which again makes it feel more like a true story.
Based on the life of the screenwriter's own mom
Jan Miller Corran's own mother is the woman who revealed that the love of her life was another woman. The story in Snapshots as a whole is, of course, with fictional characters.
Still, the fact that this movie is based on a true story does make the story feel very realistic without the usual stereotypes.
It's never overly romanticized, but it is very warm and beautiful while also shining a light on the problems the two women faced. I really can't commend this movie enough for how it handles this story with true grit and heart!
And your heart really goes out to the young Rose struggling with her feelings and the choices she doesn't have. And it really does also break for the grandmother version of Rose, who reminisces about the love of her life. 
Of course, this is an LGBTQ movie in the sense that it's about love between two people of the same gender. However, the story is very universal. It could have been people from different cultural background or races as well. Everyone can relate to the story of Rose and Louise.
As someone who is LGBTQ myself (and a woman married to a woman), I want to acknowledge that LGBTQ representation specifically is important. I count myself immensely lucky that I was born in this time and culture, where I didn't have to give up the love of my life. Something that also becomes a topic discussed in Snapshots.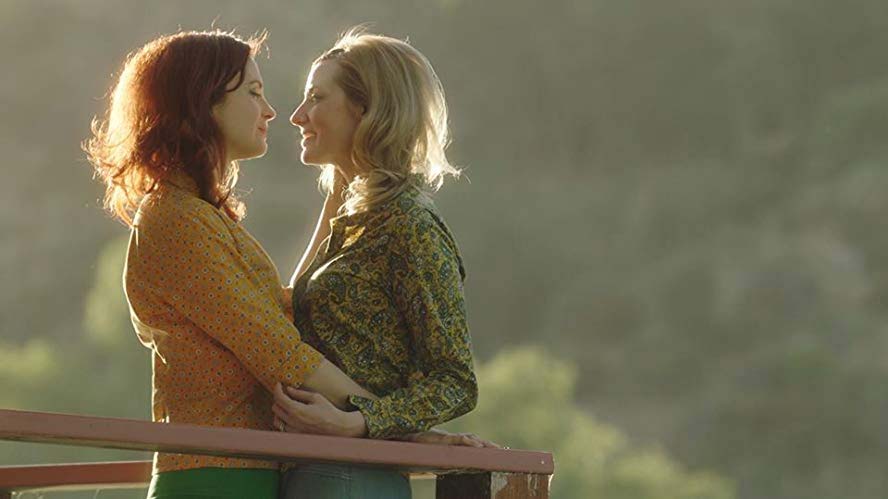 Brilliant cast with familiar faces
As mentioned earlier, the grandmother is portrayed by Piper Laurie. To me, she has always been the terrifying mom from the original adaptation of Stephen King's Carrie (1976) starring Sissy Spacek. The role even earned her an Academy Award nomination – the second out of three nominations, so far.
I'm very happy that I now also have this movie as a reference for the wonderful Piper Laurie. And she is truly the heart of Snapshots.
The granddaughter, Allison, is portrayed by Emily Baldoni, who has an impressive resume already. She starred in the horror mystery movie Coherence from 2013, which I highly recommend if you want more of Emily Baldoni after watching her in Snapshots. And you will want more!
Jane the Virgin alumni
Brett Dier from Jane the Virgin has a supporting role in Snapshots. He's the more liberal and understanding husband of Louise, who Rose falls in love with – and vice versa. He's not the only Jane the Virgin cast member involved with Snapshots. 
The director of Snapshots is Melanie Mayron. She's directed 14 episodes of the hit show from 2015 to 2018. And she also had a recurring role in the show. To round out the alumni, Emily Baldoni is married to a third cast member.
The Rose and Louise of 1960
The young version of Rose is portrayed by Shannon Collis, who I didn't really know before watching her in Snapshots. She does a wonderful job of portraying the sweet and somewhat naive Rose, who falls head over heels for Louise.
Louise is a bold and sultry woman, who goes after Rose from the beginning. And she is rather honest and unapologetic about it. As she simply states. "Don't worry, I'm not a man. I won't go where I'm not invited".
Louise is portrayed by the amazing Emily Goss, who really is quite the scene-stealer. Or rather, she makes every scene come alive along with her screen partner.
I already knew (and adored) Emily Goss from her starring role in The House on Pine Street. She is brilliant in the scariest way in that one. It's also a role that gave her quite a few awards.
In Snapshots, Emily Goss simply steals the heart of Rose as the character Louise. And gives her own heart in return.
Directed by Melanie Mayron
Snapshots was directed by Melanie Mayron, who many might know as an actress. However, she is also a very active director with a very impressive resume.
Melanie Mayron hasn't been directing many movies, but she has directed a lot of TV episodes. And not just Jane the Virgin as mentioned earlier. She started by directing a few episodes of Thirtysomething, which she also starred in from 1987 to 1990.
In recent years, she directed episodes for shows such as Grace and Frankie, Pretty Little Liars, and The Fosters.
Jan Miller Corran came up with the story based on the life of her own mother. The actual screenplay was written by Jan Miller Corran along with Katherine Cortez. This is the first writing credit for both.
In the past, Jan Miller Corran has been working in the entertainment industry as a producer. She produced some of the most popular LGBTQ movies this decade. Movies such as Anatomy of a Love Seen and AWOL. 
Womentainment recommendation: Watch Snapshots because the story is beautiful and important
Also, watch Snapshots because it really is a damn good movie. What more reason could you possibly need?!
For fans of LGBTQ movies, you also get Cathy DeBuono in a small role. Cathy DeBuono was the star of And Then Came Lola (2009), and in movies such as Out at the Wedding (2007) and A Perfect Ending (2012).
Snapshots (2018) is out on VOD and Region 0 DVD and Blu-ray now!
Watch Snapshots on VOD platforms such as Amazon, iTunes, and YouTube. In other words, you should be able to find a way to watch it, so just get to it and support this little gem.
Director: Melanie Mayron
Writer: Jan Miller Corran and Katherine Cortez
Cast: Piper Laurie, Shannon Collis, Emily Goss, Emily Baldoni, Brooke Adams, Brett Dier, Max Adler, Cathy DeBuono
Official plot:
When a grandmother's secret past collides with her granddaughter's secret future and her daughter's angry present, can the love of three generations be enough to accept decades of deceit. With a simple roll of film it begins.