Derry Girls is a new Netflix Comedy show and it is laugh-out-loud funny. Crude and deliciously on-point, this is one of the funniest things I've seen in a long time.  Only drawback: Season 1 is just 6 episodes.
Derry Girls is a Netflix Comedy show based in Northern Ireland in the early 1990s. The series originally aired on the UK Channel 4, but Netflix came onboard and with the hype this show is getting, Season 2 will probably air here.
Season 1 of Derry Girls consists of just six 30-minute episodes. Or rather, the episodes have an actual runtime of around 25 minutes. So you can literally binge-watch this season in about two hours.
And, trust me, you will!
Skins meet Everything Sucks
If you watched the Netflix series Everything Sucks, then you already know the 1990s vibe that Derry Girls also focus on. If you then add the social realism and directness of Skins, then you have a pretty good idea about what Derry Girls entails.
Disclaimer: When I mention the show Skins, then I am always talking about the UK version. Never that awful US version on MTV that left out all the good elements. It started out so-so but became a very watered-down copy of the original.
Now you just need to include humor that does not hold back in any way. Derry Girls should feel familiar in some way to everyone. No matter where you live in the world. Especially if you actually remember the 90s. 
This series has a surprisingly universal plot for a show taking place in Northern Ireland in the 1990s. The world seemed so much simpler back then, which is something we're confronted with in the most simple ways. Like what you would eat on Friday nights! 
Also, the soundtrack is downright awesome! I mean, I knew and could sing along (which I did) with every single song played.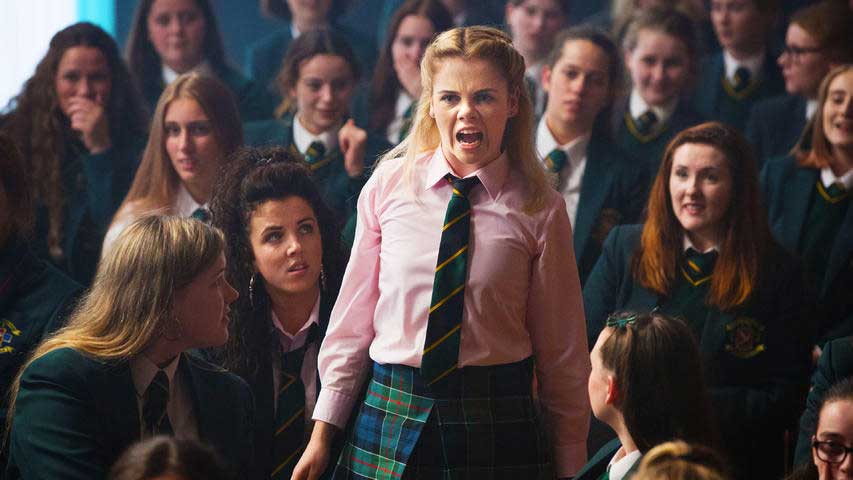 Saoirse-Monica Jackson is PERFECT
The lead character, Erin, is played by Saoirse-Monica Jackson. When I first started watching season 1 of Derry Girls on Netflix, I kept thinking she was very familiar. Mostly because she reminded me of other people.
What I came up with was that she's a hybrid between Emma Stone in Easy A and SNL's Kate McKinnon. And that is one HELL of a winning combination for a comedy.
Also, even though she reminded me of these two, Saoirse-Monica Jackson is 100% her own person. And the character of Erin is unlike anyone I've ever seen before. She's super self-absorbed while also being a good friend. Most of the time.
In other words, she's a typical teenager with her emotions ruling her body as much as her hormones!
The motley crew of Derry Girls
I start out be mentioning Saoirse-Monica Jackson, but really, the entire main cast of Derry Girls is just brilliant. 
The sometimes narrator (because she reads Erin's diary out loud) is Orla played by Louisa Harland. If I tell you one of the main characters is gay, you'll probably suspect her. But I wouldn't be so quick to judge. She's just her own kind of awesome.
Jamie-Lee O'Donnell plays Michelle who is almost reminiscent of Rayanne from My So-Called Life. Now there's a 90s reference for ya. Michelle is the "bad girl" of the group, but she has a heart of gold. She just forgets every now and then.
Louisa Harland and Jamie-Lee O'Donnell are perfect as Orla and Michelle respectively.
My favorite Derry Girl was probably Clare played by Nicola Coughlan. She's the "good girl" who doesn't like to get into trouble but won't let her friends down. Unfortunately, her friends are all very easy going when it comes to doing things you're not supposed to.
If you've been watching the show Harlots on Hulu (or ITV in the UK), then you're already familiar with Nicola Coughlan. She plays Hannah Dalton in season 2 of Harlots.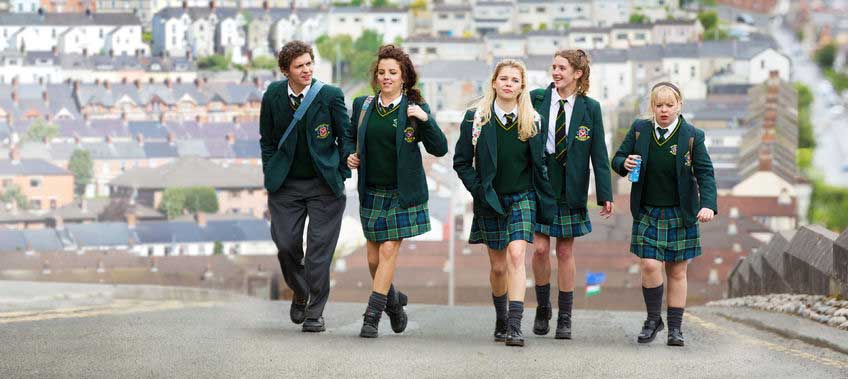 The fifth "Derry Girl"
Also, the final "Derry Girl" is actually a boy. He's the cousin of Michelle and his name is James. He's from England, so he has been allowed to enroll at the all-female Catholic school to keep him safe in Northern Ireland.
Everybody thinks he's gay, but he insists he's just British. We'll see in season 2.
In general, it's amazing how many recurring jokes are naturally a part of season 1 when it has just 6 episodes. But it works, when you have actors, who can pull these jokes off perfectly.
James is portrayed by Dylan Llewellyn who does everything right with the character of James. The girls really do give him a hard time. Well, except for Clare, since she's such a sweetheart. In fact, those two characters are pretty similar in many ways.
Created by Lisa McGee
I'll be the first to acknowledge that men can write great female characters. Especially for many TV shows. However, it's always different and more on-point, when a woman is in charge of creating female characters.
The girls in Derry Girls are able to do and say things that most male writers probably wouldn't have dared write. Creator Lisa McGee is not holding back, and she shouldn't. This Netflix comedy works precisely because these girls are so real while also having been created to deliver comedy.
Writing for TV is nothing new to Lisa McGee. She also wrote for Being Human and The White Queen. 
Derry Girls isn't even her first time creating a show for TV. Back in 2008, she made Raw, which ran for five seasons. Here's hoping Derry Girls can have at least that!
Womentainment recommendation: Watch Derry Girls on Netflix now!
I cannot recommend this show enough. If you like comedy shows, then this is the show for you. Also, I didn't get into this in the above, but you will love Erin's rather dysfunctional, but loving, family.
And you should adore Sister Michael – portrayed by Siobhan McSweeney (The Fall). Sister Michael reminded me of the no-nonsense teacher from Love, Simon. Only even more done with holding back her disdain for everything and everyone.
Look, all characters on this show have something awesome going for them. And Derry Girls is just 6 episodes with an entire Season 1 runtime of around two hours. So get to it. Now! You can thank me later.
Season 1 of Derry Girls is on Netflix worldwide now!
Creator: Lisa McGee
Cast: Saoirse-Monica Jackson, Louisa Harland, Nicola Coughlan, Jamie-Lee O'Donnell, Dylan Llewellyn, Tara Lynne O'Neill, Kathy Kiera Clarke, Tommy Tiernan, Ian McElhinney, Siobhan McSweeney
Official plot:
Derry Girls features the personal exploits of a 16 year old girl, along with her family and friends, during the Troubles in the early 90s Northern Ireland.