Sex Education is a new Netflix Comedy Drama about a teenage virgin and his sex therapist mother – played brilliantly by Gillian Anderson. Watch Season 1 of the funny (and educational) show on Netflix now!
Sex Education is just the kind of comedy perfect for Netflix. It mixes comedy with drama as we know it from shows like Orange Is the New Black and (more recently) the brilliant Derry Girls.
This time around, you know what the subject is from the title of the show. However, the real winning ticket is the fact that Gillian Anderson plays a sex therapist. While everyone gives good performances in Season 1 of Sex Education, Gillian Anderson is probably the one to draw in an audience. And Sex Education should be a sure Netflix hit!
The show consists of 45-minute episodes and this first season has 8 episodes. In other words, you can binge-watch season 1 of Sex Education in around 6 hours. And many probably will since the show gets better with every episode.
Gillian Anderson is brilliant as a sex therapist
Depending on your age, you probably know Gillian Anderson best for her role in either The X Files or The Fall. The first was the iconic Dana Scully and the second was equally iconic Stella Gibson.
Whether her role as the sex therapist, Jean Milburn, will be equally iconic is probably going a bit too far. But that has more to do with the nature of comedy versus drama than it does the character. Because let me tell you, Jean is all kinds of awesome. Maybe not to her son, Otis (Asa Butterfield), but very much to the audience.
Also, like her character Stella Gibson from The Fall, she is once again speaking with that lovely British accent of hers. For the record, Jean Milburn states that her occupation is "Sex and Relationship Therapist, thank you very much".
While the story in Sex Education is focused on Otis (Asa Butterfield) and his sex therapist mother (Gillian Anderson), much of the plot revolves around three friends; Otis, Eric, and Maeve.
A new kind of mother-son dynamic
If you've watched some of the biggest movies this century, then you'll recognize the face of Asa Butterfield. He was Hugo Cabret in Martin Scorsese's Hugo (2011). Before that, he was the lead in The Boy in the Striped Pyjamas (2008). 
In Sex Education, we get to see the fun side of Asa Butterfield as Otis. Or, more specifically, we get to see him react when being put in difficult situations. And that's pretty damn funny most times.
The relationship between Otis and his mom, Jean (Gillian Anderson), is both quite strange and very healthy. Maybe "unconventional" is the best term to explain their dynamic. I certainly don't see anything wrong with it. And their communication is certainly very open and honest.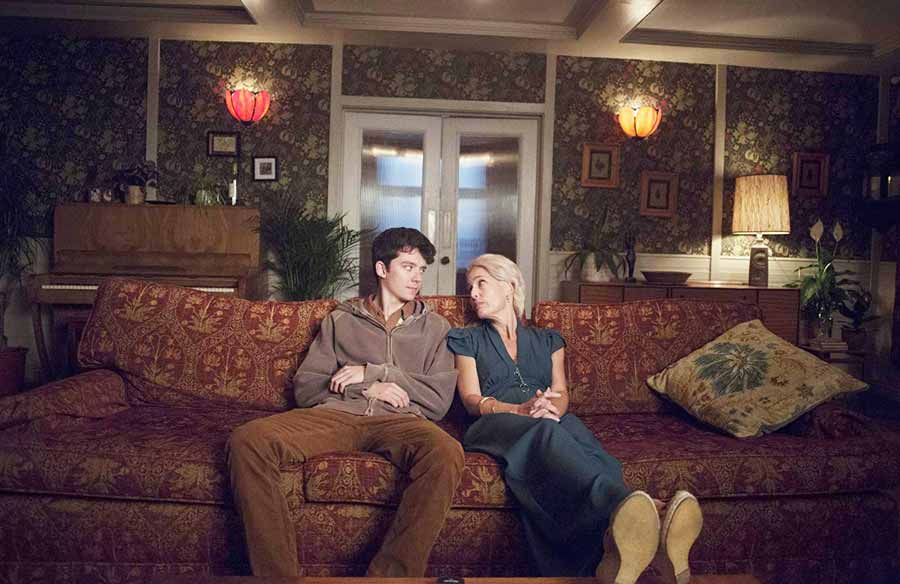 The happy threesome in Sex Education
At the heart of Sex Education are three characters. First, there's Otis, but two other characters complete a strong trio. 
Otis' best friend, Eric, is played by Ncuti Gatwa. I didn't know him before watching him in Sex Education on Netflix, but I absolutely adore him now. He has the best facial expression and can make me laugh without even saying a word. Though I do love it when he speaks as well. Eric (Gatwa) tends to have some words of wisdom for pretty much every situation.
Also, Eric (Ncuti Gatwa) is an openly gay student (one of two out male students), so he has a different perspective than straight boys his age. This gives a fresh outlook without making Eric seem like a token gay character. Instead, he's the kind of character you need for a series like this in 2019.
Like his friend, Otis, Eric isn't exactly sexually experienced either. However, he did give 2½ handjobs to a guy over the summer. And he's damn proud of this! Other "fun" facts about Eric; His nickname is "Tromboner" due to an incident during a concert a few years back.
Finally, we have Emma Mackey as Maeve. She's a bit more of an edgy character compared to Otis (Butterfield) and Eric (Gatwa). The character of Maeve is a brilliant contrast to the two boys who are more careful and considerate. When she's first introduced, it's in the style of Mean Girls. But Maeve Wiley is nothing like Regina George.
In fact, you should quickly grow to adore Maeve Wiley. She's a real badass in the best of ways – and a true friend.
Also, you will probably notice that Emma Mackey has an uncanny resemblance to Margot Robbie at times. The two could play sisters and you would have a hard time believing they don't actually share genes.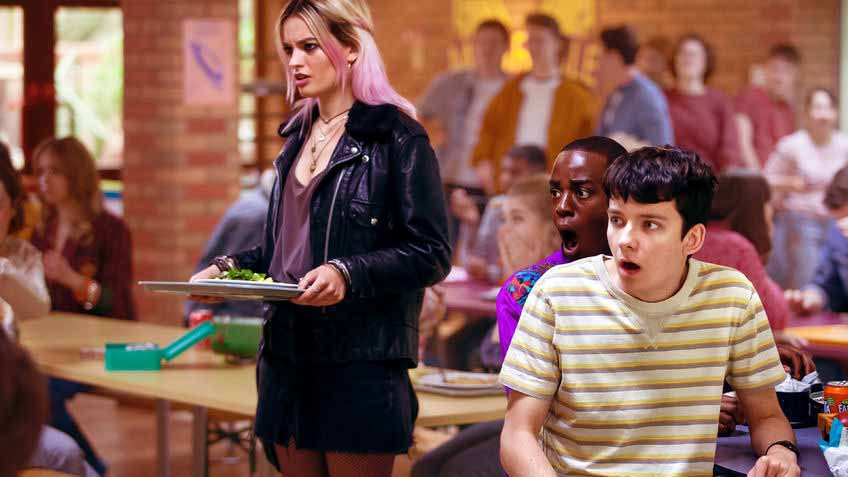 Created by Laurie Nunn
Sex Education was created by Laurie Nunn with an additional five writers on board for the episodes in season 1. Most of the writers are relatively new, which probably explains why this show feels so fresh and uninhibited. More on them later.
Laurie Nunn herself is relatively new as well. Before making this Netflix show, she had written three short films from 2007 to 2016. Up next for Nunn is an ensemble drama titled The Summer House which will be directed by Chris Foggin.
For her debut short film Gone to Earth, Laurie Nunn was also a director. Since then she's let someone else do the directing and focused on writing.
Two directors worked on Season 1
The 8 episodes in season 1 of Sex Education was directed by two directors: Kate Herron and Ben Taylor. Each did 4 episodes so it's an even split.
Kate Herron directed the final four episodes of Sex Education. These final 4 episodes have a lot more heartbreak and drama but in all the best ways. This is where we get into what makes the characters tick, while the first four episodes focused more on comedy and introducing characters.
Don't worry though, there's still plenty of comedy in the last half of the "dramedy" series. It's just that important and heavier subjects are dealt with – in a very elegant way – during the episodes directed by Kate Herron. 
Trust me, your heart will break. And probably more than once. But it will also be mended again, so hang in there!
Kate Herron started out directing seven short films before directing BBC Three's mini-series Five by Five. It consisted of five 5-minute episodes.
Ben Taylor has worked as a director on episodes of various TV shows such as the Amazon Original Catastrophe. He also directed on the UK show Cockroaches, which was created by Freddy Syborn – the only male writer on Sex Education.
The episode writers of Sex Education
For writer Bisha K. Ali, Sex Education is her first screen project. However, she is already a recognized comedian known for her personal and political comedy. In other words, she's perfect for this Netflix show. Also, she's written for radio and podcasts for years.
Another writer is Sophie Goodhart, who both wrote and directed the comedy My Blind Brother from 2016. That movie was her feature film debut and it was based on her short film debut from 2003. Next, Sophie Goodhart will write and direct an Untitled Jennifer Aniston project, so you can go ahead and remember her name now.
Rounding out the writing team we have two Laura's. First, there's Laura Hunter, who previously wrote an episode for the UK shows Dates and Skins. Both shows are a bit heavier on drama than comedy, which makes Laura Hunter a good inclusion as well.
Second, Laura Neal, who wrote an episode of My Mad Fat Diary and Secret Diary of a Call Girl. A lot of diary-themed stories for Laura Neal, it would appear.
Watch Sex Education on Netflix now!
Watch this show because it really is brilliant. Also, let's be real, you should watch season 1 of Sex Education as fast as you can to support the show. It was created by a woman, written mainly by women and directed 50/50 by a man and a woman.
The fact that this Netflix show was created primarily by women is enough reason for some people to shun away from it. So if you want to support this, you need to balance out the negatives. 
Besides, Gillian Anderson is brilliant in this. What more reason do you need?
Womentainment recommendation: Watch Sex Education because it's funny 
and

intelligent!

Did I mention that Gillian Anderson is brilliant in Sex Education? This is a far cry from her role as Stellan Gibson in The Fall (which everyone should watch) and she's no Dana Scully of The X Files either.

Instead, Sex Education allows us to see the more playful and mischevious side of Gillian Anderson as the sex therapist, Jean.

Again, I ask you; What more reason do you need to watch Sex Education? That's what I thought. Now, get to it! We need this series to be a smash hit, so we can get Season 2 of Sex Education as soon as possible.

Season 1 of Sex Education is out on Netflix worldwide from Januar 11, 2019.
Creator: Laurie Nunn
Cast: Gillian Anderson, Asa Butterfield, Emma Mackey, Ncuti Gatwa, Kedar Williams-Stirling, Alistair Petrie, Chaneil Kular, Connor Swindells
Official plot:
A teenage virgin who lives with his sex therapist mother teams up with a smart and edgy high school classmate to start their own health clinic. But what happens when the inexperienced (and sexually repressed) son of a sex therapist starts counseling his fellow high-schoolers?