CHLOE (2022) on Prime Video is a new British limited series (co-produced with the BBC) and it has just six intense hour-long episodes. This has nothing to do with the 2009 movie of the same name. Though a few similarities can actually be made. Read our full Chloe series review here!
CHLOE (2022) is a new Prime Video limited series that was co-produced with the BBC. This is a British series and it was released in the UK back in February 2022, so don't read up too much on it. You'll only end up reading spoilers!
This limited series has six episodes and by the end of episode 1, you'll get the first big plot twist, which does help explain a lot. Each episode is just around one hour long and there is a lot of plot (and many interesting characters) to get through, so the time is well utilized.
Continue reading our Chloe series review below and stream it on Amazon Prime Video from June 24, 2022.
Erin Doherty is brilliant in the lead
The absolute star of Chloe is Erin Doherty. And no, she does not portray the character "Chloe", so she isn't playing the title character. Instead, she plays Becky Green who also goes by Helena and Sasha. Well, whatever name suits the situation really.
The life Becky Green (Erin Doherty) is living is hardly one to envy. She's trying to care for her mother, who gets confused a lot due to dementia combined with depression and terrible past memories. That's why Becky escapes into the world of social media, where Chloe Fairbourne is the one she seems to keep an extremely close eye on.
And yes, obviously, you will find out why she's the one person that gets the most attention. By the end of episode 1, you'll know a bit. However, to get the full picture, you'll have to watch all six episodes.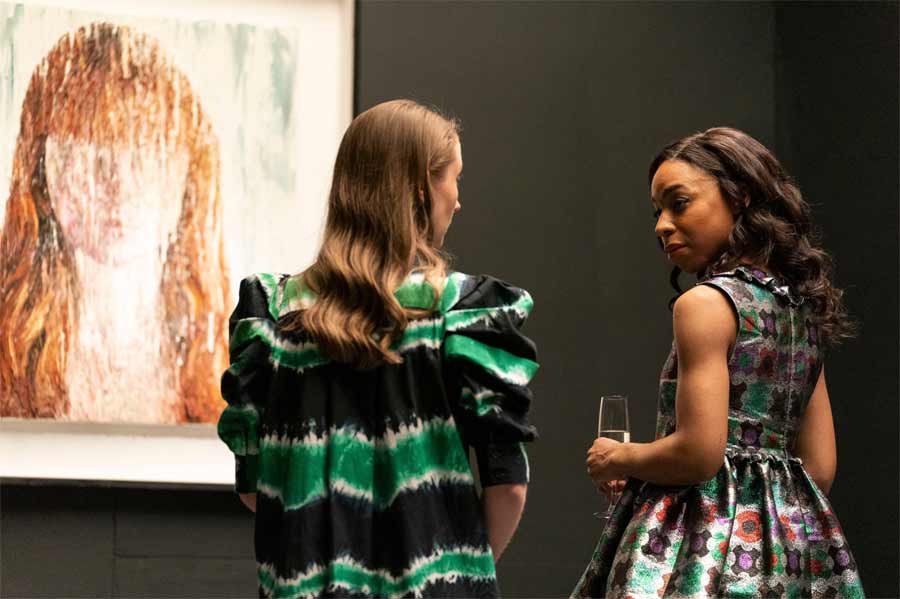 A new take on The Talented Mr. Ripley
Erin Doherty is quite the chameleon. Both as the struggling Becky and as her Sasha-persona, who seems to be on top of the world. Constantly, we also see Becky's insecurities as she imagines that nobody is buying her Sasha act and constantly making fun of her.
It's heartbreaking really. However, to be fair, Becky is also doing some rather questionable things, so obviously, she knows that she isn't just this good and friendly person, she tries to present to the world.
A comparison to The Talented Mr. Ripley is obvious. However, comparing the Chloe limited series of 2022 to the 2009 movie of the same name isn't really. Sure, you could argue that the main character (played by Amanda Seyfried in the film) of both stories have some things in common. Mostly the neurotic and intensity of "going for" something.
However, you will get a lot more background on Becky Green (Erin Doherty) than you ever got in the film. Of course, that's the gift of series; You actually have time to build up characters and give them a backstory beyond a quick line here and there.
Alongside Erin Doherty, you'll encounter lots of interesting characters (and a few obnoxious ones) played by wonderful actors. These include Pippa Bennett-Warner (Gangs of London), Billy Howle (The Serpent), Lisa Palfrey (Pride), and Brandon Micheal Hall (God Friended Me).
Watch Chloe (2022) on Prime Video now!
Alice Seabright is the creator of the 2022 Chloe series. It premiered on BBC in February of 2022 and is now out on Prime Video with all six episodes. It's a limited series, so you'll get the full story over the course of these six-hour-long episodes.
I wasn't sure what to expect, but the trailer intrigued me enough to check it out. Fortunately, I am really happy that I gave it a shot. It's full of real characters that have love and pain and flaws. Just like any other human being!
You may be familiar with creator/director Alice Seabright already since she wrote an episode of the awesome Netflix series Sex Education. She also directed two of the episodes of that particular series. Something that surely helped her direct half of the episodes in the Chloe series as well. The remaining three episodes are directed by Amanda Boyle (Skins).
All six episodes of Chloe (2022) are out on Amazon's Prime Video from June 24,02022.
Womentainment recommendation: Check it out if you enjoy a good mystery!
The Chloe (2022) limited series has a strong cast, intriguing characters, and a plot that is very character-driven. All of these things make for a very binge-worthy production, so check it out on Prime Video, if that's your sort of thing.
Creator: Alice Seabright
Directors: Alice Seabright, Amanda Boyle
Cast: Erin Doherty, Poppy Gilbert, Billy Howle, Pippa Bennett-Warner, Jack Farthing, Brandon Micheal Hall
Official plot:
Chloe follows Becky Green (Doherty), who is obsessed with stalking her childhood friend Chloe Fairbourne's (Poppy Gilbert) perfectly curated social media presence. Chloe's charmed life, adoring husband, and circle of high-achieving friends are always just a click away, and Becky can't resist peering into a world that contrasts so starkly with her own, as she cares for her mother, who has early onset dementia.

When Chloe suddenly dies, Becky assumes a new identity and infiltrates the enviable lives of Chloe's closest friends to find out what happened to her. Through her alter-ego Sasha, Becky becomes a powerful, transgressive heroine; a popular, well-connected "someone" with a life–and loves–that are far more exciting and addictive than the "no-one" she is as Becky. However, the pretense soon obscures and conflates reality, and she discovers Chloe's real life had not been nearly as perfect as it was portrayed online. As Becky gets deeper into her con, and Chloe's inner circle, she risks losing herself completely in the game she is playing.