FIRST KILL on Netflix is a new LGBTQ vampire series. In other words, the genres are drama, horror, and mystery. The main characters are gay teenage girls who are in love with each other. And get together in the very first episode (out of eight). Read our full First Kill Season 1 review here!
FIRST KILL is a new Netflix series that could be described as both an LGBTQ series and a vampire series. It is 100 percent both. Of course, we've had quite a lot of vampire series. Even a few that had gay characters. Key characters at that. Still, this one is something else. And I do mean different in the best of ways!
With this Netflix series, we get two LGBTQ main characters; Teenage girls who fall in love and end up making out (very intensely, I might add) before the end of episode 1. Of course, with eight hour-long episodes in season 1, there is still much more to the story. Especially the fact that one of the girls is a vampire and the other is a hunter.
In other words, it's not unlike the classic love story between Buffy and Angel in Buffy the Vampire Slayer. Well, in that particular sense, anyway. Also, it should be noted that the sexuality of these girls (or any of the other LGBTQ characters, because there are more) is a non-issue. This makes a release during Pride month absolutely perfect timing!
Continue reading our First Kill Season 1 review below and watch it on Netflix from June 10, 2022.
First Kill is unapologetically gay!
Let me be absolutely clear: There's no queerbating in First Kill. The two main characters are gay and they have fallen for each other. Also, they get together in the very first episode (out of eight). So, this is not a series that teases for several episodes and ultimately leads to an almost-kiss or a possible connection in the next season – if one should happen.
No, with First Kill, the starstruck lovers know right away that they want each other. And they follow both their hearts and physical attraction. Also, they talk about it all. Both about their feeling for each other and that they are girls who like girls.
This is an unapologetic love story between two teenage girls. Their sexuality is a non-issue since both families know (and, more importantly, accept) their daughters for exactly who they are. Well, in terms of loving girls, that is. Loving someone who is from the family of their mortal enemy is definitely an issue.
In other words, we're in the world of an epic love story along the lines of "Romeo & Juliet". So let's just hope that the ending is different for our starstruck lovers here. Now that First Kill is so unapologetically gay, we really need to avoid the gay tropes. All the ones that include death, in particular.
They better not pull a Killing Eve finale on us ever!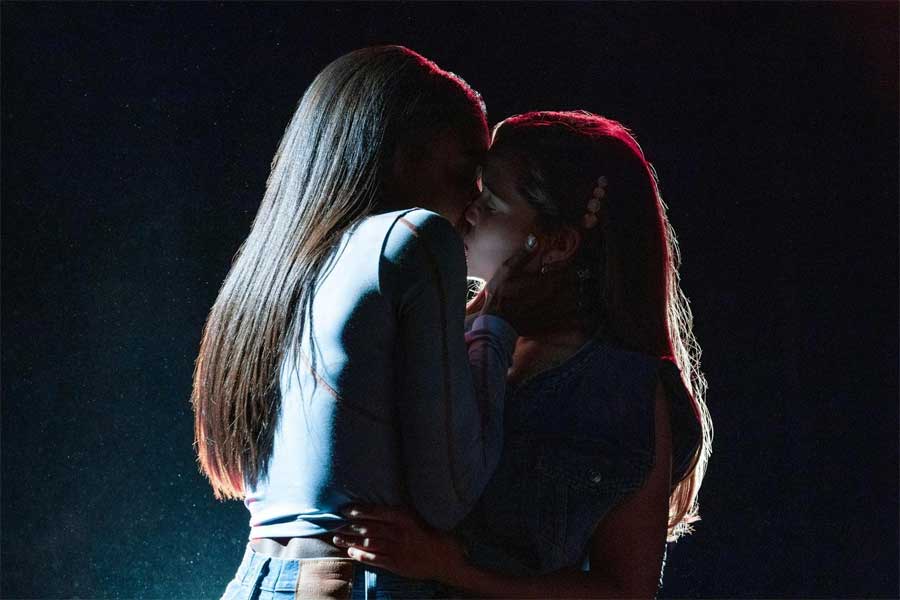 Perfect lead role casting
The very basic premise of First Kill is that two girls fall in love. One is a vampire (Juliet) and the other is from a family of vampire hunters (Calliope). For the record, Calliope goes mostly by "Cal". However, Juliet (who also goes by "Jules" or "Letty") tends to also call her by her full name.
Quick sidestep: Fans of Grey's Anatomy and, in particular, "Calzona" shippers will recognize the Cal/Calliope thing. Calzona was Callie Torres and Arizona Robbins. Nobody except Arizona was allowed to call Callie by her full name: Calliope. Admittedly, I was all about Calzona, when they were good, so maybe I just noticed this more than others will.

But I know there were many Calzona fans, so I'm not alone. Also, Callie Torres is (as of writing this) still the longest-running LGBTQ character in television history with 11 seasons and 239 episodes.
Getting back on track, the casting of every character in First Kill is pretty damn impressive. None more so than the two main characters because the chemistry between Juliette and Cal is perfect. Sarah Catherine Hook (The Conjuring 3: The Devil Made Me Do It) is the vampire Juliette Fairmont. Imani Lewis (Hightown) is the kick-ass monster hunter Calliope "Cal" Burns.
And, as just stated, their chemistry is palpable and they have great energy and banter on top of the very obvious attraction. Their scenes together do get quite steamy. And handsy. Hey, we're dealing with teenagers and their hormones are raging, so you can't expect them to show any more restraint than adults would.
At least nobody has to worry about getting pregnant, so there's that. And yes, in First Kill vampires do get pregnant. It's a whole thing since we're dealing with Legacy vampires, who are born and not made.
Also, there's Elizabeth Mitchell
Elizabeth Mitchell, who many WLW [Women Loving Women] will recognize as having played Angelina Jolie's love interest in the 1998 amazing and heartbreaking biographical movie Gia, is the mother of Juliette (Sarah Catherine Hook). Obviously, she is brilliant and all about tough love. With an emphasis on love, when it really counts.
The same goes for the mother of Calliope "Cal" Burns, who is portrayed by Aubin Wise. She is also a prime example of a parent showing tough love and trying to be as understanding as circumstances allow. Every single scene with Elizabeth Mitchell and Aubin Wise playing across from (and off of) each other is a true treat. They do not hold back, but they are both also quite strategic.
It's all about saving the family. Both the physical health and the all-important status. Again, we're in Romeo & Juliet territory. Also, I don't want to leave out the fathers, since these two girls are definitely daddy's girls. Juliette's dad is played by Will Swenson (The Bite) and Cal's dad is portrayed by Jason R. Moore (The Punisher).
However, the vampires are a matriarchy and mom seems to be in charge of the monster hunter family as well. Basically, First Kill is all about the women. And, to a lesser degree, the men who love and support them!
Watch First Kill season 1 on Netflix now!
First Kill is based on a story by New York Times Best-Selling author, V. E. Schwab, who is also the creator of this Netflix series. As the showrunner, we have Felicia D. Henderson. Both Victoria "V.E." Schwab and Felicia D. Henderson are also writers and producers of the series.
Also, there's another familiar name among the producers. Actor Emma Roberts (American Horror Story, We're The Millers) is a producer via Belletrist Productions.
Fortunately, First Kill isn't just great for LGBTQ representation. It's also an entertaining vampire/monster series as well. The characters and their various interactions are what make it work. There's a touch of Wynonna Earp here and the kitsch of a series like Revenge there. Oh yeah, this is as kitsch and campy as you'd hope a horror series with a core LGBTQ cast would be.
Womentainment recommendation: Binge-watch First Kill like your life depended on it!
I can't imagine what it must be like for the younger generation to see this kind of representation. As a teenager, to see that it is perfectly fine to fall in love with someone of the same gender?! Amazing. To have these two characters be the main characters of a new huge Netflix series?! Beyond my wildest imagination.
So, please, binge-watch this new Netflix series and get everyone else to do it as well. Do it like your life depended on it because someone's life just might. It still isn't an easy time to be LGBTQ+ in most of the world. So maybe, just maybe, a series like First Kill can be exactly what brings hope to some young LGBTQ people looking for a sign that everything will be okay.
Also, I want First Kill season 2 to be announced and greenlit in record time. If nothing else, to send a clear sign to all those other series that utilize queerbating constantly yet shy away from going the full distance. Except during Sweeps Week, of course.
Season 1 of First Kill has eight episodes and you can watch them all on Netflix from June 10, 2022.
Showrunner/Writer: Felicia D. Henderson
Creator/Writer: V.E. Schwab
Cast: Sarah Catherine Hook, Imani Lewis, Jonas Dylan Allen, Elizabeth Mitchell, Gracie Dzienny, Will Swenson, Jason R. Moore, Phillip Mullings Jr., Dominic Goodman, Dylan McNamara, Walnette Marie Santiago, Gail Soltys, Joseph D. Reitman, Rachael Thompson, Callan Wilson, Exie Booker, Christopher B. Duncan, Maddison Bullock, Damali Ross, Nathalie Hendrix, Diana Lovell, Adam Fristoe, Jim Devoti, Kayte Giralt, Jennifer Yun, Alex D. Jennings, Jesse Gallegos, Scott Rapp, Bill Winkler, Emily Brinks, Britt George, Dayna Beilenson, Africa Miranda, Demi Castro, Brett A. Newton, Lucy Catharine Haskill
Official plot:
When it's time for teenage vampire Juliette (Sarah Catherine Hook) to make her first kill so she can take her place among a powerful vampire family, she sets her sights on a new girl in town named Calliope (Imani Lewis). But much to Juliette's surprise, Calliope is a vampire hunter from a family of celebrated slayers. Both find that the other won't be so easy to kill and, unfortunately, way too easy to fall for.