There is awesome queer representation in the new Jurassic World: Dominion movie. Sure, the movie isn't great (it really just isn't), but the new bisexual character, Kayla Watts, played by DeWanda Wise sure is. Read more about the LGBTQ representation in Jurassic World here!
Admittedly, Jurassic World had plenty of reasons for trying to do better for the LGBTQ+ community. In the previous movie from this trilogy, the 2018 Jurassic World: Fallen Kingdom, there was clearly also a queer character in Dr. Zia Rodriguez (Daniella Pineda).
In fact, there was even a line in the movie Fallen Kingdom that straight-up (yes, pun intended) revealed she doesn't date men. However, this line was eventually cut before the film's release. Isn't that just always how things go?!
With the new queer character in Jurassic World: Dominion, both the director and the actor playing the LGBTQ character have confirmed that the character is indeed of a queer persuasion. This happened even before its release. In other words, they made sure that no one could change this fact later on by making it canon up front.
Continue reading about the LGBTQ representation in Jurassic World below.
A proud black bisexual woman in Jurassic World
This time around, the queer character is a proud black bisexual woman. She's a pilot and probably the most interesting thing about this final movie in the Jurassic World trilogy. Her name is Kayla Watts and she's even portrayed by an actor who is all about queer representation.
Needless to say, we love it!
The actor portraying this hot and super fierce new character is DeWanda Wise. During an interview with ComicBook.com, where she confirmed that her character was bisexual, she is quoted as saying:
"It's important, and it's also important to me that we continue to expand the conversation beyond looking for the kiss. If you're queer, you're queer… I said what I said. All the time."
Of course, we wouldn't mind a little show and tell (or rather, kiss-to-show), but this isn't really that kind of movie. I mean, sure, we do get quite a few straight kisses. The LGBTQ characters are still restricted in that sense.
DeWanda Wise went on to say:
"You don't turn it off. It doesn't matter if your partner's in the cockpit with you. It just is a statement of being. So that was one of the things just in her DNA, in her dino DNA, ensuring that she is who she is. Kayla is bi, and that's just, it is what it is."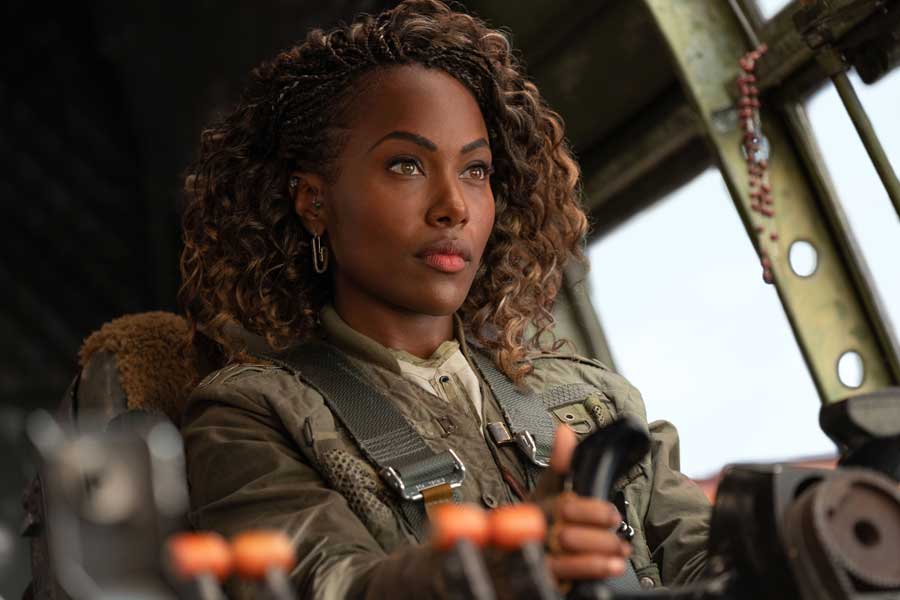 DeWanda Wise is Kayla, the fierce queer pilot
You may recognize DeWanda Wise from the movie The Harder They Fall (2021) or the Netflix series She's Gotta Have It (2017-2019) created by Spike Lee. The Jurassic World director, Colin Trevorrow, certainly recognized her from that latter production. It was after seeing her in She's Gotta Have It that he wanted her for the character of Kayla.
A character the two ultimately created together.
For the record, DeWanda Wise did actually kiss a woman in the Netflix series She's Gotta Have It. So maybe there was a possibility of trying to get a kiss into this massive dino franchise as well. Instead, you'll have to notice her (unbelievably cool) swagger and hear her state that she's also "into redheads".
Now, while that statement of being into redheads is obviously meant to be gay, it can easily be missed. Still, it is definitely the "coming out"-moment of the character.
One, because Kayla says it in response to Owen Grady (Chris Pratt) loving Claire Dearing (played by redhead Bryce Dallas Howard). Two, because there's a red-haired woman named Denise, who Kayla obviously has some (gay) history with.
Just how obvious is the queer element?
Well, it's not really all that obvious. I am absolutely convinced that there was a lot more to Kayla's character than we get to see in this final film. However, and this is actually very important, none of the characters in Jurassic World: Dominion are very fleshed-out.
There are just too many characters in this movie. Including the three key characters from the original Jurassic Park movie, which is definitely also cool. Well, Laura Dern certainly is, and seeing her with Bryce Dallas Howard and DeWanda Wise makes for a really cool trio.
Bottom line: LGBTQ viewers will no doubt pick up on Kayla Watts being a queer character in Jurassic World: Dominion. But really, it is still so subtle that anyone can claim that queer viewers are reading too much into it.
So, is it progress? Absolutely. Is it enough? Not even close.
Do you know what is huge progress? Having two main characters be gay and in love. On-screen!
We're talking about characters who get to actually kiss. Before the end of the very first episode. And who will kiss again – and again and again – in future episodes. I am talking about the new Netflix vampire LGBTQ teen series First Kill.
Sure, it's cheesy, has vampires, monsters, crude effects, and a teen core cast. But it's also charming and fun and campy. And, most importantly, it is oh-so-gay and completely out-and-proud on top of that. Also, there's Elizabeth Mitchell in a key role, so there's something for everyone.
And, getting back to the queer representation in Jurassic World, DeWanda Wise is perfect as Kayla Watts. In fact, I'm ready to watch an entire new Jurassic trilogy with this character. So, there's that!