Everything Now season 2? Will there be more seasons of the LGBTQ+ Netflix series? Here's what we know about a possible renewal so far!
Will we get Everything Now Season 2 on Netflix? That's what everyone is wondering after watching the final episode of season 1. The brilliant new LGBTQ+ series on Netflix was released in early October 2023, so we've been waiting for an update ever since then.
We loved this Netflix series which was chockfull of LGBTQ+ characters and storylines.
Season 1 does end in such a way that many questions are answered and issues are resolved. Still, there is so much more to work with in Everything Now. Also, we've gotten to know a bit more about the home life of some characters, but far from everyone.
In other words, there is plenty of material to continue the series with.
Will EVERYTHING NOW get a season 2 renewal?
As of November 20, 2023, the fate of the LGBTQ+ teen series remains uncertain. Netflix has yet to announce a renewal for a second season, and many of us are getting worried.
While there is currently no official confirmation, it's important to note that Netflix typically takes time to evaluate viewership metrics before making decisions about renewals or cancellations.
Given that the first season was released on October 6, 2023, it's not uncommon for the streaming giant to withhold renewal announcements until later.
Netflix weighs various factors in its renewal process, including critical acclaim, production costs, and most crucially, viewing hours. If the first season accumulates a substantial number of viewing hours within a specified timeframe and meets Netflix's standards, the likelihood of a second season increases.
Netflix and the death of lesbian series
The above factors of viewing hours during the early days of release are the official way of getting a renewal from Netflix.
However, it's no secret that Netflix (along with other streaming giants) is infamous for canceling series with LGBTQ+ main characters. It tends to be especially bad for Netflix series with lesbian (or bisexual) main characters, which is why we are eagerly awaiting news of a renewal.
EXAMPLE OF A CANCELED LGBTQ SERIES

One of the more grotesque examples is First Kill which was one of the most watched series on the streaming platform as it came out. Still, it was canceled soon after its release.
Often, they get canceled after the first season. As it was also the case with the amazing I Am Not Okay With This. However, it can also be very early after the second season has been released, which means it can hardly be due to a lack of viewers.
Yeah, I'm thinking of Warrior Nun and One Day at a Time. To name just the two first that come to mind. Also two examples of stories that came back to life in miraculous ways after the fans spoke up!
Everything Now off to a great start
Fortunately for the Everything Now series, early reviews for season 1 of Everything Now have been predominantly positive. Also, the production costs appear manageable. This bodes well for the series. Yet, the key determinant is [supposedly] still the viewership hours.
Season 1 ends with both answers and a lot of open endings, so clearly the producers were very aware that it can go either way.
To support the chances of Everything Now Season 2, it's essential for fans to spread the word about the show. If you're eager to see Mia and her friends' stories continue, share the series with everyone you know.
What is Everything Now about?
Mia, a 16-year-old Londoner, embarks on her journey into sixth form at the fictional Westmere School after returning from a rehabilitation center for disordered eating. Despite being away for just a few months, Mia realizes that her closest friends have moved on without her.
To reclaim lost time, Mia devises a dynamic bucket list. Immersing herself in the vibrant world of dating, partying, and navigating the challenges of growing up, she shares these experiences with her three best mates, a popular frenemy, and a captivating new crush.
Throughout the first season of Everything Now, Mia discovers that, despite a meticulously crafted bucket list, the future can't always be planned as she encounters unexpected twists and turns.
Explore Mia's transformative journey as she navigates the complexities of adolescence, friendships, and self-discovery in the bustling backdrop of London.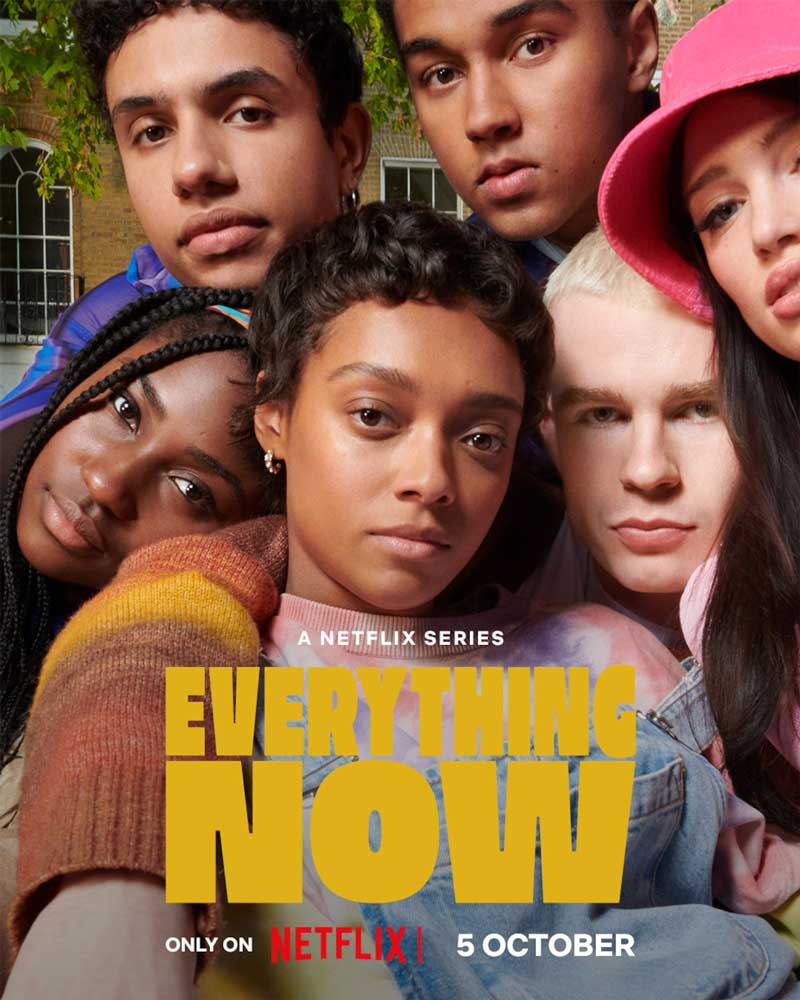 Everything Now Season 2 Renewal Prediction
The future of Everything Now's second season remains uncertain. It was never labeled as a mini-series or limited series, which means it has been "born" as a new series with potential for multiple seasons.
Also, the show's narrative conclusion deliberately leaves the door ajar for the possibility of additional stories. Both for Mia and her friends.
Stay tuned for updates on the potential renewal of Everything Now Season 2. We will be keeping a close eye on the latest developments.