BEAUTY (2022) on Netflix is a new movie, written by Lena Waithe, that is clearly heavily inspired by the life of the amazing Whitney Houston. Or rather, how her life was changing as she was getting ready to embark on stardom. In particular related to Robin Crawford. Read more here!
Not once in the Netflix movie BEAUTY (2022) is the name Whitney Houston mentioned. However, if you're familiar with the family, career, and other details of her life, then it doesn't need to be mentioned.
In so many ways, it is quite obvious that the story in Beauty is heavily inspired by (if not simply based on) the beginning of Whitney Houston's career.
The Netflix movie was written by the award-winning screenwriter Lena Waithe, who clearly wants to show the inner struggle of the title character Beauty.
Read a few of the most obvious references to the life of the late (and extremely great) singer, Whitney Houston, below.
Beauty is out on Netflix worldwide from June 29, 2022.
Is Beauty an LGBTQ story?
Well, yes, it is. But not just. Then again, when is any story about someone who is part of the LGBTQ+ community just about their gender or sexuality?
In this Netflix movie, the focus of Beauty's inner struggles relates to two core issues: Sexuality and race.
To achieve stardom, Beauty needs to change herself to fit a certain mold. To be specific, it's a mold created by the white record label executive who knows that Beauty (played with heart and soul by Gracie Marie Bradley) has immense talent. More importantly, Beauty can make everyone around her very rich. If she looks and acts like the singer wanted by the mainstream.
She just needs to be a little less black and a whole lot more straight!
Just look at the poster/cover art for this movie, where you clearly see two sides (or two faces) of our title character.
The story in Netflix movie Beauty compared to the life of Whitney Houston
So, how does Beauty compare to the life of Whitney Houston in those early days of her career?
Well, the record label executive in the life of Whitney Houston was Clive Davis. In Beauty, this person is played by Sharon Stone.
While I love seeing Sharon Stone in anything – and she is good in this movie – it's also the least believable detail. The story plays out in the early 1980s (which is also when Whitney Houston's career began). Back then, very few (if any) women had that much power in any record label.
But hey, when you see it, you can achieve it, so I love that it's now a white woman, instead of a white man. In order to really focus on the aspect regarding race, it needed to be a white person still.
For a comparison of the Netflix movie Beauty versus the life of Whitney Houston, check out this image of the original record deal signing versus the one you see in the movie.
While the star of Beauty is a very petite woman, you just need to look at that image to be reminded of how young and tiny Whitney Houston was at the beginning of her career as well. As already mentioned, Gracie Marie Bradley does an excellent job of portraying the young singer, who is pressured into creating a new persona in order to succeed.
The fact that Beauty's girlfriend Jasmine (played with so much love by Aleyse Shannon) is also someone she's known before her career began, is another element straight from the life of Whitney Houston. In real life, Whitney met Robin Crawford in her teens and Robin went on to become her roommate (there's an LGBTQ joke in that alone) and executive assistant. The same happens with Jasmine in Beauty.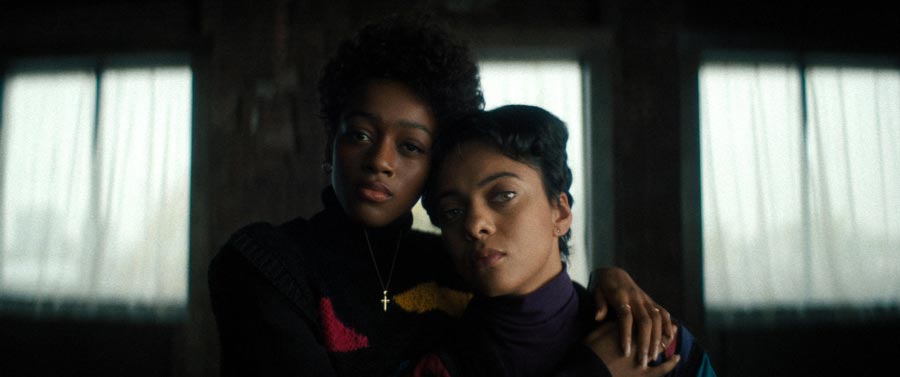 The life of Whitney Houston versus Beauty
In Beauty, the title character is first introduced to a wider audience on the "Irv Merlin Show". Whitney Houston debuted on the Merv Griffin Show. The logos for the two shows even look strangely similar.
On that Merv Griffin Show, where it all began for Whitney Houston, Clive Davis introduced his new talent. In Beauty, Sharon Stone's character is the one introducing this up-and-coming star.
Whitney sang "Home" from The Wiz while Beauty sings "Somewhere Over The Rainbow" from The Wizard of Oz. Yeah, you don't get much closer than that. Points for even working a rainbow into it!
For the record, we never actually hear Beauty sing in this Netflix movie. Of course, that would also have been a near-impossible feat when compared to Whitney.
More similarities between Whitney Houston and Beauty in the Netflix movie
Some of the very easily spotted similarities include:
Both had two brothers – and in both cases one of them was a half-brother on their mother's side.
For both, their mother is a gospel singer who never

quite

made it big on her own as a solo artist.
However, Whitney's mother was a backup vocalist and (as part of Sweet Inspirations) sang backup vocals for artists like Dusty Springfield, her own niece Dionne Warwick, Otis Redding (a personal favorite of mine), and Elvis Presley while he performed in Las Vegas in 1969.
Also, both in the Netflix movie Beauty and for Whitney Houston, their mother sings backup vocals on her daughter's album.
Whitney's mom was Cissy Houston while Beauty's mom is played by LGBTQ actor Niecy Nash, who does an excellent job!
Beauty meets the "bad boy" Sammy who looks like the spitting image of Bobby Brown (husband of Whitney Houston).
Another little detail, which is the opposite of a similarity; Dionne Warwick is not in this movie. While most of the famous and successful black female singers of the late 1970s and early 1980s are featured in Beauty, this is a glaring exception. We see everyone fra Gladys Knight to Ella Fitzgerald. Just not Dionne Warwick who was a platinum-selling artist at that time!
Watch Beauty on Netflix now!
Andrew Dosunmu is the director of the Netflix movie Beauty (2022) which premiered at the Tribeca Film Festival a few weeks before this Netflix release. As already mentioned, Lena Waithe wrote the screenplay and I cannot wait to see whatever she comes out with next. Whether as a writer or actor (or both), she always delivers high-quality productions.
I'm not overly thrilled with some of the cuts and editing choices of Beauty. However, since this is my main issue, I can't really complain.
I really enjoyed watching Beauty on Netflix, but not for the reasons I expected. I thought I was about to watch a movie about a young female artist struggling with her sexuality. That's not the case at all. Beauty is very much at ease with who she is and the fact that she loves Jasmine. Her family is even aware of this and tolerates it to quite a large degree. Until her career launches!
There aren't many kisses between Beauty and Jasmine. In fact, there is only one towards the end. However, these two characters are clearly more intimate and loving towards one another than what we see in most movies. Whether queer or straight!
Instead of just showing moments of pure passion, we see love and intimacy. They are very close and loving for long scenes. Thank you Lena Waithe for showing love and not just focusing on a "sex sells"-aspect. This is not that kind of movie. Clearly, someone who knows LGBTQ love is behind this story.
Beauty is out on Netflix worldwide from June 29, 2022.
Womentainment recommendation: Don't miss out on this if you're curious about the core topic

For me, the big draw of the movie ended up being the fact that this story is clearly based on Whitney Houston. In a very honest way, we're following this young artist having to make difficult choices. In particular related to her girlfriend Jasmine (that would be Robin Crawford for Whitney).

In both the movie and the life of Whitney, the girlfriend becomes a best friend and has to stand by and watch as their relationship is secret while another is highlighted and adored. The fact that it probably played a huge part in the untimely death of Whitney Houston just makes it even sadder. But hey, better dead than queer is still something way too many people live by!

For me, watching Beauty reminded me of how far we have come already. Sure, we're not all the way there in terms of rights or recognition and acceptance. Rights are even on the table these days, it would seem. But we are a place where you can have a career and be out and proud. Well, in some careers anyway.
Director: Andrew Dosunmu
Writer: Lena Waithe
Producers: Lena Waithe, Michael Ellenberg
Executive Producers: Carrie Fix, Andrew Dosunmu, Rishi Rajani
Cast: Niecy Nash, Giancarlo Esposito, Sharon Stone, Aleyse Shannon, Gracie Marie Bradley, Kyle Bary, Micheal Ward
Official plot:
A gifted young Black woman struggles to maintain her voice and identity after she's offered a lucrative recording contract, setting off a fierce battle between her family, the label, and her closest friend to determine who will guide her as she makes the journey to become a star.